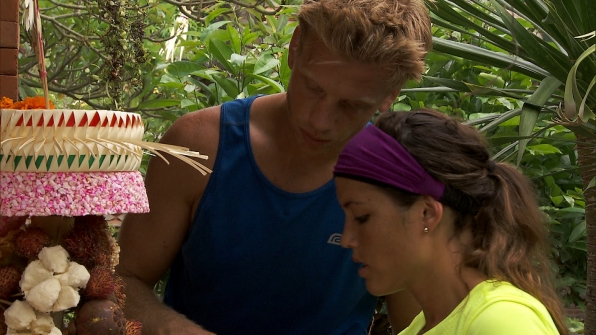 John and Jessica on
The Amazing Race
had already bought themselves a bit of bad karma by being stingy with their extra Express Pass but who knew that fate would cash that slip in so quickly!
On the latest leg in Bali,one of the Detour challenges was to go to find a house and put together a fruit arrangement to be taken to a local temple for blessing. John and Jessica took that option but went to the wrong house(the one they wanted was across the street)and started to make a flower arrangement in someone else's backyard. Fortunately,the folks living there were good natured enough to steer them in the right direction: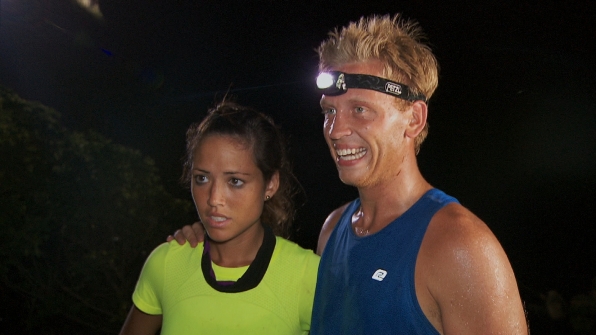 Things then went from bad to worse,as they had trouble completing either side of the Detour,wasting valuable time and yet John refused to use their Express Pass. His whole reason for that brilliant decision was that he wanted to save it for later on in the game.
Dude,at this point,the only way you were going to get to later was to finish up the here and now with the Pass! By the time they reached the last Roadblock,it was pitch dark out and John,for some strange reason,thought he could use the Pass.
Granted,I haven't watched every season of TAR but even I know that the EP is for Detours only. Well,John and Jessica did leave their mark on the race as the first couple to be eliminated while holding an Express Pass. Quite the dubious honor,indeed:
The gang on
Worst Cooks in America
received a baking lesson from Sweet Genius Ron Ben-Israel(who bought a mild touch of his usual whimsy to the proceedings) and then were tasked to make celebration cakes for two different clients.
Chef Anne's crew had to make a retirement cake for a lady named Rita who was interested in doing some traveling. Recruit Bowtie Mike(who got sick last time from his ice cream overindulgence) chose to decorate his cake with an Eiffel Tower fondant cut-out that looked like a kindergartener's clay project,plus it's not a good idea to use raisins to spell out words on frosting,not at all!
Bobby's team were assigned a pair of seven year old boys to make a birthday cake for but most of the results weren't worth putting a candle on. Carla's mess-terpiece was a fine example of her "fake and bake" technique,which involved a Frankenstein approach to repairing the broken layers of her cake with caramel sauce and candy.
The boys tried to be nice about it,but the best thing that they could say about Carla's creation was that the candy tasted better than the actual cake:
Next week,the recruits go food shopping and must use clues to figure out what to buy. While these rhyming hints don't seem to be as easy as pie,Sherlock Holmes would find these couplet of clues less than challenging so the confusion on one team is rather confusing to me:
The Vampire Diaries
return tonight,with Elena feeling like a brand new girl after Damon's sire bond made her shut down her human emotions. While he only did that to relieve the deep pain of little brother Jeremy's death(wonder if he'll be able to come back from the beyond at all,as his body was burned along with the family home) yet the consequences of that well meaning decision are bound to be dire.
Stefan is ,of course,most concerned about how Elena's dark side will manifest as his own bloody past as The Ripper can attest to. Personally,I hope Elena's soulless state stays around long enough to confront her evil doppelganger Katherine(who was responsible for Jeremy's demise) and have the mother of all showdowns with her:
RANDOM NOTES:
G.L.O.W-THE STORY OF THE GORGEOUS LADIES OF WRESTLING:
If you are fortunate enough to have the Logo channel on your cable dial,keep an eye out for this "Where are they now?" look at the pro wrestling divas of the 1980s whose acts are still hard to follow: