I'm getting off to an early start with a reread of Jane Austen's
Sanditon
, one of her uncompleted manuscripts. Part of this haste is due to the good folks who brought us The Lizzie Bennet Diaries web series, who have launched a new set of videos based on this story about a small seaside town hoping to hit it big with the tourist trade.
The Sanditon series is set in modern times(as was the LBD) and Gigi Darcy has been brought on board,as a narrator testing out Pemberley Digital's Domino app. Since the original Sanditon doesn't have an expected ending, it'll be fun to see where this goes:
First up is
Mr. Darcy Takes a Wife
, which picks up not long after the wedding and then it'll be
Darcy & Elizabeth: Days and Nights at Pemberley
(sounds very old school soap opera-ish, doesn't it?).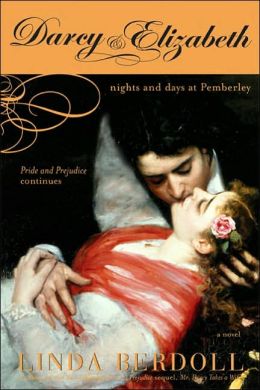 The Berdoll titles were the first "notorious" Austen inspired books that I know of, due to the frank nature of the love scenes and for a time, most booksellers wouldn't stock it but in this day and age of 50 Shades of Gray, this might seem to be mild fare.
Then again, maybe not. Mr. Darcy Takes a Wife(aka The Bar Sinister) was considered eye brow raising for a reason and I aim to find out just how shocking it can be, plus seeing if it's a good story to begin with.
I'm not a stranger to sexy writing yet I do prefer such things to be a natural part of the plot rather than an excuse for it. Oh, well, I knew these books might be trouble and with any luck, it'll be the sort of steamy fun that summer reading was made for:
Laura Lamont's Life in Pictures
by Emma Straub. This showbiz saga stars Elsa Emerson, who flees her bleak Midwest life at 17 to find fame as a film star with a hopeful young husband at her side.
Her career hits a snag that can only be loosened by Irving Green, a major movie mogul who becomes her lover and eventually her second spouse. As Laura, she finds cinematic success but the emotional costs of that climb start to cash in when the lime light no longer shines on her.
I adore Hollywood stories and this one is set during the 1930s, when the glitter was still believed to be gold. Straub's writing should live up to that promise,from what I hear:
Under the Dome
.
The massive book will be seen on CBS as a limited run series,beginning in late June, and as with Game of Thrones, I don't mind reading ahead of the show. Since this is regular network TV, there will be some changes from page to screen that should offer a few surprises there.
Yes, I know the whole "The Simpsons did it" routine but I highly doubt that this tale of trapped townsfolk will have any other connection to the Simpson movie than the basic concept. Plus, Stephen King on the small screen should be the perfect chill for this hot summer:
Whatever is on your reading list this season, the most important factor in choosing the right reads is enjoyment. Yes, expanding your mental horizons is a good goal as well but don't invest your time in something that holds no real interest for you. As for those Gatsby readers, I hope you're really loving the book as well as having enough info to talk about it at your local book club. Classics can be fun but don't take my word for it, as a certain Reading Rainbow trekker would say: