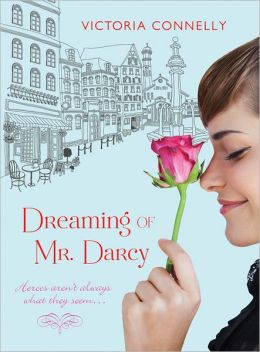 While I am still in the midst of my Pride and Prejudice Bicentenary Challenge for this year(finding much amusement in Mr. Darcy Takes a Wife,indeed!), my extra credit Jane Austen reading is certainly making these warm summer days more bearable.
Having enjoyed Victoria Connelly's A Weekend with Mr. Darcy, my expectations were quite high for
Dreaming of Mr. Darcy
and they were,I'm happy to report,well met. Despite the title, the theme of the story here is all about Persuasion, Austen's final novel(and a personal favorite of mine).
Our heroine is Kay Aston,who decides to change her humdrum life after receiving a most unexpected inheritance. She follows her dream of living in Lyme Regis by buying a B&B that needs renovating and hopefully will give her enough free time to complete her series of Darcy illustrations that she intends to turn into a book.
As fate would have it, a film company in the area happens to be doing a new version of Persuasion and the cast is in need of new hotel accommodations right away. With a troupe of actors on her door step(including a very handsome devil named Oli Wade) and a screenwriter with a sweetly wacky grandmother living nearby,Kay's life is far from becoming dull again.
The book is a charming read that allows for even the supporting players to share in the story telling spotlight,plus it has tons of romantic comedy hijinks that provide the right amount of sparkle. This is the second book in Connelly's Austen Addicts series and while I plan on diving into Mr. Darcy Forever(which has a Sense and Sensibility plot line) as soon as can be, I hope that we get a few more addictive stories with Austen themes from her in the near future: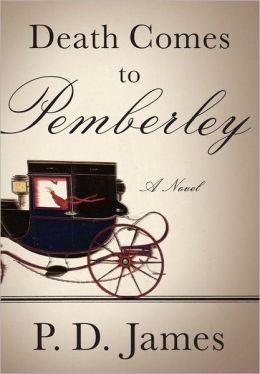 With all of the buzz lately about the TV adaptation of P.D. James'
Death Comes to Pemberley
, I was most eager to see if there was truly meat on these bones for a savory Austen soup. This being my first time
reading P.D. James
, I have to say that I found her format of police procedural well suited to the period style of Jane Austen(think of it as Law & Order:Regency Edition).
The death in question occurs to Denny, a well known crony of Mr. Wickam, and his murder not so conveniently takes place on the grounds of Mr. Darcy's estate,which means that Darcy as a local magistrate, can not take an active part in the investigation.
That doesn't mean that he has no interest in the case and the many questions it raises not only about Wickam's current dealings but his past association with the Darcy clan. Folks who have read other Austen themed mysteries may prefer a more involved detective on the case but this one offers a unique look at P&P and should be a very engaging drama when it hits the airwaves.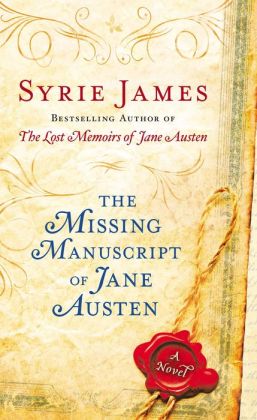 Along with Mr. Darcy Takes a Wife, another Austen related book on my current reading pile is
The Missing Manuscript of Jane Austen
by Syrie James. It is a novel about a visiting American in England,Samantha McDonough,who happens upon a half completed letter by Jane Austen that hints at the location of a work in progress lost during a country weekend.
Samantha manages to track down the estate where Jane Austen spent that particular visit at and ,with the help of the new owner, finds this undiscovered novel entitled The Stanhopes,which she hopes to reveal to the world. So far, this book is wonderful and like any sumptuous treat,not one to gobble down hastily. Syrie James does take great care with her research,after all, so out of respect, I will do the same in reading it:
So, my summer of Austen reading is well under way and so is my work on my next e-book,
Fanny Price,Slayer of Vampires
(due out in early 2014,shameless plug alert!). At this point, my characters are involved in the theatrical doings of Lover's Vows,which stirs the blood in more ways than one. Wish me monsters,folks!: