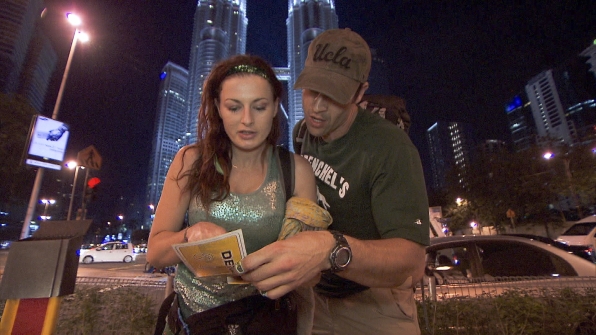 The latest leg of
The Amazing Race: All Stars
had the teams in Malaysia,where the Detour challenge proved to be the most daunting thus far. The choice was between doing a DJ mix at a nightclub(which relied a lot on sound cues,meaning that mother and hearing impaired son Margie and Luke really couldn't do it) or setting up a drink that had to be poured into a pyramid of glasses without any mixing of the liquids.
The latter was the real tough one of the two,leaving just Margie and Luke(who got really frustrated and broke a set of glasses,which his mom made him clean up) vs. Team Brenchel(Brendon and Rachel of Big Brother fame). Rachel has resisted being as whiny as she was on their previous time on TAR and this task was quite the test of her ability to keep calm under pressure.
She did alright here but with her team having an extra challenge to face during the next leg,as they came in last for a non-elimination this time out,I suspect that a big league whimper fest from Rachel is forthcoming:
The Vampire Diaries
is back on tonight(what is with all of the mini breaks this show has been taking lately?) and yes, Elena will be back in control of her own body but left with a nasty little parting gift from Katherine that will reconnect her to Damon. To paraphrase a classic Buffy episode,"Elena's in trouble? Must be Thursday!"
The sub plot I want to check out tonight is between Bonnie and new witch in town,Liv. Since Bonnie no longer has her magic powers due to being the anchor between our world and The Other Side(that's a long story,folks,just go with me on this one), her mentoring of this freshman sorceress seems like a good idea at first. However, Liv is rather giddy with power and not shy about flirting with Jeremy either (right in front of Bonnie,no less!).
While this does appear to be yet another set-up for a love triangle on TVD, there are other more serious consequences of having a young witch run amuck with her magic that hopefully the story will showcase well: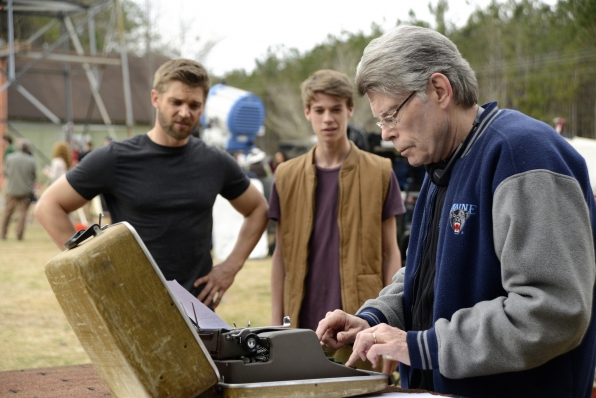 The second season premiere of
Under the Dome
isn't until June but the hype machine is already revving with info. Stephen King will be writing the first episode(entitled "Heads Will Roll") and Dwight Yoakam joins the cast as Lyle Chumley, a business rival of Big Jim's.
In addition,the new trailer promises that at least two characters are going to be knocked off in the first episode,which sounds like fodder for those betting brackets that folks are so fond of at the moment-given the large cast here, who could be taken out of the game that wouldn't upset the whole plot cart? My best guess is that Big Jim and Barbie will make the cut while one of those Dome kids (please let it be Junior Rennie!) and maybe Deputy Linda(Natalie Martinez does have a couple of other acting jobs at the moment) will be the ones tapped for such dubious honors-we shall see very soon!:
RANDOM NOTES:
HONEY MAID GRAHAMS AD:
With the Cheerios commercials that showcased family diversity last year, it's good to see that the Mad Men types have picked up on this vibe and are beginning to make this a real trend,as this truly wholesome commercial displays rather well: