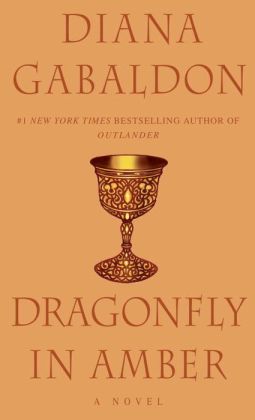 It might feel too soon for some to even consider summer reading but in my opinion, if Hollywood can jump start their big movie going season in May, I can certainly set aside a few books for warm weather perusal. My list is a brief one,to be sure,but it's quality not quantity as they say,right?
Now that I've achieved one of my reading goals for the year by finishing the first novel in Diana Gabaldon's series of Outlander books before the premiere of the Starz miniseries, next in line is
Dragonfly in Amber
. With Claire determined to use her advanced knowledge of history to turn the tide of a certain 18th century battle, she and her beloved Jamie may have caused a disruption in fate that affects more than one generation to come.
Since this is such a lovely long book(making it literary catnip to me), I might start it early but in terms of the series, I am far behind those already devoted to the Outlander cause. No doubt the upcoming summer TV saga will bring in new fans and all of us can share in the storytelling glory together(as well as learn to pronounce the Gaelic terms correctly!):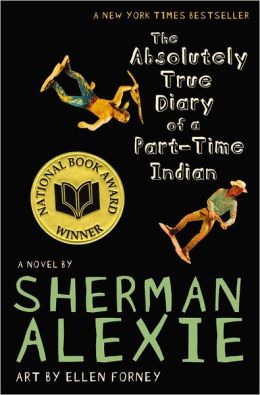 While I know that the big YA book of the summer will be The Fault in Our Stars(due to the upcoming film adaptation), my pick in that department will be Sherman Alexie's
The Absolutely True Diary of a Part-Time Indian,
which has gotten plenty of press lately but for very different reasons.
A
recent banning
of the National Award winning novel in Idaho from a tenth grade curriculum(where it was supplemental reading) by a group of parents, who insisted that the novel about a displaced Native American teenager was "racist"(despite being written by a Native American) and "anti-Christian", didn't end with their success at getting the book removed.
A young lady who led a petition drive to keep the book(she had 350 signatures yet the school board went with the naysayers) teamed up with
a local bookseller
to hand out copies of TATDOPTI in a public park as part of World Book Night, an annual literary event. Even though this was being done far from the school, someone
called the cops
to insist that some sort of crime was going on! *shaking my head and sighing*
Although the police did show up, they were quick to wonder why they were even called in the first place and left without incident. When the publisher found out about this, they donated another 350 copies to the bookseller to hand out for free to any student who wants it,a classy move there. Granted, Sherman Alexie is no stranger to censorship but this recent uproar did urge me to go out and buy the book as well as encourage all of you out there to do the same. There is also a film version but let's spend our money and time with the book first: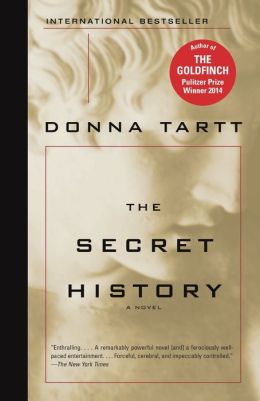 One of the fun activities that I partook of during my birthday over a week ago was some
serious book store shopping
and thanks to a friend buying me a couple of my already planned upon choices, I was able to treat myself to not only
The Goldfinch
by Donna Tartt but her earlier novels as well. Yes, I am all Tartted up for the summer!(forgive my sad attempt at punning,please).
When
The Secret History
came out in 1992, it quickly became a best seller and made Donna Tartt a literary fiction star and frankly, I'm surprised that this didn't become a movie at some point,given the murder mystery plot line of this college student party gone awry tale. Yet, I didn't read it back then since it was almost too trendy to be reading that.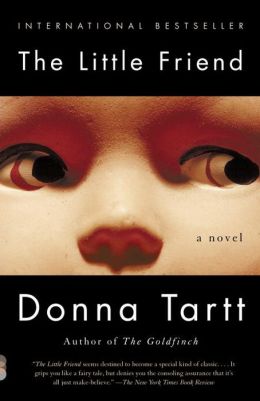 By the time her second novel,
The Little Friend
, arrived in 2002, I was working in an indie bookstore and still have a promotional bookmark for this book ready to be used in it's proper place at last.
This novel also has dark themes involving murder and secrets but caught a strong case of sophomore slump from the critics,which didn't hamper it's win of the WH Smith Literary award and it was on the short list for the Orange Prize that year as well.
I still was not inclined to tackle Tartt at that point,yet the main theme of the plot that involves a young girl dealing with sudden tragedy in the South does put me in mind of To Kill a Mockingbird(which I read only a couple of years ago),so it may be better than what some of the reviewers said back then. We shall see.
The Goldfinch winning the Pulitzer Prize for fiction is not the sole reason that I want to take on Donna Tartt. The bird in the title is also the name of an actual painting that the traumatized young man in the story winds up taking with him after fleeing a museum bombing that kills his mother.
That painting has received a great deal of renewed interest,thanks to the book,and crowds of people have been attending the Frick museum to get a good look at it, doing for the original goldfinch and it's artist Carel Fabritius what the novel The Girl with the Pearl Earring did for Vermeer in 1999.
Both men were Dutch masters, a style of painting that my late father cherished and aspired for in his own work. If he were with us, I do think that he would be thrilled to see this revival of excitement regarding his favorite period of art amongst the general public and probably want to read the book with me(or wait for the movie version). Perhaps he'll be reading over my shoulder as I try to stay cool this summer by turning the pages of this potentially amazing book:
I am also planning to check some of the newer releases for the summer such as
Queen of the Tearling
by Erika Johansen. This highly anticipated fantasy novel,intended to be the first in a trilogy, has had the movie rights already sold and talk of Harry Potter star Emma Watson as it's leading lady.
The set-up for the story has an exiled princess named Kelsea leaving her secure home with a band of guards to reclaim the throne of her mother from an evil queen. Sounds like pretty standard for this genre so far, yet there's more than meets the eye here.
For one thing, Kelsea is not your typical pretty princess in distress;instead she's a bookish sort who bears little resemblance to her famed beauty of a mother. Plus, her main weapon is the magic necklace of the title that will call upon more than her royal blood for it's power to work. Nice to have a new fantasy franchise with strong female leads at the helm and it should be fun to embark on this literary road to enchantment:
I hope that my small stack of summer reads gives you a few ideas about your own picks for the summer and maybe even think of a few to recommend to a friend. Just don't get into a spoiler fight with them because that battle is only won when everyone involved finishes the book in question: