With the cold weather making it's way towards us, the urge to hurdle up by the heater with a good book or two is rather strong and when it comes to my blog, the best way to keep things warmly inviting is to make literary plans for it.
As you can see by the banner ad above, Living Read Girl will be one of the stops for
Syrie James' blog tour
this season. I'll be contributing a review of her latest novel(which has been a delight to read at the moment) in early December.
The book is entitled
Jane Austen's First Love
and it tells the little known story of an early romance for the beloved author of Pride & Prejudice as she at age fifteen journeys with her sister Cassandra to Kent in order to meet her upcoming new sister-in-law. During that trip, Jane meets Edward Taylor, a charming neighbor who appreciates Jane's lively ways and the attraction seems to be mutual.
However, Edward is expected to marry someone with a fortune to match his own and sure enough, a rival appears on the scene. How will our dear Jane cope with such an emotional challenge and what effect did it have on her creation of such heroes as Mr. Darcy and Mr. Knightley? Syrie James has a deft hand when it comes to Austenesque literature and her love of extensive reading appears to have been put to good use here:
Upon the heels of the FrightFall challenge that I took part in recently, an invitation to join in
the Christmas Spirit Reading Challenge
came my way and since I had fun with the last one, saying "yes" felt like a good way to kick off the holiday season.
This challenge begins on November 24 and lasts until January 6(a shorter reading event is also
taking place
at Seasons of Reading). You chose your own level of participation, from Candy Cane level(one book) or Christmas Tree(six or more). I intend to go for Mistletoe, which allows me to tackle a trio of books, two of which are modern takes on a Charles Dickens classic.
That book being,of course,
A Christmas Carol
, that time honored tale of regret and redemption that is one of the high points of the holiday.
It's been awhile since I actually read it and lucky me, there's a nice little hardcover copy on my shelf that hasn't been opened yet(got it for free at a rummage sale),so the timing is aces here. I will watch at least one of the film adaptations as well, my all time favorite being the 1951 British production starring Alstair Sim as Scrooge.
To me, the best representation of the original spirit of the story is in this film, particularly Sim's portrayal of Ebeneezer which goes from frightening to fearful and then fantastically happy in a manner that is completely believable from beginning to end: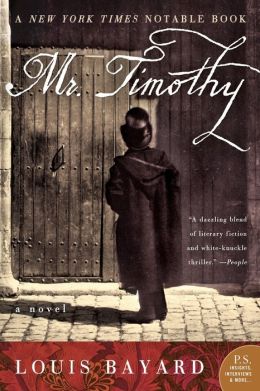 Speaking of believable, a more realistic tone is taken to this holiday legend in Louis Bayard's
Mr. Timothy
, which features a grown-up version of Tiny Tim.
The story takes place many years after Scrooge's renewed faith in humanity has helped the Cratchit family and Tim is now an educated gentleman ,with only a slight limp from his childhood days, yet with little prospects in the way of a career.
Tim winds up taking a tutoring position in a house of ill repute and is entangled in a mystery involving an innocent young girl and a secret society
that prospers from the exploitation of street urchins. It may not sound very happy holidays but it certainly sounds very Dickensian in nature and that's good enough for me.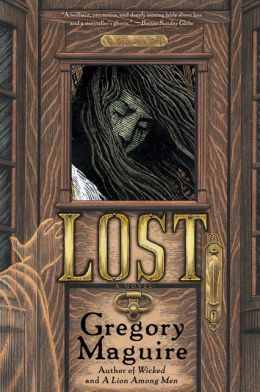 The ghost story elements of A Christmas Carol are highlighted in
Lost
by Gregory Maguire, which is set in modern day London.
Writer Winifred Rudge leaves Boston for England to revive her literary spirits and stays at a house rumored to have once been the home of an ancestor who inspired the character of Ebeneezer Scrooge for Charles Dickens. All too soon, Winnie encounters a ghost who demands assistance in completing an important task from her past life in order to move on.
Again, this may not sound like a very merry book but if you think about it, A Christmas Carol can be easily seen as a horror tale. What with the ghosts and true terrors of cynicism and despair, you could say that it's meant to scare the negativity right out of you during this time of year and in that department, it's as reliable as chicken soup for what ails your spirits:
I will be doing a few posts about my progress in the Christmas Spirit challenge(my writing in this blog might be sporadic next month, due to my mother having surgery in early December) and I hope that many folks take up the good book cause to keep their spirit bright. The holidays can be a rough ride yet reading helps to put a little love in your heart for the season: