More sad news from last week, as word that
Alan Rickman
passed away at the age of 69. Along with the loss of musical great David Bowie and metal meister Lemmy from Motorhead, this was the third of our artistic Englishmen to leave our company so far this year.
It is almost too great of a loss to bear yet we are all the better for having the time and talent that they did share with us.
Rickman did a lot of theater work and BBC performances before becoming known to international audiences, his big break-out role coming to him at age 42, showing that your moment to make your mark can arrive at just about any time. As my salute to this
amazing actor
, here are a handful of my personal favorite film roles of Alan Rickman:
HANS GRUBER/DIE HARD:
This was the part that made him a household name in many places and it was a role that he was initially reluctant to take.
As Hans, Rickman displayed many of his best aspects as an actor; a steely coolness combined with sharp intelligence, not to mention a sinister sense of humor. It did lead to more bad guy work, something that Rickman wasn't thrilled with as typecasting can be extremely limiting to an artist. Nevertheless, he did some of his best work being bad.
One of the best scenes in the movie is when Hans and John McClane finally meet face to face, with Hans quickly whipping out an American accent and seeming to fool his troublesome foe with a bit of play acting. That little stand-off highlighted the very different approaches of both actors but also showed just how well they could work together:
COL.BRANDON/SENSE AND SENSIBILITY:
The more tender side of Rickman was amply displayed in the 1995 adaptation of Jane Austen's tale of emotional duality.
Having re-watched the film recently, it is amusing to note how younger sister Marianne wonders that her elder sibling Elinor can enjoy the "polite affections" of even tempered suitor Edward and yet after being burned by the change of heart in her flashy beau Wickham, she finds the subtle charms of supposedly "infirm" Col. Brandon to be quite sufficient.
Rickman portrays this devoted man who would much prefer to suffer in romantic silence rather than interfere with the happiness of his beloved, even if she falls for someone that is truly unworthy, as a steadfast sort who is not without his moments of deep passion and despair. When he is at last welcomed into Marianne's heart, we share that bliss with him in a properly pleasing way:
METATRON/DOGMA:
Kevin Smith's religious comedy had some of the most offbeat casting of any of his films yet having Alan Rickman as the voice of God was a truly divine decision.
Some of his best snarky humor came forth, as the angel who had to send the heroine of the piece,Bethany, out to seek the two wayward heavenly exiles before they inadvertently destroyed the world.
One of his best scenes is his initial entrance, being ticked off about Bethany's quick use of fire safety techniques yet having no idea of who he is. "You people..if there isn't a movie about it, it's not worth knowing, is it?"-a lament that, with a slight adjustment for the times, still applies today yet the dulcet tones of Rickman's voice gives that line much more of a sharp zing;
SEVERUS SNAPE/ HARRY POTTER SERIES:
More than one movie going generation will remember Rickman best as the Hogwarts potions master who always seemed to have it in for Harry Potter and friends.
However, during the course of cinematic adaptations of J.K. Rowling's wizard saga, his true motivations behind his behavior were brought to light. In the end, Snape was understandably misunderstood yet his real merits were appreciated by the one person to whom it mattered the most.
Rickman's physical presence could be very menacing when he chose it to be and it was certainly a valuable tool in his acting kit when called upon to make Snape the central focus of any particular scene, such as Harry's first potions class. It was clear from the start that Rickman didn't intend to treat this part as merely a paycheck for a kid's movie but an actual role worth giving his all to: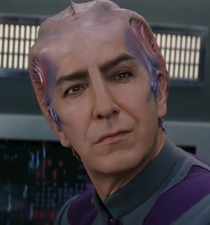 These and so many other movie characters such as blase sci-fi actor Alexander Dane in Galaxy Quest or the scene stealing Sheriff of Nottingham in Robin Hood: Prince of Thieves, made Alan Rickman a joy to watch and a good sign of at least one engaging performance in any film.
I do hope that we won't have any more sudden departures from the pop culture stage to mourn for a little while there. Losing someone as incredibly talented and special as Alan Rickman is hard enough to handle as it is. By Grabthar's Hammer, he shall be missed indeed: