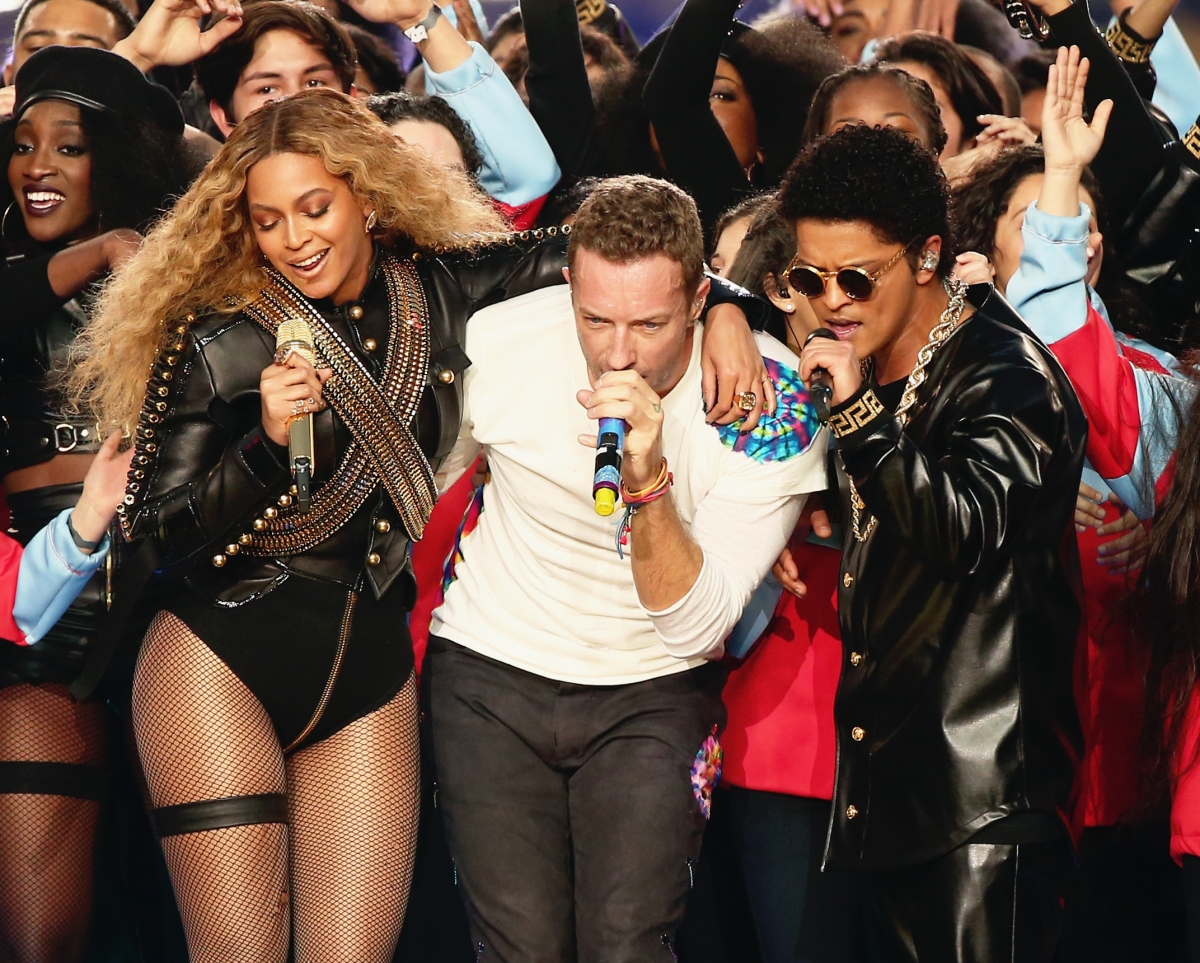 The headliner at this year's halftime show for the Super Bowl was Coldplay but all that anyone seems to want to talk about is the performance that Beyonce gave.
She mixed her new song
"Formation"
(the
video
being released the day before) with Bruno Mars doing his hit "Uptown Funk" and while it was certainly a show stopper, certain people are simply losing their minds over that number and not in appreciation.
One of the biggest complaints is claiming that she was doing a tribute to the Black Panthers because of her mock military outfit(something that both Janet and Michael Jackson have done in their careers without that connotation being placed on them), that her dancers wore berets and they formed a letter X during the show-hello, the song is called "Formation" and they also formed an arrow as well!
Yes, the video does have a lot of sociopolitical visuals that reference Hurricane Katrina, Black Lives Matter, in particular "hands up, don't shoot" and the antebellum South. Beyonce's Super Bowl performance, however, was mostly focused on the entertainment elements of the song and used an edited version, due to it's adult content(particularly a reference to Red Lobster as a reward for love making). I suspect most of the protesters saw part or all of the official "Formation" video and are basing their anger about the number on that rather what actually was seen on TV that day:
Lady Gaga sang The National Anthem at the Super Bowl earlier that day and received a good amount of praise for her vocal range.
Yet a writer for the NYT decided to find fault with Gaga's overall career path in
an article
that compared her to Beyonce, based on their joint appearance in the video for Gaga's "Telephone" several years ago to where each of them is at in the pop music world right now.
He wondered why Gaga was doing "an opening act" when only a few years ago, she was a headliner and seems to be happy with a retro vibe. In his opinion, Lady Gaga has turned into an older ready for Vegas retirement version of herself :
"
Her work now is like a long-term art project that's put 50 years on her persona, and at 29, she's five years younger than Beyoncé. She's been cooing with Tony Bennett on their "Cheek to Cheek" tour; she's wearing stuff that you'd find on Fanny Brice. Her Gucci pantsuit could have been from the Céline Dion collection or from Liza Minnelli's closet. So, too, could the strength of her singing and chest thwaps. She's given herself a coating of the geriatric, of respectability, of Vegas."
Well, first of all, singing the National Anthem at a major sporting event such as the Super Bowl is hardily an "opening act" and secondly, there is nothing wrong with any singer doing standards as a way to regain their inspiration. Linda Ronstandt did it and so did Natalie Cole. He also sees her singing the Sound of Music at the Oscars last year and winning a Golden Globe for her role on American Horror Story: Hotel as signs that she's decided to call it a day in terms of being a superstar unlike Beyonce.
The biggest problem with this entire line of thought is in comparing Gaga and Beyonce. Just because they did a song together once, that does not mean that they are on the same career track or should be. Gaga's experiences and goals are very different from Beyonce's and vice versa. While they are contemporaries, that doesn't have to mean one is gaining ground over the other.
As to Gaga not doing her over the top entrances and outfits that helped launch her into the limelight anymore, she's not the only artist to have been there, done that and moved on. The late David Bowie(who Lady Gaga will be doing a tribute for at the upcoming Grammys) and the still with us Elton John eventually put away their costumes and set pieces as part of their artistic maturation. What all three have in common is that they were great singers to begin with and once the spotlight is steady on them, the need for masquerade is over:
In seeing both of these uproars about these talented ladies at the Super Bowl, my conclusion is that there are some folks(quite a few of them male) who have a problem with women who are completely capable of choosing to control their own careers. They don't like either one of them stepping outside of the pop culture boxes that they believe each female performer is in and would rather have them not express their opinions through their art or follow their own muse.
That's too bad for the dissenters because more and more female singers are bursting out of those pop culture confines and making a place for themselves, thanks to their talent and fans who appreciate what they're doing. It takes a long time for standards to change, even in the arts, but it does happen if you hold on long enough. You don't have to like every song or style but trying to tear them down just because you want to make your problems theirs is the wrong way to go.
With the Grammys next week, it'll be a good idea to see if you can spot the next new female singing sensation and while she's not scheduled to perform, Brittany Howard of Alabama Shakes is one to watch. Her band is up for several awards and they really deserve to get a few of them.
Who knows, maybe one day Brittany Howard will have Beyonce or Gaga do a song with her or maybe all three of them will form a power trio that brings the haters to their knees. Talent calls to talent and girl power is a force to be reckoned with, in the best sense of the term. So, critique fairly, my friends or you might find it hard to be part of the cool concert scenes to come: