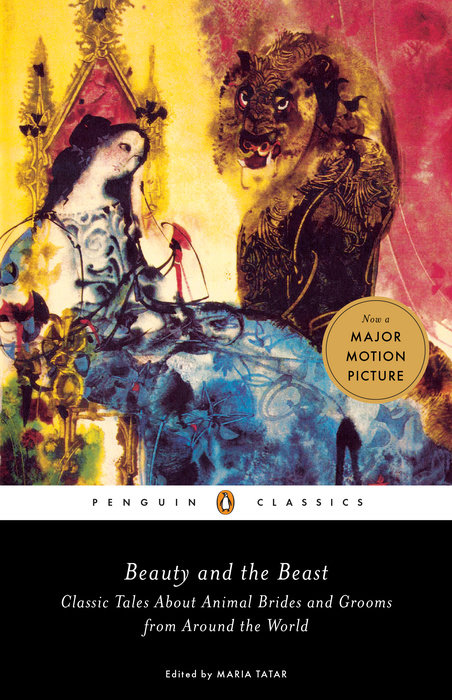 Coming up on the spring movie calendar is the live action version of Disney's
Beauty and the Beast
, starring Emma Watson as the bookish Belle and Dan "Downton Abbey" Stevens as her title companion.
Like many readers, this particular rendition of the romantic fairy tale does strike several positive notes for me with it's lively songs, the strong and smart heroine and allowing a friendship to develop between the two intended love interests before making that big emotional commitment. Plus, Belle gets a gorgeous library as a token of love, what could be better?
To get into that literary spirit, here are a fine trio of books that will set the movie mood perfectly. First, go back to the beginning with a collection that not only has the original story but several from other cultures as well.
Edited by Maria Tatar,
Beauty and the Beast: Classic Tales about Animal Brides and Grooms From Around the World
is set up into three categories; Model Couples From Ancient Times, such as Cupid and Psyche of Roman myth, Charismatic Couples In the Popular Imagination like the feisty heroine of Norway's East of the Sun, West of the Moon and Animal Grooms, which puts a different spin on the social standards of the story.
Checking out the many similar yet unique takes on this legend offers a richness to the material and plenty of fresh food for creative thought in the bargain. This collection is due out in early March, which should give you more than enough time to discover it's delightful introductions to a new age of once upon a time:
If you're looking for a novel that uses the Beauty and the Beast theme in a new way, then Sarah J. Maas has a fantasy series for you.
A Court of Thorns and Roses
is set in a realm where a narrow border divides humans from Fae, a truce that young huntress Feyre inadvertently breaks by killing a wolf who happened to be a shapeshifting fairy. To mend the breach, she is exiled to the kingdom of Prythian as a guest of Tamlin, one of their High Lords.
As Feyre gets to know Tamlin and the Fae much better, she learns of a blight that is threatening to destroy their magic and set free a horde of dangerous creatures upon both of their worlds. In working to save her new friend, she discovers a power stronger than magic, that of love.
Sarah J. Maas has quite a following among teen and adult fans alike and her use of prior mythos to enhance her storytelling skills is charmingly impressive. Hopefully this will one day be a movie to marvel at:
Meanwhile, for a blend of modern times and magical beings, Helene Wecker's
The Golem and the Jinni
shows you the beauty to be found in misplaced immortals living in America during the early 1900s.
Chava, a female golem, was made to be an obedient bride for a lonely man emigrating to America but her intended husband dies before they reach New York. Alone and on her own, she manages to pass for human yet struggles to control her powers on a daily basis.
Along the way, she encounters Ahmad, a jinni freed from confinement by a kindly tinsmith and who is still furious about where he has ended up. The two of them forge a friendship and possibly more, only to have what happiness they have together threatened by a ruthless mortal magician(think Gaston if he had powers).
This glowingly written novel is more that just a fairy tale but it's charms do weave a spell upon you as this special pair of hearts learn to beat as one:
The new Beauty and the Beast will be in theaters by March 17, giving us all plenty of time to rediscover the magic of that story by stacking up a pile of books that would impress Belle quite a bit there. After all, her true idea of treasure is an endless supply of books and a good friend to share them with and a good read is a grand start to that: