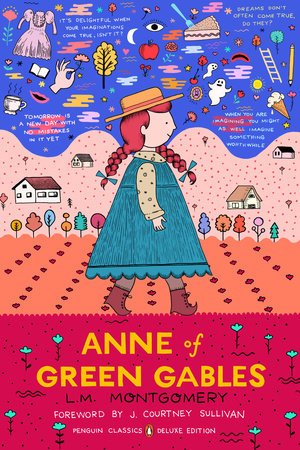 Happy day after Thanksgiving,folks,and I hope you all had a lovely day as well as a great meal with your loved ones.
By now, most of you are engaging in the other annual tradition of this weekend, holiday gift shopping, and to that end, I'm recommending a threesome of fresh new paperbacks that should suit a few of the book lovers on your list.
First up is a special edition of L.M. Montgomery's iconic novel,
Anne of Green Gables
, from Penguin Classics Deluxe. Not only is this edition adorned with charming artwork by Siobhan Gallagher, it comes with an introduction by Benjamin Lefebvre(director of L.M. Montgomery Online) who
details the struggles
that the author faced in publishing her book.
There's also an engaging foreword by novelist J. Courtney Sullivan, who talks how Anne of Green Gables peaked her interest in writing and in maintaining life long friendships. To this day, one of her good friends is quick to reconnect with as they both loved the 1985 TV adaptation of the series and feel that it's the best one ever:
Being introduced to Anne with an "e" this year, I feel that any new edition of this delightful story is well worth having,whether you prefer your Anne Shirley to be old school or new. As to adaptations, I've enjoyed watching the current PBS films(the latest one,subtitled "The Good Stars" aired last night) and I'm sure even Marilla would agree that this Deluxe Edition would be a suitable and sensible gift for readers new and established indeed:
Next, for those seeking potential prize winners, we have
Elmet
by Fiona Mozley, a debut novel that was a major contender for the Man Booker Award this year.
This tale,set in the woods of Yorkshire, is narrated by Daniel,who is living with his father John and sister Cathy isolated from the wider world and their home life feels idyllic for the most part.
However, when a local landowner(who once had John on his payroll as an enforcer) becomes determined to take their land for his own financial gain in a larger project, Daniel's family finds their peaceful existence altered forever, yet not without a serious fight. A smartly written story that takes a sure and steady pace as it explores that pivotal fork in the road that we all must take, some sooner than others.
However, if the folks on your list are more in the mood for a sweet relaxing read, debut author Louise Miller has a
slice of storytelling pie
ready to serve.
The City Baker's Guide to Country Living
has a Gilmore Girls flavor to it, only if chef Sookie St. James was the leading lady instead of Lorelai. Olivia Rawlings decides to move to the small town of Guthrie in Vermont after her personal and professional life in Boston truly blows up on her.
Taking a job at the Sugar Maple Inn, Olivia finds that her culinary skills are still solid yet her new boss Margaret has a very high standard that is in serious need of maintaining. The reputation of the inn is built upon a lengthy winning streak in the apple pie contest at the county fair and that standard has sunken recently.
In addition to that, Olivia becomes attracted to Martin, a former musician who has returned home to Guthrie in order to help his ailing father out with the family farm. Can she create a winning recipe for her new work and love life? Quite the humorously heartfelt read to give and get this holiday season:
Best of luck on your holiday shopping sprees this weekend and I do hope that these suggestions are helpful. In the meanwhile, let us take a moment during the mad rush of gift buying to appreciate the wonderful reads that have sustained us through out the year. Having new books is great but giving thanks to the ones still on our shelves is important,too: