Having just finished a month long readathon, it's understandable that I would want to take a more leisurely approach to the rest of my literary year.
However, I've heard a lot about
Nonfiction
November
, where the main goal is to read more factual books than my usual supply of fiction. While you can follow the challenge officially, most people seem to set up their own TBR and do their own thing here. With that in mind, I have a few books that are in the running for my personal NFN selections and maybe you might want to try one of them,too: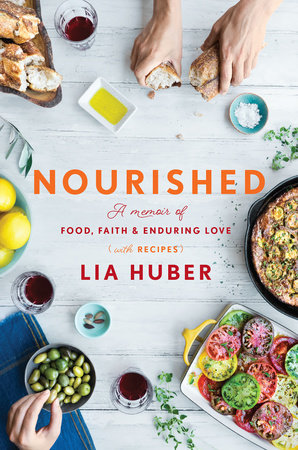 NOURISHED:
Food writer Lia Huber chronicles her emotional journey into the world of cooking, going from a romance in Corfu where family love and home cooked meals went hand in hand to a village in Guatemala that the addition of simple vegetables to a soup brightened up everyone's day.
I've started this book already and Huber's writing is very heartfelt, bringing a vivid warmth to her descriptions of the time,place and people around her. Recipes are also included but the stories here are the main course of this memory feast.
With Thanksgiving coming up this month, this delicious memoir could provide some menu plan ideas or a tasty way to appreciate those good moments in life:
BOOKNOTES
: C-Span once had an interview show where authors of nonfiction shared their thoughts about the world as well as put in a good word for their latest book. Book Notes was hosted by C-Span co-founder Brian Lamb and this collection was the first of several that highlighted those interviews in print form.
There's a vast variety of writers on display here from historians such as David McCullough and Doris Kearns Goodwin to political figures like Colin Powell and journalists ranging from Neil Sheehan to Stanley Crouch.
The show had a good run, starting in 1989 and ending by 2004. I remember watching it from time to time back in the day and wish we had a version of Book Notes right now. Considering how the lines between fact and fiction have been blurred lately, this certainly feels like the right time to check out how the old school was able to make those distinctions very clear. Also, with knowledge under fire as it is now, the subtitle of this book
"America's Finest Authors on
Reading,Writing and the Power of Ideas"
sounds rather timely to me:
MY BOOKSTORE:
This collection, edited by Ronald Rice, gathers together over eighty writers to talk about their favorite independent book stores and give their recommendations for good book buying from all across the country.
The list of writers ranges from best sellers like Fannie Flagg, John Grisham and Elin Hilderbrand to award winners such as Isabel Allende and memoir notables Rick Bragg and Dave Eggers.Here, they share some good stories about how these little literary shops made their reading and writing lives all the better and as a former indie bookseller myself, this sounds like a dream.
A few writers have even become indie book seller themselves, like Ann Patchett who highlights her favorite store here and perhaps took a bit of real world inspiration along with a great book or two from there:
Don't worry, I still plan on reading plenty of fiction(have a few books to catch up) but increasing my nonfiction intake feels like a fine idea. There are way more well read than me in this department,so you can find a lot of good suggestions for your own Nonfiction November list out there but do be sure to check out subjects that sincerely interest you.
On the other hand, it doesn't hurt to try something completely different yet it does help to persist with a lengthy nonfiction read if you are honestly motivated to learn more about a certain subject. Happy Nonfiction November and good reading to all and yes, to all a good read: