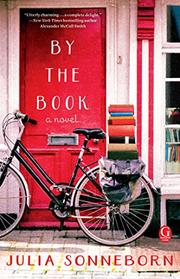 Since March happens to be Women's History Month, I thought that it would be a good idea to highlight a few new books by female writers who deserve their time in the spotlight this season.
Starting with a debut novel, Julia Sonneborn gives Jane Austen's Persuasion a modern twist or two with
By The Book.
Her leading lady is Anne Conroy, who teaches 19th century women's literature at Fairfax College.
While being somewhat happily settled into academic life, the arrival of Adam Martinez, her former love who she left upon graduation, as the new president of Fairfax has Anne in a whirlwind of emotion.
Can she establish a good working relationship with Adam without stirring up those feelings from their past? Will new writer-in-residence Rick Chasen become the romantic cure for what ails her or will his own bad blood with Adam make things worse? On top of all that, can her good friend Larry's actor boyfriend ever learn more about Jane Eyre than from the monster mash movie version he's starring in?
Having a new take on Persuasion(my favorite Austen novel,btw) is always a joy and no doubt some plot elements will be quite different from the source material. However, if the all important letter scene from the original can be pulled off just right, By The Book will have fulfilled the title's promise perfectly:
Next up is Greer Macallister's
Girl In Disguise
, a novel based upon the true story of the first woman to be hired as a Pinkerton detective.
As a widow in need of an income in the 1850s, Kate Warne didn't want to rely on easy sympathy and instead made a case to Allen Pinkerton that having a woman among his crime fighting crew might offer some distinct advantages.
Giving her a chance to prove herself, Pinkerton partners Kate with Tim Bellamy, who finds working with a female troubling at best. Over time, she does gain a few allies but often times, her mistakes are given harsher scrutiny than those of her male colleagues.
Macallister blends the reality of her main character's life with enough vivid imagination to make the story as riveting as an all-out fictional detective saga. With details that include working on security for Abraham Lincoln(before and after he became president), GID provides plenty of page turning action for those looking for a smart satisfying read:
If you're in the mood for something with a truly topical theme,Jennifer Clement's latest novel
Gun Love
should fit the bill nicely,unlike most of the characters in this turbulent story.
Fourteen year old Pearl has learned to live with a lot of things such as ever changing location of her family home with her clueless mother Margot, which is currently a car permanently parked at a Florida trailer park. Guns are a regular part of trailer life due to alligator infestation as well as one of their neighbors being in the illegal arms business.
When a newcomer named Eli decides to charm his way into Margot's affections, a rift between her and Pearl develops that is made worse when Pearl is forced to make a dangerous decision that truly means life or death.
The dark charms of this narrative echo our present day dilemma over gun culture but this is not meant to be a mere diatribe. Jennifer Clement gives us a older than she wants to be heroine with a haunting grace that reminds me of Ree Dolly in Winter's Bone, sort of spiritual sisters of suffering who could teach us all a lesson in learning to do the right thing for the situation at hand:
Being on the look out for new female voices in literature is something that ought to be done year round but Women's History Month is a fine time to make an extra effort in that department.
Many of the best books by women are sadly neglected over the years from their first publication and become lost to time. Fortunately, there are those loyal readers and writers who strive to keep those books alive and are more than happy to introduce to the next generation, a true act of sisterhood indeed: