One of the perks of being a book blogger is getting to read books earlier than the average reader and before you become all green with envy, keep in mind that this can be both a blessing and a curse.
Early editions can quickly pile up into mountains of reading just as much as newly bought books can(and the same goes for ebooks,too!) and sometimes you don't want to read a certain book too soon since you can't talk about it right away but waiting too long is tricky as well.
However, some books are too good to hold off on and being given the opportunity to not only read but to spread the joy to others about them makes it all the worth while. I am fortunate enough to have a pair of upcoming June titles(one in physical form, the other as an ebook) to be in the middle of right now that I simply have to talk about them so that you can keep an eye out for them for your summer reading list:
NATALIE TAN'S BOOK OF LUCK AND FORTUNE:
The title tome in Roselle Lim's debut novel is a recipe book, written by the grandmother of our leading lady Natalie, whose cooking was legendary in the section of San Francisco's China Town where her restaurant was the crown jewel of the neighborhood.
While she never knew her grandmother, Natalie also has a passion for cooking and pursued that dream as best she could, causing a rift between her and her agoraphobic mother, one that didn't get a chance to heal before her mother's recent passing. Coming home, Natalie isn't sure how to deal with the regrets of the past and to her surprise, finds a good amount of support from her mother's remaining friends,many of whom also remember how wonderful her grandmother's food was:
During her stay, Natalie quickly sees how the old neighborhood has changed and not for the better, with many of the local businesses going in a downward spiral and a vulture of a real estate lady lurking around to snap those buildings up for greedy gentrification purposes.
Since her grandmother's restaurant is abandoned yet still intact, Natalie decides to reopen the place and when granted the collection of recipes, is encouraged to help three neighbors using certain special dishes in order to gain good luck for this endeavor. She is thrilled to help and starts by preparing purposely chosen meals for folks such as Elder Shin, whose bookstore is in decline and needs to regain his courage, and the Chius, a husband and wife who have allowed their financial woes to affect their marriage.
Natalie isn't just relying on the magical property of her grandmother's food to achieve her goals but every little bit does help to bolster her own courage and make peace with her mother's memory. The smells from her test kitchen alone are breathing new life into the whole area and bringing new friends as well:
One of those new friends is Daniel, who was drawn to Natalie's work in progress restaurant by the irresistible scent and flavor of the family dumpling recipe yet seems to be interested in more than just her cooking.
As sweet and charming as he is, Natalie is unsure of herself in this department, having walked out of a prior relationship due to having abandonment issues from her still absent father.
Yet her longings for love are all too real and I suspect that Natalie's appetite for a new life will include a taste of true love on the emotional menu there:
At this point in the novel, Lim's charming story feels as fabulous as a five course meal; sweet without being cloying, nourishing yet not overwhelming and most importantly, deliciousness that makes you want to savor every beautifully written bite.
There are touches of magic within the plot(birds that make timely appearances, the vivid effects of her grandmother's food upon people) but done lightly and delicately, framing the focus of the story with an elegant hand. I have no doubt that by the time I reach the end of this page turning feast for the soul, that my literary hunger will be sated but I wouldn't say no to a second helping, shelf wise.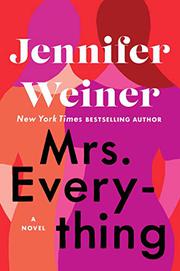 MRS. EVERYTHING:
I've read Jennifer Weiner for years, starting with her debut novel, Good in Bed, and have kept up in an on-again, off-again fashion with her work since then. Given that long term attachment to her writing, I have to honestly say that this upcoming novel may truly be her masterpiece.
That may sound like hype but trust me, it's not. Weiner's heartfelt saga of two sisters, Jo and Bethie Kaufman, is told with her usual blend of humor and love of family, following these very different yet connected siblings throughout the decades.
As Jo comes to grips with her sexual identity during the 1950s and into the later eras, her sister struggles between her need to be seen as "the good girl" and being part of the new social changes all around her yet seemingly out of reach. While their differences do divide them at times, the deep love that binds them can't help but bring them back together at some point.
Granted, I'm still in the 1960s section of the book but the emotional resonance from each sister feeling trapped in her own situation, from Jo's deep longing for her deceased father as the one person in the world who completely understood her to Bethie's inner loathing due to a family member taking vile advantage of her that leads to the early stages of an eating disorder, is palatable and poignantly portrayed.
This book feels emotionally personal to the author and I am sure that it will make readers feel the same way. With any luck, it may be seen as one of the best books of the year. True, I haven't finished it yet but my bookish senses are telling me so and they're never steered me wrong and are not about to start now:
As luck would have it, both of these books are set to be released on June 11 and picking both of them up is certainly a viable option. Happy as I am to be able to read such wonderful books first, I will envy those who get to discover their story telling delights at a library or bookstore a little bit later.
Early reading has it's ups and downs but it's a dilemma that one can happily embrace and will always be rewarded, thanks to patience and the pleasure of a well crafted tale, plus the promise of more to come: