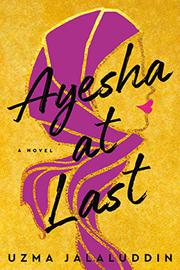 As the heat waves approach us, keeping cool in the shade of a good book is more vital than ever before.
Fortunately, I was recently able to catch up with a pair of Jane Austen themed novels as well as dive back into a cozy culinary series(more on that later) in order to embrace the warmth of good writing rather than the warmth of the day.
As it happens, both of the Austen related books have two things in common; they're set in modern times and each one adapts a fresh version of Pride & Prejudice. First up is
Ayesha At Last
by Uzma Jalaluddin, which takes place in Canada where our title heroine is beginning her career as a substitute teacher. She would much rather pursue her ambitions as a poet but practical concerns and family obligations push her into this traditionally safe profession.
At age 27, Ayesha is considered too old for the marriage market, which is fine with her. However, one of her neighbors, Khalid, who is rather conservative in dress and manners, finds himself attracted to her strong outspoken nature while his mother is firmly on the hunt for a suitable wife for him,according to her standards.
More than one situation throws Ayesha and Khalid together, giving their respective group of family and friends plenty of chances to encourage them as they slowly yet surely fall in love. Plenty of complications arise as well, with enemies from the past and present haunting Khalid and attempting to get in the way of his possible romance with Ayesha.
What I really loved about this book was the delicious rom-com flow of the story that used P&P as a guideline but not a rigid structure. A solid blend of humor and heart went into these characters, such as Ayesha's grandparents who subtly influenced certain plot points and Khalid's party hearty co-worker, who winds up bettering himself a bit as he tries to help his friend.
I also liked how the female characters were fully developed, particularly in the relationship between Ayesha and her cousin Hasfa, who is so the Lydia Bennet of this story. While they do care about each other, Hasfa is rather spoiled and selfish at times, taking advantage of her cousin's generosity, to the point of having Ayesha pretend to be her for an event planning gig that compromises her integrity.
When Ayesha finally does confront her about that and a few other things, it's not pretty but it was also necessary for both characters to truly get to the next emotional level for themselves and the story arc. That push-pull of their relationship makes their bond more sisterly, which reflects on the JA source material nicely:
The romance between Ayesha and Khalid is not to be discounted, however, and it does help to see his side of things here. While Ayesha learns how to take more chances in life and not just settle for lesser dreams, Khalid finds out a few truths about his own family, especially his older sister who was sent packing due to a secret that his manipulative mother was determined to hide(his mom is such a Lady Catherine!).
Seeing the two of them find a place of mutual love and respect in order to be together is lovely and having a few Shakespearean quotes sprinkled throughout the story, courtesy of Ayesha's literary grandfather, really rounds out this enchanting tale of true love, Austen style:
Meanwhile, Sonali Dev's
Pride,Prejudice and Other Flavors
is not just serving up some Jane Austen goodness, this book is meant to be the start of a series of Austen influenced stories set in California that features the Raje family.
Trisha Raje is a brilliant neurosurgeon, still dealing with the guilt of an incident from the past that could upset her brother Yash's political future. As their father is determined for his son to make a distinctive mark in the world, his harshness makes it difficult for Trisha to stay in touch with her family.
Try as she might,though, her family duty pulls her into the current campaign to get Yash into higher office which has her run into DJ Caine, a talented chef who left England to help his sister Emma, an artist with a serious health condition.
As it turns out, Emma happens to be Trisha's patient, which brings them both together more often than either of them would like. No matter what the situation, they just can't help clashing like water and fiery oil, to say the least:
The one thing that they can agree on is food as DJ has high culinary standards and Trisha tends to be rather hangry at times. She does appreciate his cooking, even if her growing feelings for him make her incredibly tongue tied, and he can't resist liking someone who fully enjoys the effort that he puts into his life's work:
A huge barrier to their friendship and potential romance is Julia Wickam, a former friend of Trisha's who betrayed more than one trust. Julia claims to be making fund raising documentaries for the critically ill and wants to use Emma as her next subject. That , along with other complications and secrets that are insisted upon to be kept, makes both Trisha and DJ more conflicted about any feelings that arise between them.
This story is very engaging, with the P&P elements blended lightly into the overall story but still detectable nonetheless. This is one of those up-all-night reads, where you have to make yourself go to bed despite wanting to see what's about to happen on the next page or in the next chapter. This is the first time that I've read Sonali Dev and I'm looking forward to more of the Raje family saga indeed.
At the moment, I'm indulging in the next Hannah Swensen title on my list,
Cherry Cheesecake Murder
, which I was saving for my Series-ous Reading challenge but the need for a relaxing read was just too great. Plus, my mom is way ahead of me with these books and I ought to keep up with them and her!
The main plot has Hannah and friends being thrilled that a Hollywood movie is being made in their beloved town of Lake Eden but when the film's director finds himself on the wrong end of an alleged prop gun, the hunt for a killer in their midst is on.
I do love small town movie making story lines but what really liven up things for me was how Hannah dealt with the pressure of having both Mike and Norman propose marriage to her(that happened at the end of the previous book). Everyone in town kept calling her on the phone, demanding that she make a choice so that either Mike or Norman would stop moping around. Hello, what about Hannah's needs, here?
This was very Stars Hollow and I liked how Hannah became all Luke Danes in publicly taking this issue on, which was really nobody's business but their own. Then again, that is how small towns go, I guess but sometimes, you have to tell folks to stand back and let a person breathe there:
Well, I hope all of you are having a good reading time this summer and if you're in the mood for a new take on Jane Austen, one of the titles above will suit your bookish needs.
Speaking of bookish needs, I'm still making adjustments to my readathon list for August-long books are great but a shorter title or two might help me meet my goals better. Decisions, decisions! At least this is the good kind of dilemma to deal with, if you ask me: