Before I get into all of that, let's start off on the one big positive note here which is the multiple noms for the film
Parasite
, co-written and directed by Boon Joon Ho. It's up for six nominations, including Best Original Screenplay, Best Director and Best Picture as well as Best International Feature(the new name for the Foreign Film category).
This is a first for South Korean cinema, to have such major spots among the Oscar contenders and the film has won several awards at other venues, particularly the Golden Globes and the Palm d'Or from the Cannes film festival. Odds are that Parasite will be a big winner on Oscar night and about the only movie that everyone feels good about it doing so well here.
Both the critical reviews and word of mouth have been great for this social horror story where a poor family schemes their way into the household of a wealthier one, only to face unintended dire consequences from an unexpected source for their status elevation. I remember the first time I saw the trailer for Parasite and right away, you could tell that this was a slow burn of a suspense tale that would haunt you for the better:
The only negative about Parasite's nominations is that none of the actors were included in the Best lead or supporting categories. This omission carried out to many of the other Oscar sections-no women up for Best Director such as Greta Gerwig for
Little Women
(which is up for several other categories, including Best Picture), Lulu Wang for
The Farewell
and Kasi Lemmons for
Harriet
.
Only two POC actors were nominated for the acting categories and while Cynthia Erivo and Antonio Banderas deserved the recognition, so did Awkwafina for her work in The Farewell which won her a Golden Globe.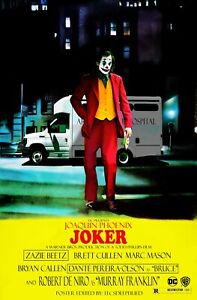 Also, no appreciation for Eddie Murphy in
Dolemite is my Name
, which is a funny,engaging film about cult movie hero Rudy Ray Moore and one would argue a fitting companion piece to Tim Burton's Ed Wood as cinematic tribute to the offbeat stars of the silver screen.
The biggest disappointment to me(and quite a few others out there) is that
Joker
earned the most nominations, eleven, including Jouquin Phoenix in the title role. While I don't dispute the acting talents of Phoenix, this film just repulses me and yes, I have not seen it despite being a big fan of DC Comics and Batman lore in particular.
The whole premise of this film is way off as an origin story for this character and I will tell you why; the Joker was created as a major nemesis to Batman, similar to Lex Luthor and Superman, and while they are polar opposites, they are meant to balance each other off. Granted, there is no set backstory for the Joker(one of his aliases is Jack Napier) but some traits are core components-he's deviously smart and skilled enough to create his own chemical weapons, is gleefully sociopathic and driven by impulse and ego. Basically, a formidable menace in his own right.
According to this movie, the Joker is a sad sack of a guy named Arthur Fleck whose mental health issues and emotional abuse from his mother lead to him taking revenge against a rather Martin Scorsese inspired Gotham City. I'm sorry but dressing up a second rate Travis Bickle in clown make-up and having him attack a King of Comedy(Why, Robert De Niro, why?) is a sadly cynical take on this iconic villain that says nothing original at all.
Instead, it seems to play on cheap stereotypes about those with mental health situations and loaded with pretentious preening about how "we live in a society" where white guys feel free to whine about being picked on for bad behavior. I don't know if I will ever watch this movie but it tells you something when the SNL parody of it sounds like a better version altogether:
Rocketman
, which received only one nomination for Best Original Song. I suppose that the Academy voters thought that honoring Bohemian Rhapsody last time was good enough but they are so wrong!
Bohemian Rhapsody was at best a standard biopic elevated by Rami Malek's performance but Rocketman is a creative autobiographical musical that feels like a Broadway show on the level of Hamilton in terms of quality. Elton John told the story of his life in an emotionally honest way, using his vast catalogue of songs as touchstones for various points in his journey without glossing over any of the messy moments there.
Taron Egerton(who won a Golden Globe for his performance,hello!) was wonderful and egregiously snubbed in the Best Actor category, not to mention Bryce Dallas Howard as Sheila,Elton's viciously passive-aggressive mother and Jamie Bell as longtime friend and collaborator Bernie Taupin for the Best Supporting sections.
Also, how could you not nominate an Elton John musical for Best Costume, Best Production Design or either of the Sound categories? I have seen Rocketman three times(once in theaters, twice on home video) with family members and all of us were moved deeply by the themes of dealing with the pains of the past and moving onward. Based on audience response and mostly positive critical reviews, we are not alone in that good feeling.
While I am glad that at least ("I'm Gonna) Love Me Again" will be performed on Oscar night, it's a crying shame that the Academy is ignoring such an artistic cinematic gem like this:
While "Into the Unknown" from
Frozen 2
(surprisingly not up for Best Animated Film) is nice enough, in the words of a certain Buffy character, it's more of a book number than a breakaway pop hit.
Toy Story 4
's "I Can't Let You Throw Yourself Away" is a throwaway number that barely lasts two minutes. I wouldn't be shocked to learn that composer Randy Newman spent less than half of the song's running time to write it.
"I'm Standing With You" from
Breakthough
is your standard inspirational piece and while Chrissy Metz has a good voice, this tune is far from being memorable. What is a real contender with the Rocketman song here is "Stand Up" from
Harriet,
sung by Best Actress nominee Cynthia Erivo.
She is a Broadway singer, having won a Tony, Emmy and a Grammy for her role in the musical version of The Color Purple and she may become the youngest EGOT winner on Oscar night. Ervio's vocals are amazing and having the lead character perform the theme song to her life story is elegantly touching, to say the least:
Just a few other thoughts before I wrap this up:
Did Scarlett Johanssen really need to be a double nominee? Sure, her work in JoJo Rabbit and Marriage Story was well praised but did she really have to take up spots in both of the actress categories? I suspect not,folks. Hell, Lupita N'yongo could have taken both categories for her duel role in
Us
(which was out and out ignored by the Academy!) and that would have been a bold creative use of that nomination there!
As much as I appreciate Martin Scorsese,
The Irishman
sounds like four hours of his greatest hits and hey, Marty-instead of complaining about superhero movies taking up too much attention, how about taking a creative chance yourself? You've done it before, with The Age of Innocence , The Last Temptation of Christ, Kundun...instead of grousing about what others are doing, make your own work relevant to old and new audiences again.
I am happy that Renee Zellweger is up for Best Actress in
Judy
and that the Make-up/Hair Styling category has five nominees(most of the time, it's lucky to get three).
Other wise, the Best Picture nominees are not that exciting-
Ford vs. Ferrari, 1917,Marriage Story, Joker
,I don't even want to put them on my Netflix queue, let alone watch them at all. I would love to see
Little Women
and maybe check out
Once Upon A Time in Hollywood
and
Jojo Rabbit
but beyond that, a hard pass.
Will I watch the Oscars? Sure, because it's my Super Bowl and even if your team isn't playing, that doesn't mean you can't enjoy the show. I do find it amusing that Best Supporting Actress nominee Margo Robbie will have her Harley Quinn on at the theaters with
Birds of Prey
a few days before the Oscars-when it comes to clown criminals, her royal riot girl act is one worth watching indeed: