There are plenty of detective teams out there on the literary beat but none like Mike Lomax and Terry Biggs,the leading men of Marshall Karp's murder mystery series. We first meet them in The Rabbit Factory,where the death of a cartoon character mascot,Rambunctious Rabbit(aka Rambo),at the local Disneyesque theme park, Lamaar's Familyland is only the beginning of their troubles.
At first,Rambo's murder seems unconnected to Familyland since the guy in the bunny suit turned out to be an unregistered sex offender. Things quickly change when one of the stars of Lamaar's family films is brutally killed while doing charity work. Clues are left behind at the scene that point to a grudge against Lamaar Studios and as the body count grows,it's clear that someone has declared an all-out war against Lamaar and anyone,including customers,are walking targets.
In midst of all of this,Mike is still in mourning for his wife Joanie,who died from long term cancer and dealing with his dad,Big Jim Lomax,who wants Mike to start dating again,plus his brother Frankie's gambling probelms have caught up to him in a lethal way. Keeping Mike steady is his partner Terry,a former New Yorker who finally found the right woman(complete with three stepdaughters)after three marriages. Terry fancies himself a comedian and while he does get off a good line every now and then,he also is the one who puts his foot in his mouth first out of the two.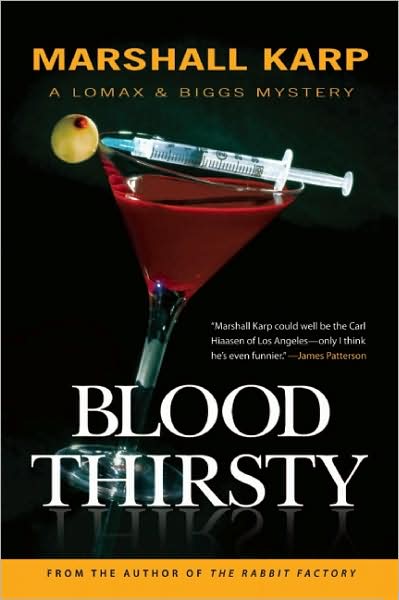 In their latest adventure,Bloodthirsty,Lomax and Biggs find a bigtime Hollywood producer dead and dumped in public. The prime suspect,an arrogant actor whom he was feuding with,is soon found murdered in a similar style. As the media pressure builds up,Mike and Terry discovers a very personal motive behind those murders and find they have some sympathy for the killers,who are not finished with getting revenge by a long sight.
Marshall Karp has written for stage,screen and TV,so he knows the Hollywood scene pretty well. He also knows how to create believable and compelling characters capable of smart,witty dialogue and can keep up a fast paced narrative that grips the reader to the edge of their seat. The Lomax and Biggs books are those great stories that have what Stephen King calls "the gotta " as in"I gotta read a few more pages and then I'll check on the laundry/kids/dinner" and "I gotta find out what happens next." Writers who can do that are real gems that should be treasured and Karp certainly qualifies there.
If you'd like to check out Lomax and Biggs for yourself,The Rabbit Factory has just come out in paperback and Bloodthirsty is due in hardcover this May. You can also visit the Lomax and Biggs official website by clicking the title link above to learn more about the author and his detectives. It's going to be hard to wait for the third book in the series but then again,that'll give more folks a chance to catch up and share in the joy.