I finally got to watch Sophia Coppola's version of Marie Antoinette over the weekend and while it was enjoyable,I couldn't help but compare it to the 1938 film that starred Norma Shearer as Marie. Both movies have their plues and minues and would make a great double feature,however it did feel as if one film had something that the other didn't and like chocolate and peanut butter,two great tastes would make a MA film better.
So,let's begin with the earlier film-Norma Shearer was the wife of MGM studio head Irving Thalberg when this movie got the nod to be made,so ten to one,she knew alittle something about being the most talked wife in high society. Like the later Coppola movie,this film is based on a MA biography but pretty does it's own thing.
Marie's whole life,from her being chosen to marry Louis XVI to awaiting her execution at the gulliotine,is portraited.
Robert Morley plays Louis and I was surprised to discover that it was his film debut. Morley's one of those English actors who looks as if he's been around forever and is brilliantly amusing and touching as Marie's childlike but loyal husband.
Tyrone Power gets most of the romantic moments here,as Marie's true love Count Fersen,and the chemistry between them is pretty hot and heavy. You almost can't blame the poor girl for wanting to hook up with him. They have one great scene where Fersen begs Marie to run off with him and you actually feel a little tension,despite knowing the history-will she or won't she?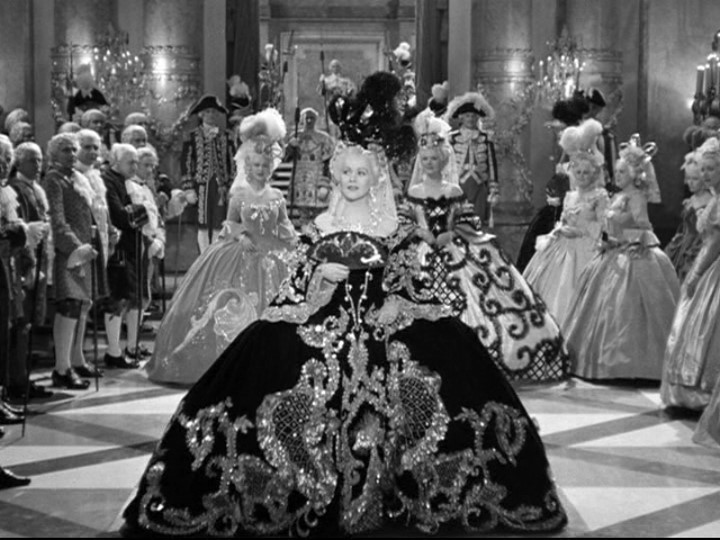 The 1938 film was Gone With The Wind in length and was nominated for several Oscars,including Best Actress for Shearer,Best Supporting Actor for Morley and Best Art Direction. The film has a great opulent look to it and the costumes are lovely,even if they're obvious Hollywood overdone creations. The only real fault that I can find with the movie is the melodramatic tone given to the plot,with such lines as "I cannot wear a crown upon my heart" and "Perhaps the great loves come with tears. " It's a bit soap opera-y at times,but still worth a viewing.
The first impression that you get from the 2006 Marie Antoinette film is "Wow,that look gorgeous!" The visuals are well orchestrated here,from the clothes to the food to the background colors that highlight the glossy world in which Marie and her friends and foes dwelled in. Coppola shows the tightly knit boundaries that kept the royals from knowing the true world outside the glittering fairyland of Versailles that had it's own special landmines. The frustrations of Marie's life,particularly to get pregnant by a man who didn't have clue one about sex(this movie was able to be more forthcoming about that than the earlier one could even think of),as well as her need to relieve the boredom of her days is nicely expressed by Kirsten Dunst.
I know plenty of people objected to some of the modern touches Sophia Coppola threw in,like using contemporary music for the soundtrack but she really makes it work. Here's a great scene,set to Bow Wow Wow's "I Want Candy":
My only beef here is that the movie comes off like a visual scrapbook of Marie's life. The right historical marks are hit(Marie's arrival to France,having to speak to Madame Du Barry in court,the whole"let them eat cake" bit)altho some are totally ignored(no mention of the affair of the necklace,other than Marie saying she wants to give up diamonds for the poor)and the final end of her life is vaguely alluded to.
Well,that's not my only beef-I found Jason Schwartzman to be an inadequate Louis XVI. He's really stiff and stilted and while I know Louis was not Mr. Personality by any means,compared to Robert Morley's much more nuanced performance,Schwartzman is blander than vanilla pudding with a Cool Whip topping served on wafer cookies. Jamie Dornan,who plays Count Fersen,doesn't make much of an impression either.
After watching both Marie flicks,I really think it's time that there was a revival of interest in Madame Du Barry,the notorious last mistress of Louis XV. There have been film versions of her story before(Delores Del Rio played her in 1934)and even the anime film,Rose of Versailles,gives her some attention. Take a look at these Du Barry clips and see if you don't agree that this is another historical lady worth a brand new book/film of her own:
1934's Shady Lady
The Thorn of the Rose of Versailles
Asia Argento's Amorous Approach