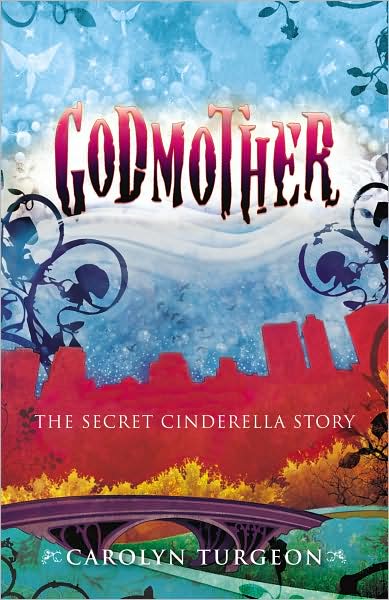 In a used and rare bookstore in the heart of Manhattan,Lil takes great pleasure in opening up the shop early enough to leaf through the pages of her favorite leather bound volume of children's stories which has a sentence in French scribbled on the inside back cover that translates as "All my old loves will be returned to me."
Those words have special meaning to Lil,who is more than just another old woman living alone in the city with only a cheeseburger dinner at her favorite diner and some TV watching to look forward to at night.
When she gets home after a long day's work,Lil can truly relax by unbinding herself and letting her feathery wings spread out in private. For she is a fairy in exile and not just any fairy at that;Lil was chosen by the elders of her people to be godmother to a very special human girl,Cinderella:
Lil fell from grace by falling in love with Cinderella's intended prince herself and trying to take her place at the ball. Her punishment was to be banished from the fairy realm and she has spent centuries making her way in the mortal world,missing her home and friends.
Lil especially longs to see her sister Maybeth and there may be a chance to do so by an unexpected opportunity to make up for her past mistakes:
Into the bookstore one day comes Veronica,a lively young woman who strikes up a friendship with Lil. Veronica has great taste in vintage goods but bad radar when it comes to men. It soon becomes clear to Lil that if she can find Veronica a true love,then she may be able to go home and never have to leave again.
Godmother is the
second book
by
Carolyn Turgeon
whose debut novel,
Rain Village
,received quite a bit of notable praise. Godmother was released just this week and I'm enjoying it immensely. So much that I would like to share this book with one of my blog readers with another great giveaway.
All you have to do is leave a comment at this post before Friday and I will pick one person at random to get a free copy of Godmother sent to him or her by the good folks at Three Rivers Press. Make your comment fairytale related;mention your favorite story or film version of a classic bedtime story. You can also make your choice of favorite fairy tale heroine-Snow White,Cinderella or Sleeping Beauty?
I'll even allow mentions of your favorite fairytale villain or magical helper(Blue Fairy vs. Wicked Queen-talk about a grudge match!). Please just leave your comment by midnight on Thursday and the winner will be announced on this following Friday. Winning this book will be much easier than shoving your foot into a glass slipper or fleeing from a ball down pitch covered stairs,I guarantee: