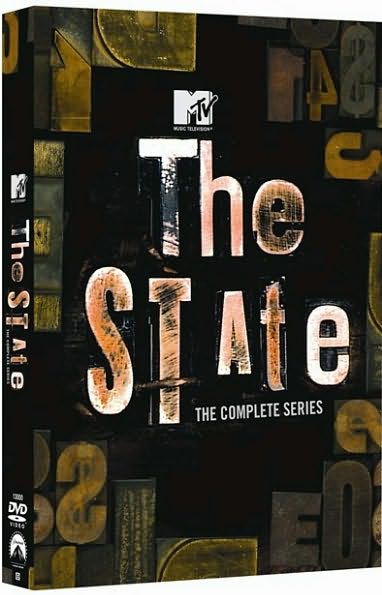 Today is my sister Stephanie's birthday and the gift I gave her this year was a long awaited one indeed. The State was a comedy series that ran on MTV back during the 1990s and many of the cast members from that show went to do more of their weirdly wacky work on such shows as Reno 911!,
Stella
and the current Comedy Central series,
Michael and Michael Have Issues
.
This was a show that my whole family watched together and enjoyed immensely. It took MTV quite a while to get it available for DVD(mainly due to securing the music rights for many of the sketches). The State brings back a lot of good memories for me,along with plenty of laughs,so in honor of Stephanie's B-day,here are a few of our favorite skits from The State:
CHICKEN SANDWICH,CARL!
This bit about a fast food restaurant's chain of command that coincides with the level of employee abuse is one of those skits that not only makes for a great random quote but also makes a few metaphoric points about passing the workplace pain around:
WHO INVITED LOUIE!?
There are a few reoccurring characters on the show,mainly set up as parodies of standard go-to comic relief. Ken Marino's was Louie,whose catchphrase could upstage any gathering including the Last Supper:
BARRY LUTZ TALKS ABOUT MONKEY TORTURE
Not as horrifying as it sounds(no actual monkeys are harmed),this is just a snarky talk show bit that was a favorite of my father's. It just cracked him up to no end and yes,he did like animals but a morbid sense of humor runs in our family,folks:
$240 WORTH OF PUDDING FROM BARRY & LEVON
This is one of the skits that had to have it's original music swapped out;Marvin Gaye's "Sexual Healing" was the background tune for the debut of retro swingers Barry and Levon(played by Michael Ian Black and Thomas Lennon). While I do miss hearing that song,the fellas are still damn funny here:
YOU'RE TOO COOL,DAD!
Another regular character was Michael Showalter's Doug,the moody teenager who was a wannabe rebel mad at the world for having nothing to rebel against. Even his catchphrase was far from being truly unique:
...AND THE RED HEAD GAY!
This is a favorite of mine,and frankly it wouldn't be a shock if one of the Big Three networks(is this any different from the usual fare on CBS?) try to scoop this sitcom silliness up for a future fall season:
I hope you all enjoy these clips as much as my sister will be devouring this DVD with delight for days to come. The State was a wonderful launching pad for a number of talented comedians who are still out there bringing home the humor and hijinks that the world is always in need of.
They've conquered both film and TV,with only the bright lights of Broadway left to tackle. Maybe one day, they will take that challenge and The Porcupine Race Track will be highlighted at the Tonys as a Best Musical nominee. Stranger things have happened: