Opening up this week at a theater near you is Cirque du Freak: The Vampire's Assistant, a kid friendly goth fantasy about a teenage boy named Darren(Chris Massoglia)who runs away to join the circus. Only this one happens to be full of folks with magical abilities and to join the show,Darren must become a "half-vampire" and work for the full fledged bloodsucking ringmaster,Mr. Crespley(John C. Reilly).
The movie is based on a series of YA novels by "Darren Shan"(allegedly his life story there)and I recall reading the first couple of books back in my bookseller days,which were pretty much scary adventure type of tales for boys. Nothing wrong with that,but don't expect a Twilight vibe from this flick-the tone is more Hardy Boys go to Hot Topic: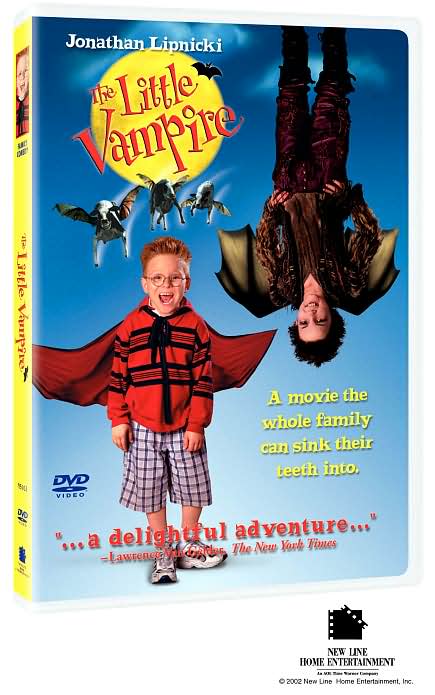 Since Halloween is supposed to be for the kids,plenty of tame terror flicks pop on screens both big and small. Some are fun film treats while others are as welcome as those rocks that wound up in Charlie Brown's trick or treat bag every year. In honor of the arrival of the Cirque du Freak movie,let's sample a few of the childsized chillfests of the past and see which side of the coin they land upon.
First up is The Little Vampire,starring Jonathan Lipnicki(the annoying know-it-all from Jerry Maquire)as the new kid in town who makes friends with the local vampire family. Cutesy vampires tend to irk me but since this is based on a children's book,I am willing to overlook that. However,I draw the line at vampire cows. More boo than moo for me:
Next is Casper,the big Hollywood blockbuster version of the Harvey comics character that many of us know from TV cartoons. While I remember that
old school theme song
pretty well,this high tech take on the friendliest ghost you know never seemed quite right to me.
Granted,Christina Ricci as the human girl who inspires him to regain his mortality was a great casting choice(she basically cornered the market on goth girl roles for awhile there)but the CGI is a little off-putting. Not to mention turning the whole thing into an epic love story,which is really creepy if you think about too much:
I must confess to being totally in the tank for Hocus Pocus. It's hard to resist the delights of seeing Bette Midler as an ancient witch from Salem's past brought back to life on a modern day All Hallow's Eve to reclaim her power and youth,along with her two goofy sisters(well played by
Sarah Jessica Parker
and
Kathy Najimy
).
There's the usual band of Disney kids who try to save the town from the evil plans of the witches but the main thrill here is watching Bette and her back up sister supporting players romp around in this almost campy fare.
The highlight of the film is an impromptu performance of "I Put A Spell On You",which the sinister Sanderson sisters break into at a Halloween party in order to throw the unsuspecting adults off track. That number was well worth the price of admission I paid at the box office all those years ago:
Last but certainly not the least is The Worst Witch,a made for cable movie that later blossomed into a TV series on HBO. Harry Potter fans may like this one,since the story takes place at a boarding school for witches in England.
Fairuza Balk(who later became a more competent and deadly mistress of the black arts in The Craft)plays the title role of Mildred Hubble,the one girl in class who never seems to get her spells to work just right.
As is the way of these things,Mildred uncovers a plot to overtake the school by a pack of evil witches and helps to save the day as well as impress the Grand Wizard(Tim Curry)whose favor is most sorted after. Altho,upon watching his musical salute to Halloween,some of those budding witches might want to rethink their fangirl fervor for this guy:
Perhaps The Vampire's Assistant will be successful enough to spawn a sequel or two. At the very least,it may leave a lasting impression upon young folks who will be inspired to create a little bit of homey Halloween fun in the future. While this holiday is a great excuse for adults to recapture that wonder of youth,it's only fair to let the kids have their time to monster mash on their own terms: