Happy September,folks-while many will mourn the end of another summer,a few like me are eager to embrace the changing leaf colors,crisp cool breezes and slow yet steady pace of things that are part and parcel of the approaching fall season.
While it's still too soon to pull out those comfy sweaters and Thanksgiving decorations just yet,there is a pop culture way to set up for the season that won't have you breaking more sweat than you've already done these past couple of months.
Reading certain books,particularly classics,which you know so well but haven't touched in quite a while can stir those seasonal feelings within you.
I know that rereading may seem like an easy fix,double that for classic titles,but they do say that you pick up more nuances in the book with each reading,so use that as your excuse(I know I will!)there. Whether you've read these particular titles before or haven't gotten to them yet,here are a handful of classic rereads that I tend to turn to around this time of year:
PERSUASION
Since this was the first novel by Jane Austen that I ever read,Persuasion has a special place in my heart and personal library but it invoke fall for me in so many ways.
Anne Elliot is in what her family and contemporaries of that day would consider in the autumn of her life,with most of her youth and beauty being drained away over the years nursemaiding her self centered relations.
Even her former love interest Captain Wentworth(who re-enters her social sphere in a much better position than when he first entered it)notices the change in her appearance,remarking on it within earshot of Anne's spoiled sister Mary who artlessly reported it back to her as "You were so altered he should not have known you again."
Granted,Mary is not the most reliable relater of events but the overall first impression Anne makes upon the world is rather clear. Over time and due partly to spreading her wings beyond the small scope which she has been emotionally exiled to,Anne becomes more invigorated in spirit and that begins to reflect in her personal appearance as well.
It's so pronounced a change than even Sir Walter,her vain father,takes notice of Anne's "improved" looks but ultimately,it's not Anne's face that leads Captain Wentworth back into her arms. It's the sweetness and devotion of her heart that wins the day and causes Anne to make her years of lonely autumn turn to the warm love that sends her and Wentworth into a springtime of their lives: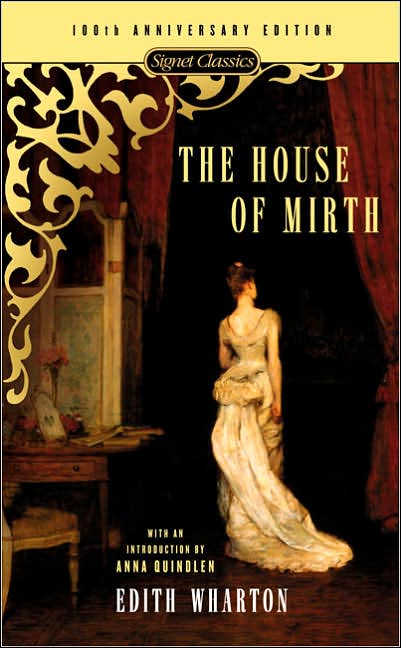 HOUSE OF MIRTH/AGE OF INNOCENCE
Edith Wharton's tales of Old New York are sort of the dark side of Austen's world,which did have similar consequences for ladies who didn't follow the rules or marry well but Jane preferred to give her heroines as happy an ending as she could there.
In The House of Mirth,Lily Bart is also reaching the end of her social salad days as her eligibility in the marriage market is drawing quicker to a close than she fully realizes.
Unlike Anne Elliot,however,much of Lily's woes are brought on by her own foolishness and unwillingness to settle for what she thinks is not good enough for her. Her missteps take her down a steep path towards social ruin that makes Lydia Bennett's bad marriage seem like a welcome relief.
Lily's true soul mate amongst her acquaintances is Selden,a man with his own commitment issues yet being a man in that day and age allows him much more freedom in that arena than Lily can and still be considered respectable. While Selden is sympathetic to her situation,his personal boundaries are as hard to over come as hers: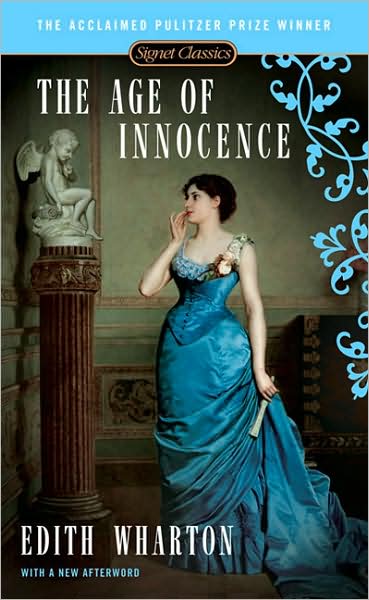 In The Age of Innocence,it's Newland Archer's determination not to make a wrong move that drives him towards a life and marriage of comfortable yet quiet despair. As much as he loves the free spirited nature of Ellen Olenska,Newland is not ready to take the risks that would give him happiness both with her and in the direction that his whole life ultimately takes.
If you think about it,Age of Innocence is a slow motion tragedy of the soul as by the end of the story,the brightest memory that Newland still secretly cherishes above all else is that time with Ellen and even when presented with the chance to get together with her in a respectable manner many years later,he prefers to cling to that golden moment in his mind than taste the reality of what could be: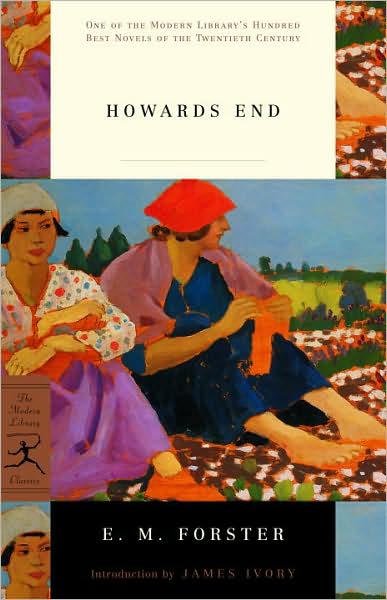 HOWARDS END
I haven't read E.M. Forester in a good long while,yet I do remember preferring this book to A Room With a View or Passage to India. The title refers to a house and estate owned by the Wilcox family,whose dying matriarch wishes to pass on to Margaret Schlegel,a young woman of her recent acquaintance that treasures the glories of the past as well as appreciates the coming changes in the world around her.
The remaining Wilcoxes are quick to suspect a con,but Margaret's good nature and total obliviousness to materialism becomes apparent upon further contact. The elder Mr. Wilcox eventually woos Margaret and marries her,bringing more than one unexpected consequences not only to his immediate family but her's as well.
The true theme of the book is to bridge the distances between the old and new generations-"only connect." While it wasn't too successful in this literary case,the story shows that making the honest effort to do so is a worthwhile achievement in itself,particularly in affairs of the heart:
While plenty of folks out there will only be cracking open a classic as fulfillment of a required course of study,I hope that they will find some enjoyment in these stories beyond the classroom.
Instead of tuning out the talking points about the assigned book as soon as the teacher moves on to the next assignment,perhaps some of them will plug into their intellectual IPods and keep on rocking with the themes and ideas presented on the pages. I know how geeky that sounds but autumn is prime geek time,folks,so just roll with it: