This weekend is all about Mother's Day,that special time when you honor the maternal figure in your life with flowers,candy and greeting cards. While the gentler qualities of motherhood take up the spotlight on this day,I'd like to talk about what I consider to be the greatest sign of love that any mother can show;her fierceness.
I'm not talking about getting into the face of someone hurting their child's feelings and delivering a stern scolding-the moms on display here will not hesitate to pick up whatever is on hand to smack down any fool daring to touch their loved ones in a less than loving manner. No matter how tough the bad guys can be,the fury of a mother ready to kick ass conquers all:
EVELYN O'CONNELL(THE MUMMY RETURNS)
When we first met Evelyn in the original 1999 Mummy film,she seemed like a smart yet spunky gal ready to tackle adventure. By the time the mummy menace returned to her life,Evie was a wife and mother hoping to have more of a normal existence.
That longing for a happy homestead didn't stop her from fighting back as ferociously as her husband Rick when danger dropped in on their doorstep and took their son along for a wickedly wild ride.
As it turned out,this was a battle that Evelyn was destined to take part in as she had done in a past life against the same enemy who set out to destroy her kindred yet again. The one mistake her foe made both then and now was to underestimate Evelyn's determination to protect her family at all costs: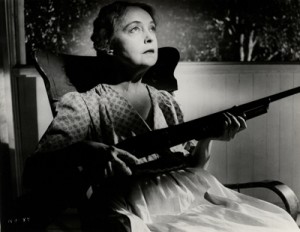 RACHEL COOPER(NIGHT OF THE HUNTER)
A biological connection isn't always necessary for a formidable fighter mother to have. Rachel's devotion to the children in her charge,including the young brother and sister on the run from the devious yet charming maniac Harry Powell,didn't flag for an instant when faced with the threat camped out in her backyard.
Harry might have thought a sweet little old lady was no match for him but Rachel was definitely out of his league,ready with shotgun in hand and faith in her heart to strike down evil at a moment's notice:
VENITA GREEN(KILL BILL,VOl.1)
While most of the audience sympathies go to Kill Bill's Bride in her quest to avenge the loss of her child and husband(not to mention the coma she was put in),you can't help but admire the kick-ass response that Venita,aka Copperhead,gave her when the Bride knocked on her suburban door to get some serious payback.
Venita's ability to switch from nurturing homemaker to cold blooded killer was useful in sparing her little girl from her former friend's wrath yet not enough to spare her one life or prevent her daughter from that traumatic discovery. Maybe Niki will take up the Bride's offer to extract revenge for her mother's well earned demise in the future-now that should be a fight to see:
SARAH CONNOR(TERMINATOR 2/THE SARAH CONNOR CHRONICLES)
Out of the numerous warrior women sprung from the science fiction/fantasy realm,this average girl turned guardian to the future leader of the resistance against the forces of humanity hating technology has become quite the iconic figure.
Terminator 2:Judgment Day is really where Sarah Connor made her mark as a maternal force to be reckoned,at one point having to be talked down by her son from wiping out the scientist who unwittingly was destined to set the electronic end of days into motion. Sure enough,Sarah re-targeted her deadly focus on the real enemy in order to save the day or so she thought.
While her character's involvement with the Terminator series was over and done with on film by the third sequel,she was revived on TV. The Sarah Connor Chronicles lasted two seasons,with it's leading lady doing what she could to protect her teenage son John with the help of some time travel and a female Terminator at their side.
It's a real tribute to the resilience of the character that sci-fi fans don't want her to go off into that good night any time soon. There is talk of including Sarah Connor in another big screen Terminator flick(she did a few voice overs in Terminator Salvation)despite her demise and it would be great to see her back in robot rebelling action again:
NIKI/JESSICA SANDERS(HEROES)
Even when under the influence of her super strength alter ego Jessica,Niki's main motive was to protect and provide for her son Micah. While she had trouble dealing with her duality,the safety of Micah was foremost in her mind and to a certain extent,her husband D.L.(once he proved that his only concern was saving their boy).
Eventually,Niki and Jessica had to bond in order to save Micah from the true villains in their way. At one point,she was able to lend a helping hand in laying the smack down on Sylar,a fight that should have happened but didn't. Regardless of that,Niki was a real mother in every sense of the term:
Happy Mother's Day to all,whether your mom is sweet or salty when it comes to watching over you. Of course,there is such a thing as being too overprotective of your child,which hopefully won't make relations with your mother too tangled if the need to put that in check comes up: