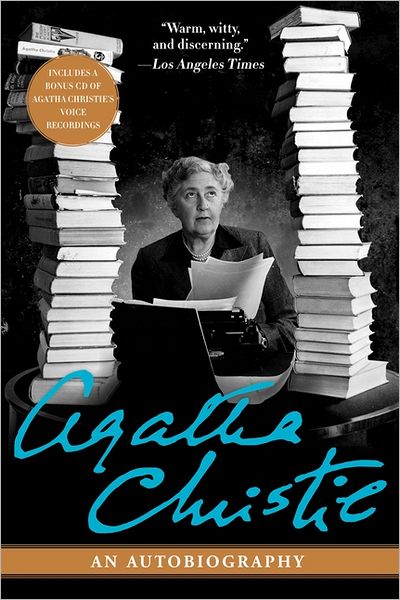 As I mentioned in my November/December book preview post earlier this week,the latest nonfiction title to enter my regular reading circuit is Agatha Christie's
An Autobiography
,which has been out of print for over a decade and due to re-released next month.Christie began writing it in 1950,then paused and took it up again with the book coming in 1977,a year after her death.
Her autobiography reads very much like a novel,as she describes the Victorian era details of her childhood and punches up the small dramas of her life with asides about the changing times and other notions that happen to crop up in Christie's thoughts as she goes along. In some ways,it can remind one of the classic BBC Upstairs,Downstairs as the servants in her family are portrayed with as much depth as her family members.
While the narrative is not entirely disjointed,she does take her time in getting where her memories plan to go(the ones she admits to recalling better than others)and freely confesses in the beginning that she intends to wander about in her recounting here.
The power of her imagination showed itself right from the start,where the land of make believe provided Agatha with some of her best friends and worst enemies:
The book goes on to chronicle other important moments in her life,such as the death of her parents,her first marriage and her successes and stumbles in publishing.
Although very forthcoming about some aspects of her personal life,there are a great many that she doesn't get into,particularly an incident in 1926 where Christie went missing for eleven days and a major search was conducted to locate her.
Despite that omission,Christie's An Autobiography is truly compelling to read. The leisurely pace of the book allows you to slowly savor all of the intricate descriptions that she relishes in relating and as for any unanswered questions,why wouldn't the Queen of Mystery leave us with a few unknowable points to ponder?: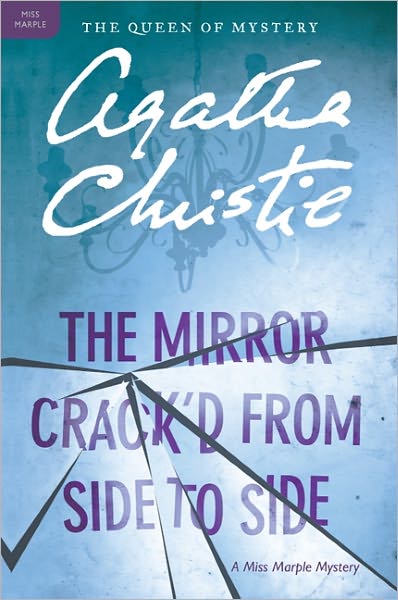 While I'm still in the midst of Christie's autobio,I was able to finish revisiting one of her Miss Marple stories.
The Mirror Crack'd From Side to Side
was first introduced to me via the 1980 big studio adaptation entitled The Mirror Crack'd starring Angela Lansbury as that savvy spinster Jane Marple.
That film is mostly remembered for the other major Hollywood players in the cast such as
Elizabeth Taylor
,Rock Hudson and
Kim Novak
. However,some of the finer details of the novel are trimmed down which makes it all the more a delightful romp to read.
The main murder of the story takes place at the new home of Hollywood actress Marina Gregg,who has chosen to restart her career in England and takes over the estate of Gossington Hall in Marple's home village of St. Mary Mead.
During a reception for the locals,a rather chatty woman named Heather Badcock winds up
being poisoned after having a conversation with Marina
about a chance meeting they once had. Marina at one point seems to have a strange reaction and a frozen look upon her face,which many onlookers soon remark on later. Some simply chalk it up to her being bored to tears by the fan adoration of Mrs. Badcock,something that even regular folk can easily sympathize with:
Eventually,suspicions that the intended victim was meant to be Marina crop up and are seemingly verified by mysterious threatening notes left for her almost everywhere she goes. Suspects are numerous,from professional frenemies to long lost connection that tie in with the sad circumstances of Marina's attempts to have children of her own.
While Miss Marple is not directly involved in the investigation until the very end,many folks flock to her to lay out the facts of the case and ask for her insight into the matter.
Her home companion,Miss Knight,is not pleased with such grisly talk for the woman she considers to be two steps away from being a complete invalid but even Miss Marple's personal physician insists that a nice little murder mystery is the best thing for her. It's not hard to see why,as the dear lady has a rather sharp set of wits and is commendably capable of making keen observations ,even if she still drops a stitch or two in her knitting:
The title of the book comes from a line in Lord Alfred Tennyson's poem The Lady of Shallot,which is used to describe that sudden odd look on Marina Gregg's face at that crucial moment. It turns out to be chillingly apropos and a vital clue to discovering the true murderer:
" Out flew the web and floated wide-
The mirror crack'd from side to side;
"The curse is come upon me," cried
The Lady of Shalott."

It's not just the mystery that makes The Mirror Crack'd From Side to Side so interesting,it's the small yet persistent notice of change in the world as Miss Marple interacts with some of the younger people who have settled in the new housing development(called The Development in capital letters) like Cherry,a part time housekeeper who gives her far more credit for taking care of herself than Miss Knight does.
This comes right along side the themes of being haunted by the past and refusing to deal with dark emotions and impulses. Some might think that a Miss Marple story is just a cozy little tea time mystery but there are a good deal of nuances beneath the surface,if you only look. The Mirror Crack'd From Side to Side is a snappy mediation on how some things change and yet others stay the same to the detriment of others.
With all of this fresh buzz about Agatha Christie,the good folks at Harper Collins were kind enough to send me an item of new Christie swag to award one of my readers with. If you would like to win this lovely Agatha Christie tote bag(pictured items inside the bag in the photo not included),please leave a comment at this blog post by November 4th.
If you like,please name your favorite Christie detective as well. Whether it's Hercule Poirot,Miss Marple,Tommy and Tuppence or one of the heroes of her stand alone mysteries,all are welcome.
Since I will be shipping out the prize myself,this contest is open to US residents only. The winner will be announced on November 7th and I hope that this nifty tote bag makes for a great gift for either yourself or that special Christie fan in your life. No matter how old fashioned Agatha Christie mysteries may seem,real literary talent never goes out of style,satirical or otherwise: