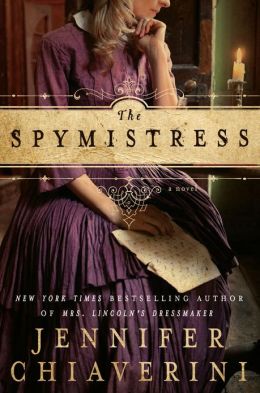 Following up her foray into historical fiction last year with Mrs. Lincoln's Dressmaker, Jennifer Chiaverini introduces us to
The Spymistress
which details the life and times of Elizabeth Van Lew, a ringleader of Union spies in Richmond,VA during the American Civil War.
At the start of the war,Elizabeth is a staunch defender of the North's position regarding slavery and is dismayed at her home state for eagerly joining the growing alliance of Confederate states.
Most of her family,including her widowed mother who freed the slaves owned by her late husband upon his death, support her campaign yet her sister-in-law Mary is quick to become a part of the new social order and to critique Elizabeth for her resistance to the changes in the wind. Realizing that her outspokenness could be used against her with the authorities, she resolves to switch up her tactics in order to aid the Union in any way she can:
Elizabeth's main weapon in her arsenal was her southern lady charms, which she used to gain permission to provide food and other necessities to prisoners of war held at such places as Libby prison, Castle Thunder and even Belle Island.
Before long, she was able to do more than just offer a few amenities to the Union detainees. By certain subtle methods like marking the pages of a borrowed book, Elizabeth was entrusted with carrying messages to the commanders of the Union army which helped enormously in learning who was trapped behind enemy lines.
After some time, Elizabeth was approached about becoming a major player in the growing spy game, something that she had been
quietly doing all along
but not with direct ties to the Union.
She accepted this trust,despite being considered a social outcast by some and disharmony with her brother's family when Mary insisted that they move out of the Van Lew household in order to keep away from the "bad influence" that Elizabeth was felt to be.
The network of spies that Elizabeth worked with included those who worked within the system,such as prison guards, and those who were often overlooked,the African American men and women both free and slave who could gather up plenty of information directly under their oppressor's noses.
Most notable of the lady spies that Elizabeth brought into this secret circle was Mary Bowser,whose family had been enslaved by the Van Lews and was sent to Pennsylvania to be educated. Mary's keen intellect and talent for quickly memorizing details made her ideal to be placed in a very high profile position,as a maid in service to the family of Jefferson Davis,president of the Confederacy:
Over the years,Elizabeth and her friends ran numerous risks in order to aid the imprisoned soldiers(including escape plans) and bring as much vital information as could be found to assist in bringing the war to a satisfying end.
Many times, her powers of gentle persuasion were sorely tested and setbacks in battles between the States,along with the scarcity of food amongst the civilian population,caused Elizabeth to have moments of despair. However, she persisted in doing what she could until the bitter end.
I was familiar with Miss Van Lew's part in the Civil War from reading Lois Leveen's
The Secrets of Mary Bowser
last year and very interested in seeing what a whole novel devoted to her would be like. Chiaverini shows her resolve as well as the good humor that kept Elizabeth going through the worst of times and the devotion she gave to her family (particularly her nieces)and the many friends made during this turbulent time period.
The story has a slow yet steady pace as it moves on,with it's passionate portrayal of a woman who put herself on the line time and again to live by the principles she espoused. The battles that Elizabeth fought may appear to be small in the midst of that epic war but the wins that she did achieve became a vital component in reaching overall victory.
The Spymistress was released earlier this month and should make for an excellent book club selection as well as a great holiday gift for the historical fiction reader on your list. I also hope that it leads the ways for more books about the amazing women spies of that era,a subject that has yet to be fully mined for it's story telling gems: