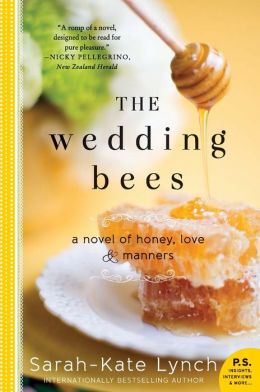 During these chilly days(another snow storm is on the way in my area as we speak), going out for your entertainment needs is a less attractive option and while there's plenty on TV, a good book is always your best bet.
Thanks to Library Thing and their Early Reviewers program, I had a light and lively read on hand for the recent frost fest,
The Wedding Bees
by Sarah-Kate Lynch. The leading lady of this novel,Sugar Wallace, is a displaced Southern belle whose travels have taken her to New York to set up shop for her remarkable batch of bees.
Wherever she goes, Sugar spreads her special brand of good cheer(including an insistence on manners) to those who need it as easily as the honey that her bees create. Her newest neighbors include a grumpy pair of elderly folk,Ruby who starves her body while she also starves for love and Nate, a shy young man with a talent for pastry. During her campaign to assist her new friends, Sugar literally runs into Theo,a former big shot lawyer with a taste for loud shirt and instant surety than he is meant to be the love of her life.
Sugar firmly resists any attempts to fall in love,as her past experience with romance lead to a break with her family back home in Charleston,but all of her friends,Theo and even the current queen bee of her hive(named Elizabeth the Sixth) are determined to make Sugar accepted the devotion that is due to her. It's a charming story that is sweet but not cloying,so if you like romance with a touch of whimsy, The Wedding Bees is a honey of a read: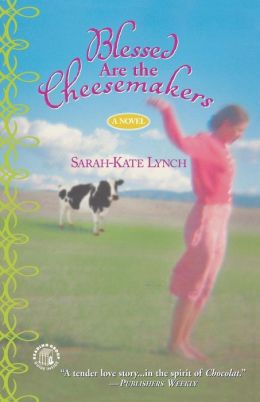 Upon looking at the list of other works by Sarah-Kate Lynch at the beginning pages of The Wedding Bees, one title sprang out as somewhat familiar to me and sure enough, that book was tucked away amongst my huge stacks of yet to be read ARCs from my bookseller days.
Blessed are the Cheesemakers
takes place in Ireland,where the fate of a dairy farm famed for it's remarkable cheddar is in the hands of two unlikely souls that come together. Abby is the granddaughter of one of the long time owners of Coolarney House who has returned to County Cork mainly to get over the cheating ways of her husband while Kit,an American stock broker,needs to dry out and recover from the double loss of his wife and child.
The two of them know next to nothing about farm life or cheese making but with the encouragement of their new set of friends, set about to revive Coolarney House and maybe discover a new love with each other. Nice to find a new read that was waiting for you all,plus I love cheese and this certainly sounds tasty in every sense of that word: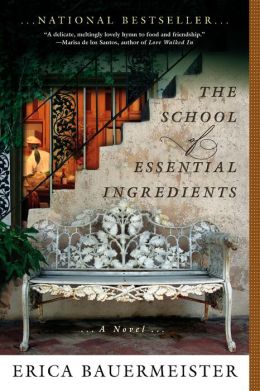 This discovery only made my mouth water for more female friendly foodie novels,so one of the additions to my book rental list at Booksfree was Erica Bauermeister's
The School of Essential Ingredients.
A well respected restaurant chef named Lillian holds Monday evening cooking classes,where the magic of culinary arts are imparted to her students in more ways than one. Amongst her newest set of students are Claire,an overwhelmed young mother, and a troubled married couple,Tom and Helen,who hope to recapture the romance of their earlier times.
There is a follow-up book to this one called The Lost Art of Mixing,which I also included on my list and while not all of her novels are food based,I think Bauermeister could become a real treat to savor on my reading menu:
Food and books are fun any time of the year but during the long winter days, they can be a real relief from the harshness of life and weather. Just like a great recipe, a good book can be a well known formula that can offer a fresh appreciation of it's delicious elements and only a connoisseur of sour grapes would begrudge you a single bite or page turn: