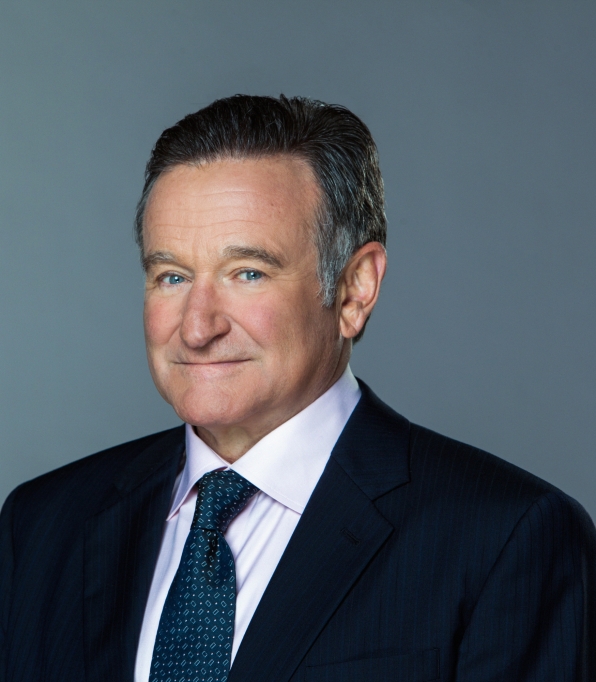 By now, we've all had at least a day or so to digest the sad news that
Robin Williams
has died,much too soon at the age of 63. I'm not here to go over the tragic details of his departure as his family and friends have
suffered enough
as it is about that.
Instead, let us take a sentimental journey that ,from my personal point of view, shows exactly why his loss is being as keenly felt as it is by the vast audiences he reached throughout the years.
More than one generation has grown up with Robin Williams and appreciated the incredible variety and bounty of his talents in just about every entertainment medium. From his stand-up performances to films and beyond, Williams began his career as a comedian but expanded his horizons in other acting aspects, achieving not only awards from the entertainment industry but devotion from fans as well.
His first major platform was television, as an appearance on the short lived Richard Pryor Show lead to guest spots on
Happy Days
as the oddball space alien Mork from Ork which then landed him a series of his own,
Mork and Mindy
,with the delightful Pam Dawber.
That show ran for several years and was one of the biggest sitcom phenoms of the late 1970s to the early 1980s. I was a huge fan and totally adored the totally unpredictable antics of Mork, plus the sweet romance between him and Mindy.
While Williams did move onto films, he always came back to TV one way or another. He was one of the trio of comedians that started up Comic Relief on HBO(to raise money and awareness for the homeless), hosted the Academy Awards. did guest star roles on both sitcoms(Friends) and dramas(Law & Order:SVU) and most recently, had a starring role on The Crazy Ones with Sarah Michelle Geller. It was good to see someone like Williams return from time to time to the stage where we all first met him, back when he and The Fonz were the coolest guys on the planet:
Most of his early films were firmly in the comedy realm such as Moscow on the Hudson, the live action version of Popeye and even The World According to Garp, which veered towards drama.
Williams was able to demonstrate his serious side as an actor slowly but surely, with roles that called for him to be a rule breaking yet kind hearted sort such as Good Morning,Vietnam and
The Dead Poets Society.
While I did like his rebellious DJ in the former, his work in the latter film as English teacher John Keating, who dared to encourage his students to seek mental independence truly moved me.
I even tried to write some poetry after seeing the movie in theaters(it was terrible, so not my literary format) and while the art of poetry is still somewhat elusive to me, Williams helped me and many others to better appreciate this seemingly simple yet tricky to grasp pageantry of words:
His dramatic skills grew larger as he tackled more difficult parts in films like The Fisher King,Awakenings and
Good Will Hunting
, with the last one earning him an Oscar for Best Supporting Actor in 1997.
Don't get me wrong, Williams was still considered a comic genius but folks happened to be pleasantly surprised that there was more in his bag of tricks than a goofy grin and quick joke to be made. In fact, you could say that Good Will Hunting is a sterling example of just how great his verbal skills were.
It's not easy to go from mocking analysis to a tender remembrance and then right into some serious heartfelt advice but Williams did that in more than one scene in this film. No doubt many actors envied him that elegant ease of style and performance:
Now, like any artist, Williams had his film flops, some of which made money anyway(Hook,Jack) and quite a few that did not(Death to Smoochy,Toys and Bicentennial Man).
However, there is still some fun to be had even in those movies and if I had to watch Death to Smoochy again, that wouldn't be such a bad thing. One of my personal favorites of his less than successful films is
Cadillac Man
, a 1990 comedy where Williams plays Joey O'Brien, a fast talking car salesman with many problems, several of which are women.
During a very hectic day at work that could change his whole career, an irate husband(Tim Robbins) of one of his co-workers decides to confront his wife about her adultery and winds up taking the whole place hostage. It does tread towards the dark side at times but everything works out well at the end in a TV movie kind of way.
There's quite a cast on board, with Lori Petty, Fran Drescher and Annabella Sciorra, plus Robbins but the whole film depends on the charisma of Williams' character and he really holds up his end here. Not a great movie by any means but a pretty decent one and well worth watching, if you can find it:
Williams did make a name for himself as a family friendly performer with the likes of Mrs. Doubtfire, voice overs for animated features such as
Aladdin
and The Night at the Museum films(as well as more adult comedies such as The Birdcage), yet his more darker side emerged in certain roles later in his career.
One of those was
One Hour Photo
, where he was "Sy, the Photo Guy", whose friendly exterior as the chain store film processor barely did the deeply lonely and disturbed man within. His attachment to one of his regular customers, a typically happy family, causes him to step outside his secluded little world as he discovers a secret that could ruin that perfect picture of domestic harmony.
Williams should've gotten an Oscar nom for that film, in my opinion. His subtle performance, as well as the visual style of the director/writer Mark Romanek, allowed for a quietly sinister tension to build up over the course of the film and create moments of terror without being explicitly violent or unleashing a torrent of backstory. I remember taking my sister to see this film and afterwards, she remarked that she "forgot it was Robin Williams"- a true hallmark of a fine actor with such a strong mainstream presence:
It is with a heavy heart that we say goodbye to Robin Williams, one of the marvels of the 20th and the 21st century. Sincere condolences go out to his loved ones and out of the kind of decency that Williams showed to others, let us leave them alone to mourn in peace.
Robin Williams was not a perfect person and was open about his personal struggles, yet that does not mean we should rip apart what privacy he had left. For such a good hearted man to be overwhelmed by that most vicious of personal demons,depression, is perhaps a call to us all to be more willing to assist those suffering with the same or similar affliction with compassion and understanding.
May he rest well and I believe it is right to say that we will never have a friend like him again: