This weekend, I took part in
National Readathon Day
, sponsored by the
National Book Foundation
in order to raise funds for literacy programs throughout the country.
I signed up with Good Reads and
pledged to read for four hours
on Saturday,Jan. 24(did a little live tweeting of my progress as well), with a trio of books, one which I managed to finish by Sunday afternoon.
It was good to switch from one book to the other, as buckling down to just read during an allotted time period can be a bit daunting. Not that I wouldn't be reading anyway during that day but making a plan to do so was both fun and rather formal there.
So, while I made a good start in Larry McMurtry's The Evening Star(finished up Terms of Endearment before the weekend, which means my Road to Rereading project is moving along smoothly) and advanced forth in The Barefoot Queen by Ildefonso Falcones, completing
The American Heiress
was the best benefit to my Currently Reading pile.
Daisy Goodwin's debut novel is pure catnip to Downton Abbey fans like me, as the story follows Cora Cash, a New York socialite in the 1890s whose social climbing mother is bound and determined to have her girl marry into English nobility. While visiting in Britain, Cora happens to literally fall down over Ivo Maltravers, a second son of a Duke thrust into the number one son position by the untimely death of his brother.
Needing to marry money in order to preserve what's left of the family estate, Ivo and Cora do find themselves falling in love with each other and getting married. However, a number of secrets and lies that some hoped would lie dormant wind up rising up to offer Cora a true challenge to her social skills as well as her heart's desire.
Not only is the main story beautifully written, plenty of supporting characters are allowed a solid moment in the spotlight as well. My favorite subplot belongs to Bertha, Cora's maid who makes many emotional sacrifices to her mistress and suffers through heartbreak and an interracial romance with the strength and dignity that many would expect to see from the so-called "upper classes". If you haven't picked this one up, I wholeheartedly encourage you to do so at all haste(the title in England is My Last Duchess, hence this video clip):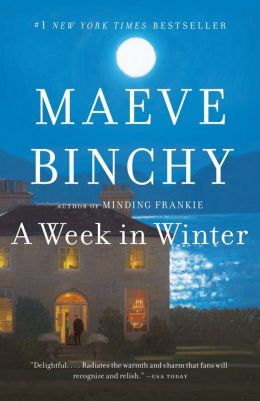 Now, with a major winter storm brewing in my area, another readathon is ready to begin and it's about a week long, meaning it should end by the time the last of the snow is swept up from the streets and highways.
A Winter's Respite has been arranged by
Seasons of Reading
and in addition to the small pile of
light and lively
novels I have set aside for this challenge, I am adding yet one more. Considering the impending blizzard, what could be more appropriately titled than
A Week in Winter
?
This is Maeve Binchy's final work,
published after her death
, and like most of her delightful stories is set in a small town in Ireland. Geraldine "Chicky" Starr returns to her seaside home town of Stoneybridge, after twenty years in New York, to revive an old stately house and turn it into an inn. Chicky manages to recruit her niece Orla and a local young man into helping her as plans to have their first round of guests become more real.
I've already started the book(along with The Secret Diary of Lizzie Bennet) and it's one of Binchy's typical charmers, just the type of tale to sit back and relax with. I so miss Our Dear Maeve, she was such a lovely lady of letters:
So, being in a reading frenzy at the moment is a very good thing, especially during a snow event that is planting itself at my doorstep, like it or not. In truth, I don't mind it that much as it gives me plenty of opportunity to immerse myself in the pleasures of a good book, along with time to recover from such complete joy that finishing one brings: