Downton Abbey
is only two episodes in and already, we're knee deep in drama. Plus, a special guest star(Richard E. Grant) who is flirting with Lady Cora and possibly the family dog(way to be not jealous, your Lordship!).
To start with, Thomas gets over his bitterness about Jimmy leaving to slip a poison pill in Moseley's ear regarding Miss Baxter's criminal past, Lady Mary gets Anna to buy her some birth control for her little love jaunt with Gillingham and Lord Grantham has a tiff with Carson regarding the local war monument.
I'm still concerned about Lady Edith and her "godmother" position,unlike her parents who find her interest as another attention seeking whim on her part(those people just work my nerves when it comes to Edith,honestly!), but these other plot points are worth exploring. Even Thomas, with his schemes against Bates, can be simply just as lonely and human as the others after all:
Meanwhile,
Agent Carter
is still hunting down Howard Stark's missing weapons and is managing to stay one step ahead of her SSR colleagues.
Unfortunately, one of them met an untimely end due to her need for secrecy(or so she feels) but this mission has more deadly parameters than anyone knows about, except possibly for Stark himself and Jarvis.
Speaking of Jarvis, he and Peggy are getting to know each other very well(no romance, as the gentleman is devoted to his wife and Agent Carter is married to her work at the moment) and make a great team. I just hope their combined cleverness can save them from trouble coming from all corners here: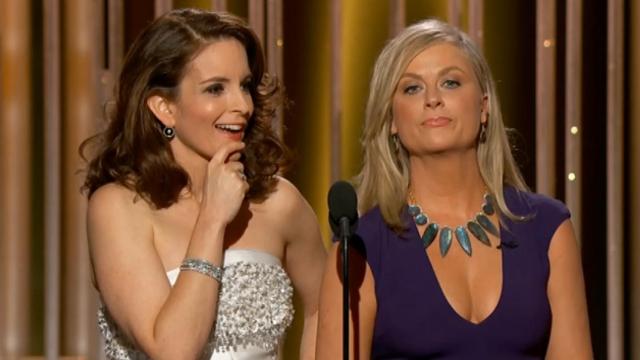 The
Golden Globes
went off without a hitch and congrats are in order for Anna Froggett, Amy Adams, Eddie Redmayne and John Legend with Common(how cool was it that Prince gave them the Best Song award?!).
The big highlight of the night was, of course, the opening riffs from Tina Fey and Amy Poehler, who completed their third and final gig as hostesses of this event. The ladies were sharp and sassy as always, with some of their more pointed zingers hitting harder than others. In my opinion, they were so right about The Interview and yes, Cosby does deserve being razzed there(he should get much worse but karma will take care of that, I'm sure).
I don't know who will be replacing them but whoever it is, they certainly have quite a pair of shoes to fill(two pair, actually) indeed:
RANDOM NOTES:
HOW TO GET AWAY WITH MURDER:
New episodes will return on January 29, along with the other Shonda Rhimes shows that precede it. Waiting is hard, but this does give me time to enjoy new Elementary episodes, so my withdrawal isn't that harsh: