To finish up this section of my
Road to Rereading
that took me
Far From The Madding Crowd
with Thomas Hardy, I watched a pair of adaptations that do diverge on their pop culture paths from the original story.
First up was the 1967 John Schlesinger directed film, starring Julie Christie as Bathsheba with the likes of Alan Bates(Gabriel Oak), Peter Finch(Boldwood) and Terence Stamp(Sgt. Troy) as her would be lovers.
The movie was shot in England and did very well financially over there yet it was a flop in the US. I suspect that audiences were expecting a hot and heavy roll in the hay kind of film(the movie posters certainly try to sell it that way) and what they got was a three hour story that doesn't flash even a little bit of skin(although that sword play scene is rather sexy in a strange scary way).
That's a good thing, as the plot does stick pretty close to the book although it does lean hard on it's picturesque setting at times. The visuals are excellent, making you feel as if you're peeking into an actual long ago world, with the rough and tumble grittiness of country life so real you can almost feel the dirt and rain.
Julie Christie does make a lively Bathsheba and you can see why so many men are
willing to flock around her
for even the slightest chance at her affections. Her male co-stars are in fine form here as well, with Stamp making quite the sensual presence as Troy.
If you're only seen him as General Zod in Superman II, this performance will not only change your perception of him, it will impress you greatly indeed. Yes, Troy is an utter cad yet Stamp manages to make him more than just a slick charmer.
For example, the depth of emotion that his character has to showcase during the demise of Fanny Robin comes across so well, with the sadly distant look in his eyes along with his body language saying all the things that Troy can't or won't say about his pain, Stamp displays all of that inner turmoil so vibrantly, making this disreputable fellow sympathetic as well as a brilliant sight to behold:
The worst that I can say about this version of FFTMC is that the pacing of the film does slog at times. The full weight of that running time bears down hard upon you around the midway mark, making this experience more of a struggle than it should be. Possibly another reason that the movie didn't do well in America but then again, US audiences were no strangers to lengthy cinematic story telling back then.
This version of Far From The Madding Crowd was recently re-released in England, due to a restoration that brings it's visual beauty back to full blooming life. I'm not sure if this newly retouched edition will be available in the US but the movie is definitely worth seeing in any form.
Just be prepared for a long haul with plenty of popcorn and allow yourself to savor this rich feast for the eyes and soul:
Tamara Drewe
is inspired by Far From The Madding Crowd via a graphic novel by Posey Simmonds(which first started as a comic strip) and was made into a 2010 film directed by Stephen Frears.
Gemma Atherton plays our leading lady, a young woman who returns to her remote home town in the English country side to unload the house she's inherited from her deceased mother. Due to a nose job, Tamara is nearly unrecognizable at first yet everyone is
suddenly impressed
with her charms.
During her time there, Tamara runs into three men very interested in her, Andy(Luke Evans), Nicholas Hardiment(Roger Allam) and Ben Sergeant(Dominic Cooper). Andy's family once owned the house that Tamara now has claim to and they did have a brief fling during their teen years. Nicholas and his long suffering wife Beth(Tamsin Greig) run a writer's retreat and Ben is a disgruntled drummer recently kicked out of his band.
While there are obvious connections to the Hardy novel(one of the writers at the retreat is a Hardy scholar), the story is not constricted by that and takes several creative turns in the comedic zone here.
With a pair of local girls eagerly spying on rock star Ben and Tamara, a budding romance between the constantly cheated on Beth and her new friend Glen, the Hardy researcher(who is one of the most likable characters here) and Tamara making more than one wrong turn in love, one of which includes the obnoxious Nicholas as her temporary lover(in her eyes, at least), the film is an amusing comedy of errors.
Particularly if you enjoy English humor and yes, it can be broad at times yet your interest never drops from any of the intersecting story lines for a moment. I do like the chemistry between Atherton and Evans, as their characters are reluctant to connect and yet they can't help clashing at just the wrong times: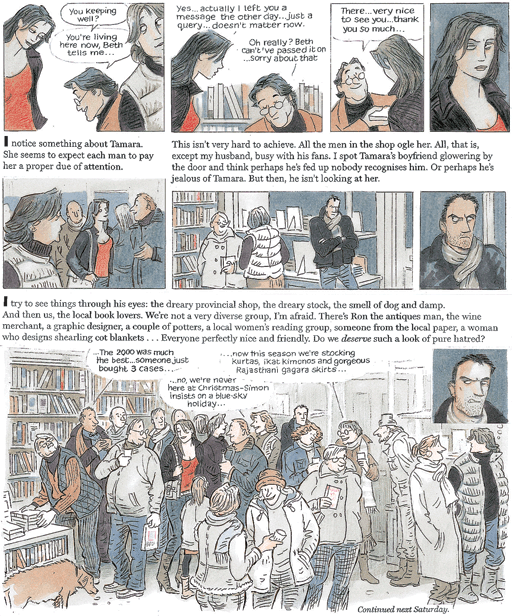 I haven't read the graphic novel but even if you haven't read that or Far From the Madding Crowd, I do think that this movie is still fine fun to watch.
I did find it helpful to have at least read FFTMC in order to get why certain things happened the way they did(the shooting of a dog, for one) but that should not deter anyone with a taste for British comedy from checking this out.
Also, book lovers will enjoy this movie as it does have a lot of good zingers about literary affectations, with Nicholas as a commercially successful mystery writer sounding off advice that Glen quietly punches holes through. In addition, the two bored teenage girls Jody and Casey(Jessica Barden and Charlotte Christie) who cause more havoc than they realize are a delight. So much goodness abounds in Tamara Drewe, it's hard to contain my joy!:
My time with Hardy was well spent but now I must focus on my summer outing on the Road to Rereading as George Eliot's Daniel Deronda is next in line. More about that soon, perhaps later this week as such an intriguing gentleman's company must be thoughtfully prepared for: