The halfway point of the
Spring Into Horror
readathon(courtesy of Seasons of Reading) is today and so far, my progress report has me checking off two completed titles,one book that I'm nearly half way through and another to be started before the end of this day.
Since I'm going more for quality than quantity, this feels like a good place to be at here. One of the books that I completed is also the first one that I've ever read by this author and it packs one hell of a punch indeed.
Mira Grant's
Into the Drowning Deep
is set a few years into the future,where a ship named the Melusine is setting out with a full crew of scientists,sailors and a pair of big game hunters to track down mermaids at the Mariana Trench.
This voyage is financed by Imagine, an entertainment company that sent out a ship several years earlier to film a reality show "search" for the mythical sea maidens but no one came back alive as the grisly film footage that they managed to get showed. While Imagine is hoping to make good on the bad PR that came from that prior trip, other passengers are looking for their own personal redemption such as Tory, whose sister Anne was the on camera personality on that fatal ocean journey.
Along with her is Dr. Jillian Toth, who has been telling folks for years that mermaids are real and more deadly than legend would have us believe, Heather and Holly, deaf twin scientists who specialize in aquatic studies(and have their older sister Hallie on board as their interpreter), Olivia, the new Imagine media spokesperson and the Abneys, a husband and wife team who openly love the thrill of the hunt.
Despite the number of scientists and gruesome evidence from that first mermaid expedition, many of Melusine's crew and company don't really believe that any sort of "lovely ladies of the sea" will be found. Well, in one sense, they are right as what they do find is far from lovely,more like lethal who consider humans to be no more than a special brand of canned Chicken of the Sea treat:
When Heather uses her submersible to dive down into the depths, she is the target of an attack that's filmed live to the ship and that event not only proves the existence of mermaids but shows just how truly vicious they are.
As the assault against the Melusine increases in intensity, priorities change from gathering data for further research to fighting to survive, which becomes more urgent by the minute.
Yes, this story does have a bit of a B-movie concept to it but the writing is as sharp as the dagger like teeth in these mermaids' mouths. Mira Grant neatly develops her characters, bringing them to full life so that they are not simply props to be torn apart by the monsters(who have some inner insights of their own to share with the reader). Also, there is plenty of solid good science laced into the dialogue between various characters that feels natural rather than academic exposition.
Into the Drowning Deep is a rip roaring adventure into fear that engages as well as excites, with smart characters and page turning suspense. Plans are under way to turn this novel into a movie and if they do it right, the end results will be next level popcorn fare indeed: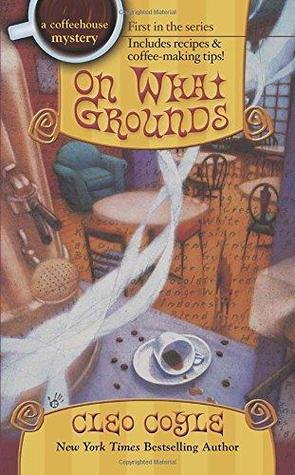 Meanwhile, despite being a tea drinker, I am indulging in the first three books in Cleo Coyle's
Coffeehouse Mystery
series. Book One,entitled
On What Grounds,
introduces us to Clare Cosi, who has moved from the New Jersey suburbs to Manhattan in order to run The Village Blend, a well known coffeehouse owned by her former mother-in-law.
Clare is looking for a change of scene upon her divorce as well as wanting to be near her daughter Joy, who is now attending culinary school. What she didn't expect to find on moving day was one of her night managers dead in the back room. While the police seem to think this was a fatal accident, Clare is convinced otherwise and starts up an investigation of her own.
This has her clashing with Detective Mike Quinn, who is very married yet there's still a bit of vibe between them nonetheless. The growing facts of the case keep bringing the two of them together but it's complicated at best(one of those complications being Clare's ex-husband Matt, who has a part ownership of the Village Blend). One thing that does help to form a bond between Clare and Mike is that she's able to introduce him to a truly good cup of coffee:
After that case was closed, I went on to
Through the Grinder
and in the middle of it as we speak. While things are going well at the Village Blend, a number of the female regulars are dying under similar and suspicious circumstances.
Clare grows concerned about this, especially when Mike appears to be targeting a potential new boyfriend of hers, Bruce Bowman. It doesn't help that not only does Bruce have a connection with each of the victims, one of those ladies turned up at the Cappuccino Companion dating event held monthly at the Village Blend, the very one where she met Bruce.
Clare took part in that speed dating deal mainly to keep an eye on Joy, who decided to try and find a new romance there. As it turned out, Clare made a love connection of her own, most unexpectedly but could he really be a literal lady killer?:
After reading a later entry in the series that peaked my interest in starting from the beginning, I'm happy to say that the Coffeehouse Mysteries are a nicely caffeinated cozy read with a distinct New York flavor. My next shot of entertaining espresso will be Latte Trouble and probably after this readathon, I'll be sipping a cup of Murder Most Frothy as well as some of the other fun fictional flavors to be had in Cleo Coyle's bookish cupboard.
As for the rest of Spring Into Horror, I have a couple of Fiona Barton novels on hand(The Child will be next up) and I hope that my fellow SIH participants are enjoying their set of scary stories as well. Granted, you only have to read one scary book for this challenge but filling up on spooky tales is frightfully good fun that can be hard to resist: