A major sign of spring in my neighborhood is the arrival of the local church rummage sale(not my personal church,btw-it just happens to be very close to my home) and while the offerings can be either feast or famine, I usually find a new book or two to add to yet another TBR.
The first read I spotted was Shirley Jackson's
We Have Always Lived In The Castle
, a nice Penguin Classics Deluxe Edition with only slight wear to it. This was Jackson's last book and held in even wider regard by some that her iconic Gothic novel, The Haunting of Hill House.
The story is told by Mary Katherine "Merricat" Blackwood, one of the three remaining members of a prominent family in a small New England village. While reviled by the townsfolk, due to the mass death by poisoning of several relatives six years prior, Merricat and her older sister Constance,along with wheelchair bound Uncle Julian, manage to lead a reasonably quiet life.
When a distant cousin,Charles, pays a visit and stay far longer than expected, Merricat begins to feel threatened by his presence and suspicious of his motives,especially as far as Constance is concerned. Is he truly interested in being part of their lives or simply out to steal the family fortune? As Charles' true reasons are revealed, a few other hidden truths surface that could awaken the recent past in more ways than one.
As luck would have it, a new film adaptation of WHALITC is due out this May, starring Taissa Famiga as Merricat and Sebastian Stan as cousin Charles. I don't know when I'll get to see the movie but in the meantime, this chilling little read will do nicely: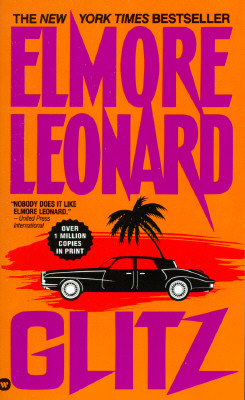 I wound up pairing that with something a bit more modern.
Glitz
by the late great Elmore Leonard is set in Atlantic City, where convicted sex criminal Teddy Magyk is out for revenge against Vincent Mora, the Miami police detective who sent him to prison.
The murder of a woman Mora used to know brings him within Teddy's sights and the cat and mouse game begins. However, Vincent is not totally unaware of someone keeping an unwanted eye on him and is also ready to dish out some payback of his own.
I haven't read an Elmore Leonard novel in some time and since this happens to be a favorite of Stephen King's(he praised it highly in a 1985 book review for the New York Times), this should be a snappy one to get back into Leonard's style of writing.
The book was made into a made-for-cable movie in 1988 but would be too hard to track down for a viewing. That's fine but with so many of his works being adapted for the big and small screen, it does seem odd that this story hasn't been remade yet. Nevertheless, the book is still out there to discover again as I did this weekend:
The final book on my rummage sale pile was a small Oxford University hardcover copy of
The Moonstone
by Wilkie Collins. This is one of those authors that I keep meaning to read, particularly since I enjoy Charles Dickens(who was a contemporary of his) and perhaps now I might actually get to him.
The title gem is not actually a moonstone; it's a huge diamond from India given to young heiress Rachel Verindar, a legacy from her uncle who stole the jewel during a battle back in his military days. Upon wearing the gem during her eighteenth birthday party, Rachel announces her ownership of it and the diamond is stolen from her room.
A series of strange happenings follow this theft, leading to an all out investigation that asks as many questions as it answers. This story is considered by a number of literary folk as the first major detective novel and while that may be debatable, The Moonstone did set up several tropes that are still in use in the mystery genre today.
There are a good amount of adaptations of this story, including a recent one that became a YouTube series. It's not that I need a movie version to read this but it's nice to know that such an option is available in abundance:
Starting off spring at the rummage sale is a nice tradition that I manage to maintain and while I have a good stack of new reads,thanks to my recent birthday, it's fun to find a few bookish surprises.
Given that I buy books the way some people buy clothes or shoes, it's good that I also donate regularly to a nearby thrift shop. Not to mention a necessity as my shelves can get as cluttered as any closet with goodies that I need to let go of(and yes, I do store books in my clothes closet as well):