I'm sorry to report that my last library haul was a bit of a bust-only one out of the three books that I borrowed was read to completion(the other two, I did give a good try, honest!).
However, better one than none, I suppose and in making a sooner than expected visit to the library this week, my unexpected trip paid off quite nicely. In the new releases section, a copy of Sophie Kinsella's
I Owe You One
was easy to spot, almost as if it was waiting for me.
The leading lady of this story is Fixie Farr, youngest sibling of the family that has run an up-to-now successful home goods shop in West London. When their mother takes an extended vacation in Spain, Fixie finds herself being the only sensible person on hand who is aware of the troubles that the business is having.
Between the ludicrous schemes of her older brother and sister, along with the sudden appearance of an ex-boyfriend hoping to rekindle their romance, Fixie has enough on her plate as it is. That platter of problems threatens to overflow as she makes a connection with Seb Marlowe, an investment manager whose IOU keeps them in constant touch. Is Seb her tipping over point or the promise of a better path in life for them both?
My reading luck seems to pop up with Sophie Kinsella titles lately, as Twenties Girl landed in my lap the other week and now this. Perhaps the universe just knows when you need a few good reads and Kinsella is a perfect fit for me right now:
My lucky library find was not a fluke, as
Marilla of Green Gables
by Sarah McCoy was also available barely a shelf away.
This prequel to the classic Anne of Green Gables focuses on the younger days of stern foster mother Marilla Cuthbert as she tackles the responsibilities of home and family due to the sudden death of her mother.
When given the chance to see more of the world, thanks to her maternal aunt Izzy, she travels to Nova Scotia to work for the Ladies Aid Society by helping out at an orphanage that also serves as a depot for the Underground Railroad from America.
Torn between her new found independence and the possibility of making a life back home with long time love John Blythe, Marilla finds that there is more to consider than her own heart in the choices that must be made. As someone who only discovered the joys of Green Gables a few years ago, I am very open to a story like this that offers a good deal of backstory to a character that seems harsh on the surface but has more emotional nuance to share with those she truly loves: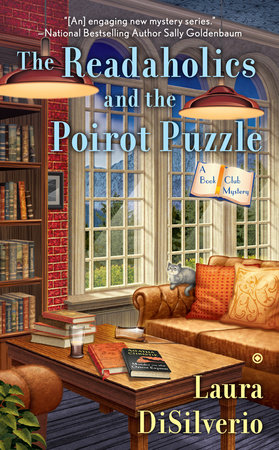 There were a couple of other interesting books that pinged my regular reading radar but in the end, I decided to take a chance on a new cozy mystery series.
The Readaholics and the Poirot Puzzle
is the second entry in Laura DiSilverio's Book Club Mystery series and since there are just three books at the moment, this is a good enough place to start.
Amy-Faye Johnson is an event planner whose book group also likes to solve murders as well as reading about them. Their latest selection is Agatha Christie's Murder on the Orient Express, which is giving them plenty of food for thought discussion wise.
When Amy's brother Derek is under suspicion for the sudden demise of his temperamental business partner for his new pub, she and the rest of her reading group decide to follow in the footsteps of M.Poirot and see if they can stop Derek from being railroaded right into jail.
This concept sounds like great fun and I hope the book talk also includes the movie adaptations as well(the latest remake of MOTOE wasn't much to write about, in my opinion. In that regard, the 1974 version did a much better job there):
So, my literary luck should result in perhaps finishing all three books before returning them to the library-hope springs eternal, as they say. Given the hectic nature of current events, the most stable thing in the world right is a good book worth reading and this new trio ought to add greatly to my TBR oasis indeed.
In the meantime, I wish you all a happy weekend of reading and a Happy Mother's Day to all of the maternal types out there. Regardless of age, moms are still people,too and gals who just want to have fun every now and then, so let them take their strut on the catwalk!: