Now that we've all gotten back into our regular fall routines,October is looming just over the horizon there which is more than just an excuse to watch too many horror movies and finish off that "leftover" Halloween candy while doing so. October also means a new bumper crop of good books coming our way and there's no better way to start things off right than with....
THE FIRST EVER LRG CONTEST!
In celebration of Alice Sebold's new novel,
The Almost Moon
(due out on October 16),I am holding a jingle writing contest that will award the winner a free copy of the book. Starting October 1,please send in your best last line to this original little jingle of mine:
Alice Sebold made her Lovely Bones,
With readers both near and far.
Now,with The Almost Moon approaching....
Please note that this jingle is NOT part of any official ad campaign for the book,this is strictly just for fun. Over the summer,I read
Terry Ryan
's The Prize Winner of Defiance,Ohio(which was made into a great
movie
starring Julianne Moore)and was inspired by the wit and creativity of those jingle writing moms and thought it would be nice in this day and age to see if some of that old school wordsmith magic could ignite a few sparks online. I will announce the winner on October 31 and runners-up will have their favorite TV commericals(provided that they're available on YouTube and have PG-13 content) posted with their submissions. Check back on October 1 for more details on where to send your entries and how to label them,so they can safely make their way out of the Spam folder. This should be a lot of fun!
A NEW SCREAM QUEEN ON THE SCENE?
For all of us vampire fans out there,Jennifer Rardin has a new moonlit heroine for our reading pleasure arriving on October 8. Her name is Jaz Parks and she's an Assistant Assassin for the CIA. Together,she and her ancient boss,Vayl,track down bad guys and get into all kinds of deadly adventures,starting with
Once Bitten,Twice Shy
and continuing in December with Another One Bites The Dust. There's always room for another kickass warrior woman on my bookshelves and hopefully yours,too.
A PAIR OF LONG AWAITED NOVELS FROM TWO HEAVYWEIGHTS OF FICTION
Richard Russo's
Bridge of Sighs
is out in stores today,but it's close enough to count it as an October release. Many folks have been on the lookout for another big book from him after his Pulitzer Prize winning novel,
Empire Falls
, came out in 2001. I was fortunate enough to meet Russo briefly, at a book reading/signing event that my then bookstore was sponsoring(it was for his short story collection,
The Whore's Child
)and he was not only a great speaker but a true gentleman who gave his time and attention to everyone present who wanted to talk with him. This new book is the story of Louis Lynch,who is planning a trip to Venice with his wife Sarah where they hope to meet an old friend that's become a well renowned artist with no other ties to his past. Sounds like another winner to me.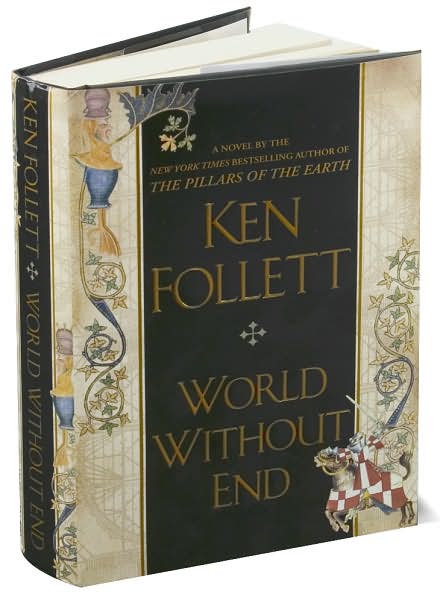 One of my favorite historical novels is Ken Follet's
Pillars of the Earth
,which told the tale of a cathedral building that impacted several lives in a small town in 12th century England . POTE is still one of Follett's bestselling books and he is about to give us a follow-up to that massive work on October 9 entitled
World Without End.
WWOE brings us back to the town of Knightsbridge in the year 1327,where four children(some of whom are direct descendants of folks from POTE) are witness to a murder that impacts the course of their destinies. You don't have to had read the earlier book to enjoy this one,but both of them together would make an excellant literary feast for your imagination,I'm sure.
A MOUTH WATERING MEMOIR
Playwright
Eduardo Machado
gives folks a savory slice of his life in Tastes Like Cuba:
An Exile's Hunger For Home,
where he recounts his early childhood days and his family's flight from Cuba by recalling the foods that evoke the strongest memories of those times. He also includes stories of his life and times in America,along with recipes of such favorites as roast pork,his grandfather's take on arroz con pollo and his intro to all American dishes like Spam. I'm getting hungry just writing about this one!
TRULY SEPARATED AT BIRTH
When Elyse Schein decided to find out who her biological parents were after 35 years,little did she know that she would also discover a twin sister as well. She and Paula Bernstein reunited and discovered not only their similar paths in life but that those paths were made separate on purpose by researchers looking to advance their theories about the rearing of twins. Their story is told together in Indentical Strangers(
coming out Oct.2
)and is quite an eye opener in more ways than one:
LOOK AT THESE COUPLE OF JOKERS OVER HERE...
A.J. Jacobs
is back on the life experiment scene with his new book,The Year of Living Bibically,(Oct.9)in which he tries to see if one can truly live by the Ten Commandments in the modern world (along with some lesser known religious rules)and still keep in step with society. Jacobs also takes a tour of other followers of that ol' time religion such as the Lancaster Amish,some Appalachian snake handlers and a few believers of creationism. If this is just as enlightening and entertaining as his previous work,The Know It All,we're in for a real treat here,folks.
Last but certainly not least,the mighty Stephen Colbert hits the literary scene with his sure to be a bestseller,
I Am America(And So Can You!)
,due out on October 9. The popular host of Comedy Central's The Colbert Report is now daning to grace us with his unique take on the current state of the country and popular culture. This book should dovetail nicely with the upcoming comic book adaptation of Colbert's Tek Jansen Adventures,which diehard members of the
Colbert Nation
are eagerly champing at the bit for: