Joss Whedon and friends decided to give folks a sweet summer treat online;for the past few weeks,so many people tuned in to check out
Dr. Horrible's Sing-Along Blog
,a project cooked up during the Writer's Strike that was to have a limited time only free showing,that the site broke down a couple of times.
The finale was posted over the past weekend and is now no longer available at the official website(you can download it on ITunes or hunt around for
clips
and check out
fan sites
* see update below)As the title suggests,Dr. Horrible is a musical about an ambitious super villain(Neil Patrick Harris) who is torn between two burning desires: to join the Evil League of Evil which is run by Bad Horse"the thoroughbred of sin" and to win the heart of Penny(Felicia Day),the local laundrymat girl of his dreams:
Unfortunately,Penny catches the eye of Captain Hammer(Nathan Fillion),Dr. Horrible's sworn enemy and a pompous moron who takes great delight in letting the bad doctor know that he's hooking up with Penny just to make him miserable. This turn of events leads Dr. Horrible to choose to kill two birds with one stone,literally:
The big showdown occurs during a ceremony to honor Captain Hammer's help in getting a homeless shelter up and running,which is Penny's dream,and as Dr. Horrible begins to have his moment of glory,things go not quite the way he expected. Don't worry,I won't give away the ending but will say that longtime Whedon fans know full well that Joss is a master at bringing both the laughter and the tears: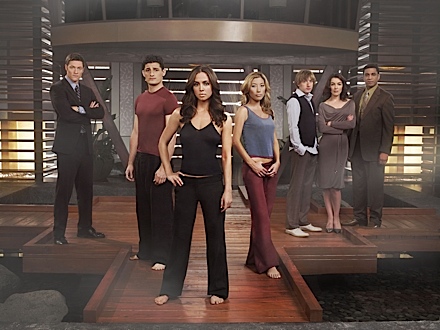 I have to admit that I was hesitant to check out Dr. Horrible at first;as wonderful as Whedon's creations are,they do tend to be targets for early dismissal,which Firefly fans can certainly attest to. Folks are already rallying about Dollhouse,the new Fox/Whedon venture that stars former BTVS slayer Eliza Dushku(no stranger to being cancelled by Fox herself)as Echo,one of several "Actives",people who are programmed with different personas for clients and then have those memories erased.
Dollhouse might take off and dig it's heels into the network's schedule but I think it's better to let that happen on it's own instead of setting up hype that may turn off potential new watchers from it. Overhype is a deadly thing,people:
Ultimately,I am glad that I caught up with the Dr. Horrible show. Not many people can whip up a whimsical musical with a sympathetic super villain as the lead and make those dramatic highs and lows of the story pop and sparkle to life within 45 minutes. Such is the genius of Joss Whedon. It's a real shame that he and Warner Bros. couldn't
see eye to eye on the Wonder Woman movie
( and I shudder to think who might be attached to that).
Also,I was truly impressed by Neil Patrick Harris. I had no idea that he could sing and have never seen him on How I Met Your Mother or those Harold and Kumar flicks(then again,I didn't watch Doogie Howser,either)so his performance as Dr. Horrible,aka Billy,was a complete surprise and utter delight for me.
He wasn't the only one on his A game here;Nathan Fillion was insanely funny as Captain Hammer and Felicia Day(one of the Slayerettes from the last season of Buffy)was a sweetheart as well.
My favorite side line characters were the Captain Hammer groupies,with their sad collection of such CH memorabilia(a lock of his hair,a dry cleaning bill for sweater vests)and their eagerness to do "the weird stuff" for him on command.(Note: the young gal in the picture on the left is just a model for the
official Dr. Horrible T-shirts
,not one of the actresses who played the groupies. Just thought I should make that clear).
The saga of Dr. Horrible will be shown in full at the San Diego Comic Con this forthcoming weekend and plans for a DVD release are under way. This may have been intended as a light little online entertainment but judging by the rapturous response of the viewers,Whedon may have to give us some more of the horribleness soon. We know you have other pots to stir,Joss,but this was too good to give up cold turkey. Please take pity on us and give your fans something to sing about:
*Update: Dr. Horrible is now
available on Hulu
,for all to enjoy. Thank you,Joss!