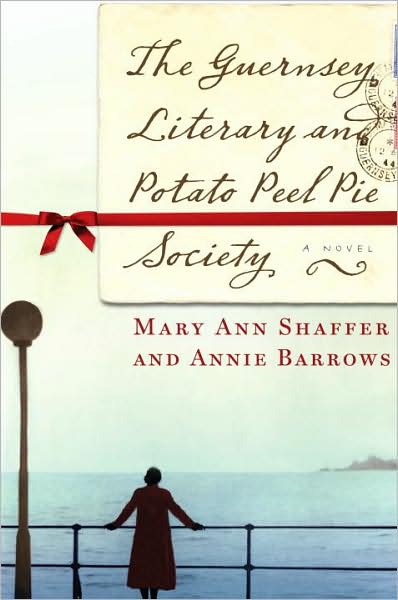 You might be daunted by the lengthy title of this book,or that it is a novel told entirely thru the old fashioned version of e-mail or even that there are two authors credited for it(some folks can be fussy about the oddest things)but if you do pass by a copy of
The Guernsey Literary and Potato Peel Pie Society
(which will be on sale by the end of July),you will be only depriving yourself of one of the most charming books of the season.
The leading lady of this multi-character tale is Juliet Ashton,a writer living in London during 1946 who has just finished an exhausting book tour. Her collection of wartime newspaper columns,Izzy Bickerstaff Goes To War,did very well(much better than her biography of Anne Bronte did)and her success has also attracted an very wealthy suitor,Markham V. Reynolds,who would like to be her new publisher as well.
Juliet is pleased with the attention,but is more concerned about finding a new subject to write about. An unexpected letter in the mail from a resident of the island of Guernsey gives her plenty of inspiration. Dawsey Adams found her name and former address(destroyed by air raids during the War) in a book of Charles Lamb and wrote to Juliet to ask for help in finding more of Lamb's works. Guernsey is still recovering from the many years of being occupied by German forces and is in the midst of playing catch-up in all resources.
She does help him and learns more about his developing interest in reading and those of his neighbors who formed The Guernsey Literary and Potato Peel Pie Society. The group was started impromptu,to give credibility to a quick thought up excuse for folks stopped by German troops after curfew(they were leaving a secretly held roast pig dinner)told by the spunky Elizabeth McKenna. However,as time went on,those who gathered together once a month to talk about books and share what food they were able to get(hence the title pie,which used potato peels as the crust)grew to be the basis of support and strength during those troubling times.
Juliet begins to correspond with other members of the Society,such as Isola Pribby,a good hearted portion maker and fan of the Bronte sisters,John Booker,a valet who pretended to be his aristocratic boss to avoid being targeted as Jewish by the Germans,Eben Ramsey,a fisherman recently reunited with his grandson who was evacuated from the island just before the Occupation and Amelia Maugery,who hosted the infamous roast pig dinner that started the group up in the first place.
As several long distance friendships develop,Juliet becomes more and more interested in Guernsey and what life was like for them during the War. She's also growing very fond of Dawsey,who shares many of her tastes in books and the living definition of "still waters run deep". Despite the protests of Markam,who insists upon Juliet accepting his marriage proposal(after a rather brief courtship),Juliet decides that she must visit Guernsey in order to write about it properly.
Juliet is warmly welcomed by all of her new friends and makes a new one in Kit,the four year old daughter of Elizabeth McKenna,who had fallen in love with a German officer and was later sent to a labor camp for harboring an escaped Polish prisoner,a starving young boy of sixteen. The members of the Society take turns in raising Kit until news of her mother and/or her return to Guernsey happens.
Juliet's inspiration to write about Elizabeth and the Society grows,along with her affections towards life on the island and most strongly,to Dawsey. As she makes a number of life changing decisions during her stay,Juliet's most important ones hinge on whether or not her love for Dawsey is hopeless or a true exchange of two hearts.
This novel was first started by Mary Ann Shaffer,who worked with literature all of her life as a librarian,editor and in bookstores. She visited Guernsey in 1976 and become fascinated with the history of the Channel islands during the Occupation.
She worked on the book for several years and asked her niece,Annie Barrows(a children's book author),to collaborate on it with her when Ms. Shaffer's health problems interfered with her writing. Unfortunately,Mary Ann Shaffer passed away and can not receive in person all of the praise that her first novel is getting,both before and after it's debut. I am in no doubt that her family,especially Annie Barrows,is pleased to have their aunt's talents as a wordsmith preserved here and to be shared and enjoyed by fellow readers the world over.
It's a credit to the skills of both ladies that the narrative flow of the book is seamless,giving the reader no reason to wonder where one of them stopped and the other one started. Who cares about that,anyway-it's the characters that we become fully invested in and another check in the plus column is the successful blend of the quaint,oftentimes humorous charms of English country life with the harsh realities of the German Occupation and WWII.
Even the German soldiers are given a fair shake by several of the characters and while there are some sad moments,they serve to firmly cement the story in the reality of that time period while giving proper nuance and balance to the characters. It would be cheating both the reader and the fictional folks of the Society to not do so.
The Guernsey Literary and Potato Peel Pie Society will be in bookstores soon and not only will reading groups be blessed with such a joy,fans of Helene Hanff and her famous collection of letters to Marks and Co. will be delighted as well. Many of the books and authors that Helene loved are well appreciated here and she and Juliet Ashton would get along like gangbusters. Hopefully,Helene and Mary Ann run into each other in the next world to swap British book loving stories-now that would make an excellent book!: