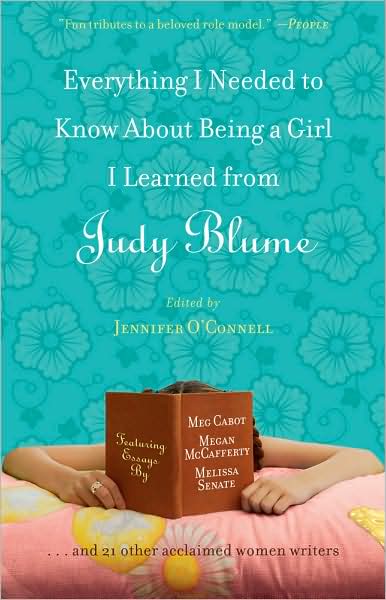 Over the weekend,I picked up a copy of an anthology entitled Everything I Needed to Know About Being a Girl,I Learned from Judy Blume. Edited by Jennifer O'Connell,she and a number of female friendly writers(both in the Young Adult and the regular adult categories)share their life experiences that were strongly influenced by the works of Judy Blume.
I'm only halfway thru the book at the moment,but it is a compelling read especially for those of us who rank Blume right up there with the greats of girl lit. However,it also got me thinking about some of the other YA authors of my time who were just as big league as Blume(in my personal library,anyway)and wondering if any of them still have some positive pull and/or place on the bookshelves of today.
Norma Klein
was definitely an author on the Top Ten of my youth;her books were smart and occasionally sassy such as Mom,The Wolfman and Me(the wolfman of the title is the boyfriend of the single mother of the main character and given that nickname due to his beard),Taking Sides,Honey of a Chimp,Sunshine and Tomboy.
Klein wrote about divorce,single motherhood,gender identity and facing changes in life in down to earth terms that any reader could relate to. I'm sad to say that most of her books are out of print and popularity(Ms. Klein passed away in 1989)and that it's a real shame.
I think that there are plenty of young people of this and other generation that would get just as much insight and entertainment as I and other gals of my time did. Perhaps even a DVD release of Mom,The Wolfman and Me(it was a made for TV film) could rescue Norma Klein from the realm of forgotten lore:
Paula Danziger
's literary legacy is still rather prominent,thanks to the Amber Brown series she wrote for grade school kids. She has also passed away but fortunately her books are readily available.
By the grace of good taste,that includes her teen works as well, such as the classic The Cat Ate My Gym Suit(about a shy young woman learning to stand up for herself,thanks to a very forward thinking teacher)and The Pistachio Prescription,a favorite of mine despite the fact that I hate pistachios.
Danziger covered plenty of similar ground to Klein in dealing with divorce,first longings of love and other teen turmoil but her unique bent on the subjects and her creative characterizations are what set her apart. How can you not love the irony of a teen novel called This Place Has No Atmosphere which is set on another planet?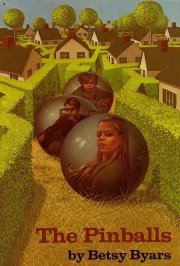 Betsy Byars
has gained renown for books like Summer of the Swans(a Newberry prize winner) and The Night Swimmers(which won an American Book Award),but I was always drawn to her lesser known books like
The Pinballs
,The Cartoonist and After the Goat Man.
What was so compelling about those books,not to mention all of her work,was the steady hand Byars kept when it came to creating relatable characters. It's not easy,especially in the Young Adult genre,for folks to recapture that spark and authenticity of how teens and children think,talk and act but Byars was truly blessed in that department:
As for my favorite Judy Blume novel,it would have to be Starring Sally J. Freedman as Herself. While it may not have as much controversial cache as Are You There God,It's Me Margaret or Forever, Starring Sally J. is pretty offbeat and amusing on it's own merits.
For one thing,it's hard to find another book about a pre-teen in 1947 Miami who longs for a boy considered a "Latin Lover" type and daydreams Hollywood spy movie scenarios about hunting down Hitler.
Sally may be of an earlier point in time but her interests in life are no different from so called modern girls;she admires movie stars,longs to know more about why things are the way they are in the world and worries about her family's health and welfare. Some things are universal,no matter when or where you are.
Will any of the current authors on the YA scene have as much influence and staying power as Judy Blume or any other of her contemporaries? Perhaps,but even tho times and tastes may change,the power of the teen novel will always prevail: