To round up my take on this year's BEA,I'll be going over some of the folks that my sister and I meet up with,as well as a few of the more entertaining aspects of the show. While the number of costumed characters is much lower than one gets to see at Comic Con,Book Expo is not without it's odd ducks and stylish promoters of literary related goods.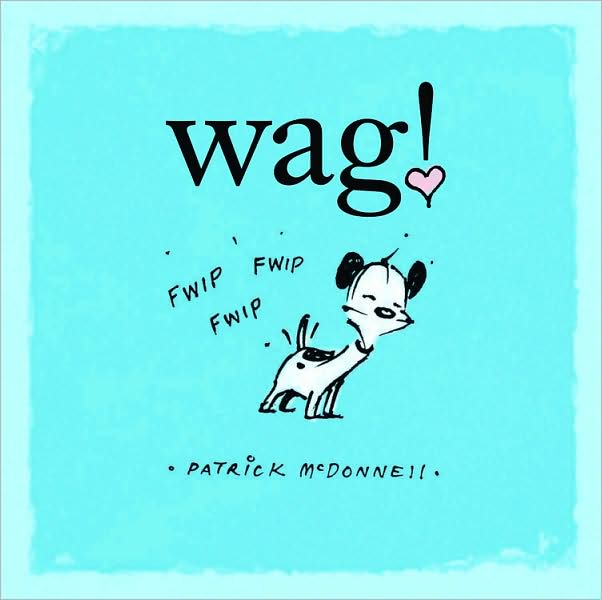 Speaking of comics,Stephanie and I went to yet another signing by Mutts creator Patrick McDonnell,for his upcoming children's book entitled
Wag
(due out in October). This is Stephanie's third time meeting him(it's four for me)and her
tattoo of Mooch
made her instantly recognizable to McDonnell and his Little,Brown rep.
McDonnell's picture books are as lovely as his cartoons. Wag is a charming read,about as charming as the man himself:
Another great cartoonist we met was Bill Barnes,one of the co-creators of
Unshelved
. This web comic has been around for several years,set in the quirky yet clever realm of your local library with jokes aplenty about customer service,lack of funds and current trends. If you work in a library or bookstore(or just attend them on a regular basis),you can easily relate.
Bill took a break from his ukulele playing to sign a copy of his and Gene Ambaum's latest Unshelved collection,
Frequently Asked Questions
that I brought from their booth,along with one of their
cool T shirts
(I'm not into Klingons,but that motto is beyond awesome). They were also handing out badge ribbons that said
"Read Irresponsibly",
which is now adorning the center of my built in bookshelves. Another cool book lover's motto that we all should adopt.
If you haven't checked out Unshelved yet,please do so as soon as possible. At the very least,it may help you to remember to make reasonable requests of the librarian the next time you go to the Information Desk:
I did make it over to the Book Blogger signings held by NetGalley at noon and met Sarah Wendell,one of the
official Smart Bitches
as well as co-author of
Beyond Heaving Bosoms.
While I am sorry that I missed out on meeting
Alea Adou
from Pop Culture Junkie(I did get one of her signed blogger cards),Sarah was a real delight and treated me like a rock star.
Sarah was not only kind enough to sign my copy of BHB,she also made me one of her Twitter tweets(complete with
picture of me holding up the book
). Thank you,Sarah,for being so cool and my favorite section of the Choose Your Romance chapter of BHB is the paranormal romance one,too:
My encounter with James Ellroy was brief,due to the line for his in-booth signing of Advance Reader Copies of his new book( set for a September release),
Blood's a Rover
,truly reaching all the way to Terre Haute.
It was definitely worth the wait to just say hi to him-Ellroy is not one of those authors who does a lot of meet and greet with readers. I did tell him how surreal it was for me to see him in person after watching a YouTube clip of his
moment with Ed Champion
the night before(perhaps that was not a good memory for him).
That statement didn't quite break the ice,especially since Ellroy is not a big internet user. Oh well,you don't get a nickname like the Demon Dog of American Crime Fiction for being Joe Friendly:
Stephanie and I took some time out to wander the New Titles display,which didn't have many books that were known to me but several of them were nicely showcased. The wine bottle with the vampiresque book in a box was a good touch there.
LOL cats were also represented,along with Star Wars stormtroopers,Olivia and Elvis. I'm not quite sure what Elvis was promoting(they did hand out buttons and stickers saying "Where Is Elvis",but that didn't clear anything up)but that guy certainly appeared to be Vegas ready.
And so it ends for BEA this year. How things will go for 2010 remands to be seen,particularly since the plan is to hold the show mid week instead of the usual four day weekend(Thursday to Sunday).
I honestly don't think that will be such a great idea-for one thing,many of the attendees that BEA needs(librarians,booksellers,etc)to be there will not be able to get away from work then. It may be less expensive to rent the Javits during the week but those savings won't make up for the lower amount of registered folks going to the show,in my opinion.
One suggestion that's been bandied about is opening one of the show days to the public,which may be a real shot in the arm there. Whatever new idea comes down the pike,I believe that the most important thing that folks in and about the publishing industry can do at BEA is talk. Despite which end of the business one may be at or your personal philosophy of literature,book lovers will find that they have more in common that they know or care to admit: