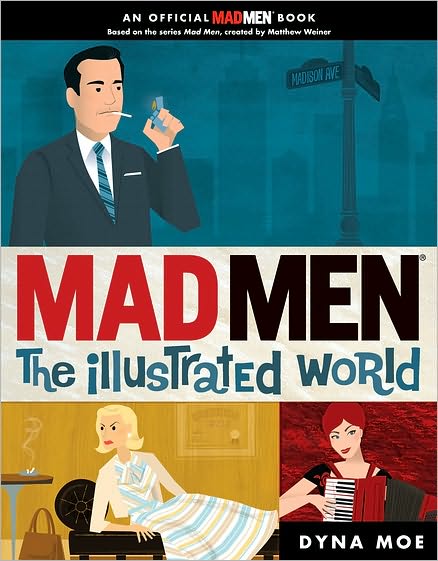 I know,I know-it's too early to be thinking about holiday shopping just yet. However,keeping your eyes open for suitable future gifts for friends and family is a smart way to avoid last minute rushing around and keep within your budget,which in the case of those pop culture enthusiasts in your inner circle can get pricey.
So,for your early consumer edification,here are three books that could take care of several fanboys and girls on your list this year. First up is
Mad Men:The Illustrated World
by Dyna Moe. This clever collection of words and images that
celebrates the retro delights
of the hit AMC series is more than just a pack of pretty pictures.
The book includes such amusing highlights as character created menus,style tips and amusing activities to try out at any Mad Men theme party. There's even a Joan Holloway paper doll to dress up(complete with wardrobe choices from the first three seasons)as well. With season four about to end,this sounds like a groovy way to pass the time until Sterling Cooper Draper Price reopens for business next year:
For the budding or seasoned cult movie fan in your life,
Destroy All Movies!!!
by Zack Carlson and Bryan Connolly is the picture perfect present.
Subtitled
"The complete guide to punks on film"
,this rundown of films that depicted the punk music influence of the late 1970s into the mid-eighties has interviews and input from the likes of director Penelope Spheeris,actress Mary Woronov and punk provocateur Richard Hell(who also wrote the foreword for the book).
An interactive
book tour for Destroy All Movies
is set to start in November,with screenings of some of the films talked about in the book as a key part of the promotional event. Many of these movies are not yet available on the home video market,or at the very least DVD,so catching one of these DAM stops might be worth your while.
One film in particular on this circuit that I fondly recall is Times Square,starring Trini Alvarado and Robin Johnson as a pair of teenage misfits who whip up a fifteen minutes of fame frenzy,with encouragement from oddball DJ Tim Curry. Hopefully,a new generation will get a glimpse of this funky little flick and clamor for a decent DVD release here,thanks to this exposure:
To get another look at familiar films,Soft Skull Press is releasing a new series of essays called
Deep Focus
that matches an established author with a movie to give his or her unique take on. The first two titles pair
Christopher Sorrentino
with the vigilante classic Death Wish and
Jonathan Lethem
with a John Carpenter sci-fi romp,They Live.
They Live has quite the cult cache,with the not-so-subtle jabs at the evils of consumer culture that reigned supreme during the 1980s and which many people can certainly relate to nowadays.
It's a pure B-movie blast,one that director John Carpenter doesn't always get the credit he deserves for delivering such a sinisterly slick satire to audiences least expecting to think while watching a movie starring wrestling great Roddy Piper. Brain candy or food for thought? Perhaps it's a little bit of both:
I hope this helps you select a few great folks to give one or more of these interesting books to(for the record,I don't have any of them but would love to add them to my holiday wish list).
Getting good gifts for others can be tricky to manage but with a little ingenuity,this annual challenge can prove to be satisfying and successful. Just be cautious about who you're giving those specially made items to;some times that personal touch that means so much can rub someone the wrong(or uncomfortably right) way: