Pop culture goodness was a key ingredient on
Top Chef Masters
this week,starting with the guest judge for the Quickfire being actress/writer Mindy Kaling. She tasked the chefs to make a romantic dish based on one of her favorite romcom films.
I love pop cultured themed challenges and Mindy's choices showcased her writer's aesthetic very nicely. Not surprising,there was a Judd Aptow movie in the mix(Knocked Up), one Nora Ephron penned(When Harry Met Sally) and two Woody Allen flicks(Midnight in Paris and Vicky Christina Barcelona).
She did have one old school classic(Roman Holiday,which the chef who got that one hadn't seen-neither have I,btw) and a Reese Witherspoon star vehicle(Sweet Home Alabama,which I have seen and find to be just okay at best).
Douglas took the limelight here,with a win for his Midnight in Paris inspired morning after breakfast. The scrambled eggs with caviar were an excellent mix of earthy and decadent,plus pommes frites(aka french fries to you and me) are always a winner.
Some of the other chefs grumbled about the simplicity of the dish but,hey,as Woody might say,the stomach wants what the stomach wants. Also,Bryan, you had Mystic Pizza and you don't make a pizza?
As soon as Mindy left,the TV kitchen was happily invaded by the costumed characters of Yo Gabba Gabba to announce the Elimination Challenge. The chefs were given their choice of certain food item that kids would normally hate(liver,cottage cheese,eggplant,etc) and transform it into a dish that was tasty and healthy.
David Burke was granted immunity due to his sous chef's win in the Battle of the Sous and had first pick of product(he went with avocado)and a big bonus for most of the chefs was to have their sous help them during prep.
Alas,three chefs(Sue,Jennifer and Neal)didn't get all of that privilege because their sous did poorly. While they did have their assistance during the serving of the food to a crowd of children,one other obstacle was placed in their path.
In addition to the food item they chose,Brussels sprouts also had to be incorporated into the dish! Talk about an edible double whammy there,indeed.
Sang picked cauliflower and he served it as a foam along side a teriyaki chicken meatball, a good choice for kids.
The adults attending the food party(which had the Yo Gabba Gabba characters greeting the kids,who turned the whole thing into what Sang called "Chuck E. Cheese on acid") also enjoyed the dish and it pleased the judges enough to place Sang in the Top Three for the win.
When I saw Douglas had turned his eggplant into a jelly topped with crispy rice, I seriously thought his chances for victory were doomed.
However,the kids kind of liked the slimy nature of the dish and even the judges were surprised at how much they appreciated the deep earthy tones of the jelly. He wound up in the Top Three but no win this time.
That honor went to Neal,for his spinach Bolognase and pasta with Brussels sprouts that judge Ruth Reichl called a "grown up version of Chef Boyardee"(she meant that in a good way,honest!).
Neal won ten grand for his charity,Alexa's Lemonade Stand,and I do believe it was the first big win for him on TCM. Congrats,Neal!
On the Bottom was Sue,for taking an easy way out with her cottage cheese by making a mac and cheese. Not a bad idea but she did add bacon and part of the challenge was to keep things healthy.
The Brussels sprouts didn't fare well in this dish,bringing out what Ruth Reichl called the "cabbage character" of the vegetable(I so have to read her books one of these days!) and she was in serious danger of going home.
Right next to her was Bryan,who just had one ingredient to revamp and while beet sorbet with a vanilla yogurt dome to crack open might have sounded great, it certainly didn't taste that way.
The judges tried to explain to him how the muddy flavors of the beets were repellant even to those who love beets(guest judge Francis Lam,for one) but he insisted that his kid would've eaten it. Dude,not every kid has the exposure to the variety of food flavors that your kid has,okay? Nice try but a hit and a definite miss here.
Now,Jennifer had the worst luck of the lot in having melon and Brussel sprouts to mix together. She made an "ice cream sandwich" looking plate that was not intended to be a dessert,confusing point number one.
Number two was that she paired the melon yogurt parfait with pickled Brussel sprouts,creating an unpleasant sour tang to the entire thing. She was sent off to pack her knives and go, but not alone.
Sue was eliminated with her but as the two of them said their goodbyes, a sudden announcement was made for both ladies to compete in the next round of Battle of the Sous Chefs. The winner will go back to the regular competition and best wishes to Sue and Jennifer. May the best woman win!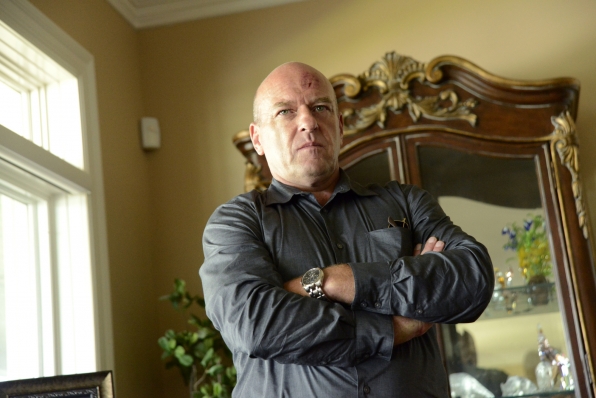 Much plotting and planning was done
Under The Dome
this week,as Big Jim went in search of Maxine's lair while Barbie went off with her to the underground Fight Club she had set up. That happened pretty quick,now didn't it?
As Barbie was busy throwing a fight,Big Jim found out where Maxine was staying,on one of the outlying islands near town and came across her mother(Mare Winningham)who has a grudge against Chester's Mills for treating her badly when she was an unwed mother.
Apparently, dear old Mom was meant to be Maxine's insurance policy in order to keep her daughter's secrets about Big Jim and Barbie ready for revealing in case something happened to her. However, Mom should have listened to Jim when he told her that he had the killer instinct that she lacked: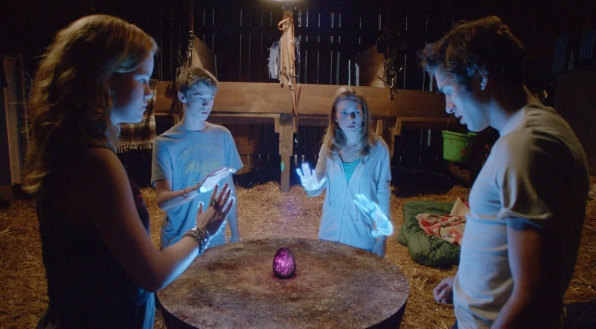 Meanwhile,the Mini Dome Gang of three became four,as Junior turned out to be the fourth hand(damn it!) needed to open that mystery egg up.
Having read the book, I have an idea of where this might be going but with all of the changes made here, I don't want to venture a guess too soon. Yet, the whole stars forming constellations bit should be a clear tip off as to the true nature of the main Dome:
A new series on the SyFy channel explores the growing popularity of fan conventions that most of the regular attendees are happily familiar with,cosplay( short for "Costume Play").
Heroes of Cosplay
takes place during one season of a round robin of conventions across the country and focuses on a number of participants,such as the queen of the circuit YaYa Han, whose talents have given her an emerging merchandise empire and allowed her to judge many of the competitions.
The show also follows those looking to do well in competition like best gal pals Jessica and Holly, along with newcomers to the scene Chloe and Monika,plus the likes of Riki and Jesse,who hope to build a portfolio that will help them obtain professional careers as Hollywood make-up artists.
One thing that I like about this show is the strong emphasis on girl geeks(and not as simpering pin-up fantasies come to life for drooling fan boys either) and how this demanding at times hobby affects their relationships with friends and family. Not to mention the amazing work put into the costumes,make-up and props necessary to bring these characters of film,TV and video games to real world life.
If you haven't caught up to this show yet, the upcoming holiday weekend is the perfect opportunity to do so. The first three episodes take place at Wizard World Portland, Emerald City(Seattle) and MegaCon in Orlando,FL. Even if you haven't been to these particular conventions, no doubt you will find them just as awesome as ones near your current hometown.
There are only three episodes left and I'm pretty sure that one of the stops on this costume tour will be New York Comic Con,a major headline event for fans of all stripes.
Another big benefit to watching Heroes of Cosplay(and no,I am not being compensated for this, the SyFy channel doesn't even know I exist) is the bounty of inspiration for Halloween costumes. Yes, I am a legal adult but still dress up to hand out candy and my outfit will be nowhere as near as good as the ones dreamed up here:
RANDOM NOTES:
MTV VIDEO MUSIC AWARDS:
Yes, we all know what Miley had wrought(and Robin Thicke is extra sleazy for his role in this eye searing horror) and while this was the Battlefield Earth of musical numbers, we must try to move on with our lives as best we can: