More impact from the sous chef battles on
Top Chef Masters
continue,as the Quickfire Challenge this week had the chefs using the scraps from their sous' sausage challenge to make a tasty dish.
Most of them didn't have a lot left over to work with but Sang's pork larb with cabbage and chilies was pleasing enough to earn his charity a sweet five grand as the winner of this round.
However,his sous chef did poorly in the sausage challenge,so he wound up with a penalty in the Elimination Challenge,along with Bryan and Neal Fraser.
The chefs were divided into three teams(yet they had to still cook against each other) to make a special dinner for the cast of Days of Our Lives. I used to watch that show as a kid and still remember the days of Roman and Marlena fondly(at least Marlena is with DOOL,hard for me to know who the rest of the actors were,it's been that long since I've seen the show).
Each group was given a theme suited to soap operas,with their choice of Sex,Greed or Murder. Lynne's sous won the sausage round,so she received immunity and her choice of which theme to tackle. She went with Team Sexy,yet her results were anything but.
Meanwhile, the three chefs who had sous penalties were at least given fun ways to deal with it. Each one was made to take a thirty minute time out during their cooking time and their enforced breaks were placed in soap opera settings.
Bryan wound up in jail,Neal was in a "coma"(they gave him a hospital bed to lie down on) and Sang was the victim at a crime scene. The guys played along with the set back and their food didn't really suffer for the most part. The cast,plus guest judges Ruth Reichl and Lesley Sutter enjoyed the meal quite a bit.
The winner of the challenge came from Team Murder. Jennifer Jasinski made a seared duck breast and served it with a citrus chili duck sausage that had a fregola celery salad.
Ruth Reichl loved it in particular,saying it was a really nice twist on the classic duck d'orange. Personally, I thought sticking the knife right in the center of the breast was a great touch,with the rest of the plate reflecting the playful gore of the theme.
Despite her immunity, Lynn's dish wound up in the Bottom Three. She insisted that her bacon wrapped duck breast was supposed to be the "snuggle" at the end of a romantic encounter but neither the judges or the DOOL cast was feeling the love there.
The plate was too rich and heavy, with the chocolate port sauce not hitting the right note. In this case ,the answer to the classic after glow question "Was it good for you?" would be a resounding no!
Up on the chopping block with her and in real danger of going home was Douglas,who claimed to be a big DOOL fan. Granted,naming his dish "Salem Sweet Shrimp with DiMera Bitter Crab" was a good ploy and it did sound very greedy,as per his theme.
The spices,however,completely overwhelmed the fish and caused several of the cast members to wince upon tasting it.
Yet, it was Odette who had to pack her knives and go. Her ravolio with egg yolk and mushroom(she had murder for her theme,so her joke was using "poison" mushrooms) was well executed but the taste was rather bland.
The judges weren't thrilled about sending her home and seemed to be blaming the DOOL cast for not appreciating the egg yolk in the middle there. Sorry,folks, but if there's no discernible flavor, no amount of technique in the world can make up for that. Odette did win some money for her charity and perhaps she'll get another shot if they do a Last Chance Kitchen for TCM.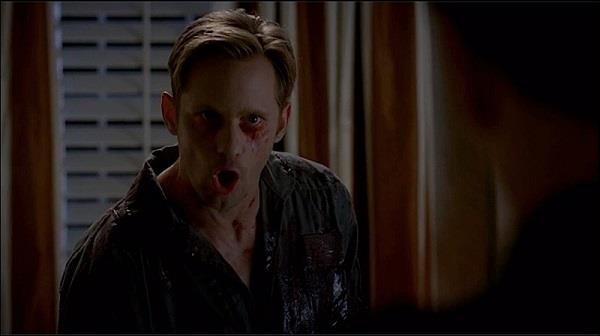 Everyone on
True Blood
is pretty distracted these days,what with dealing with Terry's death(Arlene was right about his funeral arrangements,including having carnations) and Sookie considering becoming Warlow's fairy vampire bride as the price for his help to save her vamp friends from Bill's vision.
The only one who really has focus here is Eric, who is not playing ball with Bill anymore after the death of his sister Nora. Frankly, Eric would have been better suited to take the role of Lilith on earth as he has more warrior/leadership skills than Bill. One's a Viking warlord, the other was a foot soldier in the Civil War-which one would you pick to go on the attack to defend your kind?
Sarah Newlin did show some feisty fierceness in taking out that lady rep from True Blood but clearly she is not as ready to run a secretive organization as she believes herself to be. With Eric now fully loaded on Warlow blood and most likely planning a daylight raid on the vamp camp, she's going to need more than a sharp stiletto heel to save her human hide from his wrath: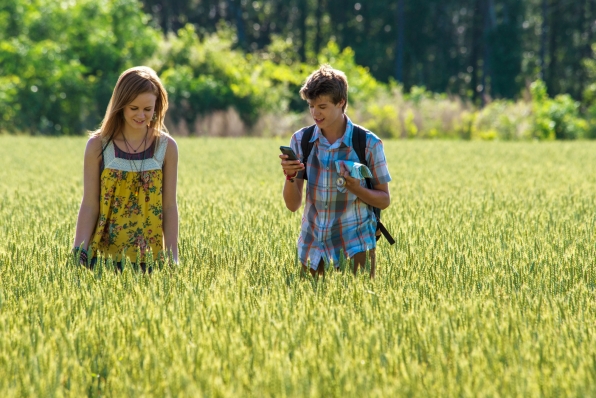 While some of the adults caught
Under The Dome
were either in helping a local woman give birth,hunt down the murderers of diner owner Rose or making backdoor deals, teens Joe and Norrie went off to find the source of their mysterious prison.
Since the two of them have some strange connection to the Dome,they saw that as an advantage,plus Joe used his science smarts and sure enough, they found what may be the root of the town's problem.
Joe and Norrie tried to either open or communicate with the mini Dome(complete with a special egg surprise) but were deterred from their path by the appearance of a image of Norrie's mom Alice. A hologram or psychic projection,since Alice was deadly ill at the time? Not sure but Norrie was right to head on home there: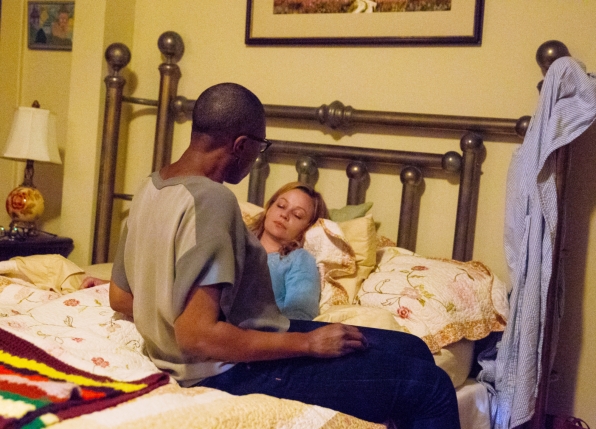 After delivering a baby girl safely,Alice's health gave out and sadly, she passed away. Norrie was able to say goodbye,but couldn't resist running to the Dome to plead for her mother to be returned.
Truly a time for sorrow,but I hope that Joe is sensible enough to alert the others about their discovery in the woods. The way things are going, more graves will have to be dug before the situation can get any better,if at all:
RANDOM NOTES:
FOOD NETWORK STAR:
The votes have been cast and this Sunday, we'll know who the winner is for this season. My bet is on Damaris,with her Eat Date Love concept. As likable as
Rodney
and
Russell
are, their show ideas have been done on this network before. Damaris and her dating game approach to cooking could be that fresh breath of air FN needs right now: