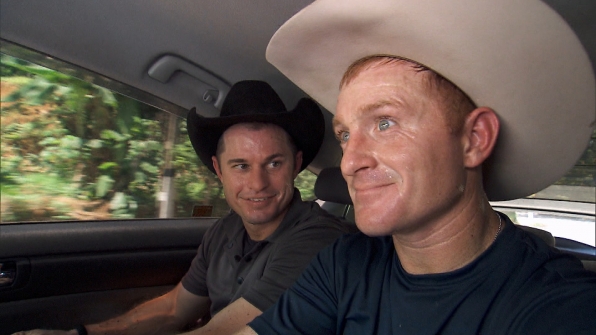 It's been a pretty tight race so far for the repeat contenders on
The Amazing Race: All Stars
, with the Country Singers being extremely lucky in arriving last at the Pit Stop for a non-elimination round.
However, the ones who really had a run for their money this time were the Cowboys,Jet and Cord. Just like their earlier run on TAR,they've become the team to beat and for this leg, Leo and Jamal were determined to beat them to first place-it was literally a fast and furious foot race to make to the mat. Jet and Cord weren't thrilled to be second but took it in stride,yet they are on notice that they have one team in particular that's hot on their heels:
The game is on for
Marvel's Agents of S.H.I.E.L.D.
as the pursuit of Deathlok(how I love that J. August Richards has become a major part of this show!)
leads the team closer
to the mysterious Clairvoyant.
While that enemy's true motives are still unknown, some of Coulson's crew tumble onto the fact that Melinda May is reporting to someone on the sly,which makes them suspect her of being a double agent.
However, it does seem that if she has a secret boss, that person might be on their side as it turns out that the Clairvoyant is actually working from within S.H.I.E.L.D. and I wouldn't be surprised if this story line is somehow connected to the new Captain America movie being released this week. At least we're getting episodes on a regular basis at the moment,instead of waiting a couple of weeks,and I do like where this is going:
As many of us are chomping at the bit for season 4 of
Game of Thrones
to begin(which it will this Sunday), I am sure that the big question amongst those who haven't read the books is "who survives the season?"
Well, I can't say even though I have read A Storm of Swords(the second half of that book comprises this whole season) and hate to spoil the fun. I will tell you that all of the dark karma reaped by The Red Wedding and other horrible things done to the Stark family will soon be catching up to the Lannisters and unfortunately affecting my favorite of that bunch,Tyrion.
Not going to get into it further but I am not making a pun when I say that this season will be very big for that small of stature man. If it plays out as well as it did on the page, folks will be insistent that Peter Dinklage gets an Emmy award for this season,mark my words. In the mean while, who else will live or die shall be yet to be discovered and discussed, which is the true pleasure of watching this show if you ask me:
RANDOM NOTES:
SHAMELESS:
The fourth season finale is this Sunday and I have to say,despite my only getting into this series recently, that the loving chaos of the Gallagher clan is as addicting as any of their bad habits are. Looking forward to the next go-round and hoping that at least Fiona finds some light at the end of her tunnel: