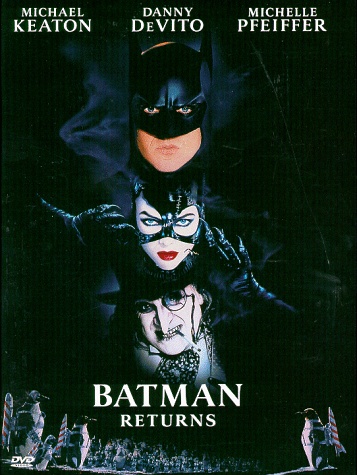 Many holiday related films will be playing on your TV screens or DVD players this long Christmas weekend,some that are longtime favorites(A Christmas Story,all day on TNT)or simply have a wintery connection(Ice Age,all day on F/X)but I would like to suggest an interesting alternative to the regular cinematic sugarplum fare.
Batman Returns is the only goth superhero movie I know of that takes place at Christmas time. The first time the Penguin's gang attacks is at the lighting of the Gotham Christmas tree and the Ice Princess(who pulls the tree switch)gets kidnapped as a sidepiece of the plot. Not to mention all the wonderfully lit shots of snow at night which so enhances the mood.
Tim Burton received some flack for this movie when it first came out,from folks who were shocked by all the dark imagery and the open sexual overtones of Batman and Catwoman's relationship(which is pretty stupid-hello,did none of you see the first movie? I suppose you would be shocked to find gambling here as you collect your winnings). The depiction of Catwoman is hands down a favorite amongst fans of this movie as well as comic book lovers. Selina Kyle's backstory may not be as true to the official origins of the character but Michelle Pfeiffer makes her a true riot grrl icon for the ages:
Another fun aspect of BR is the third villian,Max Shreck,who is the sinister man behind the curtain,as it were,to the Penguin's scheme to run for Mayor of Gotham(love his campaign slogan"Stop Global Warming-Start Global Cooling!")and triggering Selina's mental breakdown into the deadly feline foe obsessed with his destruction. Walken's look and manner in this role is based on German expressionist films(the character shares the same name as the actor who played Nosferatu)and of course,he brings his own unique charm to the role. One of my favorite scenes is when he discovers that Selina is Catwoman and beats Trump to his future catchphrase,"You're fired!"
And let us not neglect the Penguin,who is dumped into the river by his freaked out parents on Christmas Eve and raised in the sewers by sea creatures and crazed circus folk. Danny DeVito's performance is very over the top at the best of times but he does get some damn funny lines and rocks that cumbersome makeup job he wore.
I also love the eerie tune"Face to Face" that's used in a key scene between Bruce and Selina in the film. Say what you will about Tim Burton but you have to admit that he certainly uses some interesting musicial choices in his movies. As a holiday treat,here's the Siouxsie and the Banshees video for the song along with the place it's showcased in the movie:
So,in conclusion,I hope that when you search your video library or local movie rental shop that Batman Returns is fresh in your thoughts for Xmas watching. After all,it's better than sitting thru Christmas Shoes starring Rob Lowe and just remember,things change!