With all of the intense snowstorms hitting the country lately,it's getting harder and harder to feel that spring will soon be upon us,but fear not folks,the warm weather will return and amongst the promising new blooms of the season will be some great books.
I know how distracting everyday life is,not to mention the Olympics and American Idol vying for some serious steady TV watching,yet that's one of the blessings of books that they can help to ease the flow of day-to-day frenzy. To further encourage you to pick up a good read this spring,one of the titles that will be mentioned in this post will be the prize for the first LRG book giveaway of the year,so keep your eyes peeled,people!
ALL THE HISTORICAL LADIES
First up,we have a trio of tales with heroines in period settings and the first one is a literary favorite of mine. In
The Lost Summer of Louisa May Alcott
,author Kelly O'Connor Mcnees imagines a suitor for the well known writer of Little Women years before that book is ever even thought of.
Louisa is twenty two years old in the summer of 1855 and due to the languishing fortunes of her family,moves with them to an old abandoned house of an uncle's in Walpole,NH,where she meets Joseph Singer. Joseph holds no charms for her at first but over the course of time,Louisa finds herself drawn to him yet there may be an unknown obstacle in the way of their being happy together.
In real life,Alcott had several crushes and a few small affairs of the heart,which many feel inspired the fictional romances of her characters. McNees' novel sounds like a lovely version of what being in love for and by such an amazing woman might have been like(
April
):
Queens have always been interesting subjects for both fiction and nonfiction and
Vanora Bennett
introduces us to a lady who ruled more than one country and heart in
The Queen's Lover
. French princess Catherine de Valois was made to marry King Henry V of England as a token of peace between the two realms but after two years,she was widowed and faced with the overthrow of her inherited thrones by her brother back in France.
In order to keep herself and her infant son safe,Catherine forms an alliance as well as a romance with Owain Tudor,who has been a devoted friend since childhood. Plenty of hard choices lie before her,the outcome of which will determine not only Catherine's personal fate but that of a nation or two.
Most people are best familiar with Catherine de Valois via Shakespeare's Henry V but it seems that she was more just a supporting player on the regal chessboard there(
March
):
Last but not least,as they say,is
The Heretic's Wife
by
Brenda Rickman Vantrease
that places it's book selling protagonists into turbulent Tudor England.
Kate Gough and her brother John have been smuggling Protestant Bibles into the country for translation,the timing of which is ill indeed due to the growing religious schism rising from Henry the Eighth's desire to wed Anne Boleyn with or without the support of the Catholic church.
Even after brother John is jailed and recants his faith,Kate carries their mission and winds up marrying John Frith,the translator who adds in her quest. They may be hiding in exile but the long reach of those opposed to the changes within England is close to snatching their loving union away. Intriguingly sad how one royal romance can affect the loves of so many other's lives(
April
):
MARCH MAGICAL MADNESS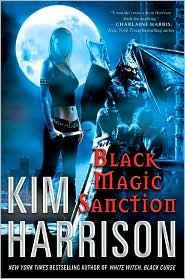 Kim Harrison brings her faithful fans another addition to the Rachel Morgan saga with
Black Magic Sanction
that has our bounty hunter witch dealing with shunning from a coven that wants to contain her one way or another for her demon connections.
Rachel's choices are grim and while she may have to team up with her enemies for assistance,an old love pops up on the scene who may not having been intending to make matters worse but yet he does.
The Rachel Morgan books all have titles that are loosely based on Clint Eastwood films and a few of them share similar themes with those flicks as well. This newest volume seems to do that rather handily here,which might make it a fun book and movie night combo(
late Feb/March
):
Danielle Trussoni
follows up her memoir,Falling Through the Earth,with a debut novel that takes the growing trend of angels as the new vampires into a more adult playing field.
Angelology
brings young Sister Evangeline,the library secretary for an isolated convent in upstate New York,into contact with the outside world and into some deadly waters as a member of the Nephilim(half human,half angel)seeks access to archives which may lead the way towards finding a source of power that will give his kind dominion over humanity.
I'm reading this book right now and so far,it is quite a compelling read. The good folks at Viking are letting me give a copy away to one lucky reader and that contest will take place early next week,so watch this space! In the meantime,get ready for a new set of rules for a brave new world of imagination(
March
):
NETHERWORLD OF WARCRAFT
Another Jane Austen zombie delight awaits us with
Dawn of the Dreadfuls
,the anticipated sequel to the surprising bestseller Pride and Prejudice and Zombies. This new classic monster mash up has a new author,
Steve Hockensmith
,and is actually a prequel that reveals how the plague of the unmentionables first arises and sets the Bennett sisters down a path of martial arts training in order to protect their lives and country.
I
answered the call
for blogger reviews by the gang at Quirk Classics,so look for a fuller write-up of DOD by March 3. What I can safely say until then is that there are some love interests on the horizon for Elizabeth and Jane,one of whom is about as subtle and suave about his prospects as a certain supporting character from Disney's Beauty and the Beast,in my humble opinion. Wait til you get a load of him,folks!(
March 23
):
Speaking of PPZ, writer Seth Grahame-Smith tackles a new breed of history and horror hook-up with
Abraham Lincoln:Vampire Hunter
. Here,for the first time,the secret double life of the man who lead our nation during the Civil War is revealed,as his mother's premature demise at the hands of the undead drives him to destroy all vampires preying on hapless folks within our borders.
While Abraham Lincoln may seem like a rather unlikely choice as a vampire slayer,so was a certain cheerleader at Sunnydale High back in the modern day,as some of my fellow Buffy followers may recall. Lincoln's legacy is well known but this amusing avenger side of him certainly promises to have some bite(
March 3
):
ONLY CONNECT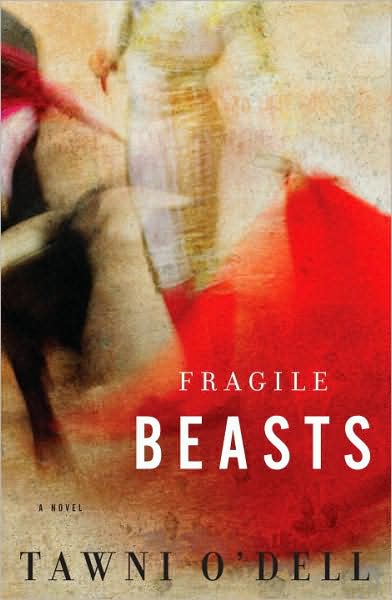 Tawni O'Dell
chronicles more family ties of an offbeat sort in
Fragile Beasts
that has troubled teen brothers Kyle and Klint Hayes needing sanctuary after the violent death of their father and return of their wayward mother threatens to uproot them from the only place where they both feel at home.
Local eccentric and wealthy matriarch Candace Jack takes the boys in,despite her less than maternal instincts and the three of them form an emotional bond fraught with sad secrets from each one's past and present. O'Dell is an earthy storyteller who brings to life characters all too real but not without touches of grace and inner beauty that makes them worth rooting for. If you haven't read her yet,this may be a good place to start(
March
).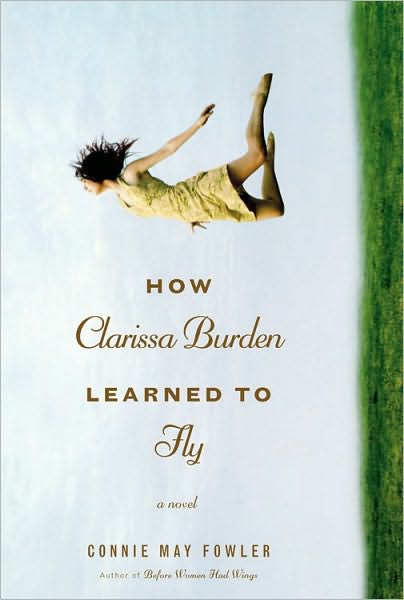 Connie May Fowler
explores a day in the life of a woman needing to decide her future in
How Clarissa Burden Learned to Fly
. The leading lady of the title has a vicious husband whose artistic career is going nowhere and resents her success as a writer and on a summer solstice day,she is haunted by restless spirits,both real and imagined,who drive her closer and closer to choosing what road to head down for both of their futures.
Fowler is best known for her thoughtful looks at troubled souls that have become book clubs favorites and this latest one should fit the bill rather nicely on that front as well as those who chose to read alone(
April
).
Well,I hope this preview has planted a few flourishing thoughts about the upcoming crop of new books coming our way. Stay tuned for the Angelology giveaway next week and please keep in mind some of these titles as you make your reading group suggestions to your friends and neighbors. Perhaps a couple of them may not be to everyone's liking but it doesn't hurt to try and expand a few new horizons or let others feel welcome to express themselves(plus get equal speaking time):