Santa Clarita Diet
.
The show stars Drew Barrymore and Timothy Olyphant as Sheila and Joel Hammond, a husband and wife team of realtors living out their humdrum lives in the California suburb mentioned in the title. Sheila wishes that she could be more of a confident person but that particular wish is granted in the worst way possible.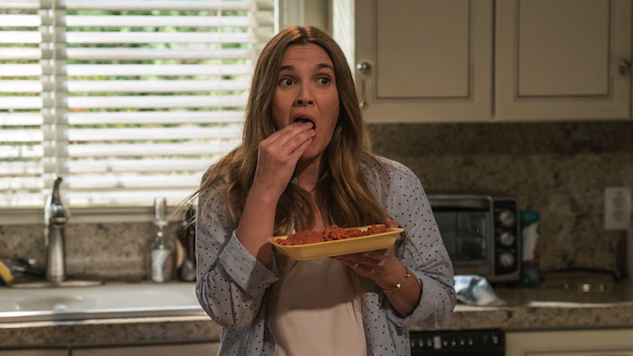 After literally painting the walls puke green at a house showing one day, Sheila finds herself to be a member of the undead and soon develops a taste for human flesh.
Joel, and to some extent their teen daughter Abbie(Liv Hewson) and the boy next door Eric(Skyler Gisondo), does his level best to help her adjust to this bizarre new lifestyle.
A cure for this condition is being looked for yet Sheila is a bit reluctant to go back to her old normal. For one thing, she prefers to feast on bad people(with plenty of candidates lining for that menu plan) and the lack of restraint that comes with her new undead status is quite exhilarating.
However, it also puts her loved ones in danger in more ways than one. Sheila's ultimate struggle is to maintain a balance between embracing her zombie joy without destroying her family in the process, not something she can talk about with her usual set of friends there:
She's not the only one trying to deal with such a major life change. Joel is so used to being Mr. Laid Back Guy that when called upon to be more proactive, he fumbles the gory ball tossed to him just about every time.
In between covering up his wife's deadly dinner plates and searching for the cure, Joel's feelings of inadequacy are reaching a point of no return that could make him even more dangerous than Sheila. I've only seen six out of the ten episodes at this point but where I last left off, things had gone from bad to worse to "oh, hell no!"
Santa Clarita Diet is broken up into half hour episodes, making it feel very sitcom style and the whole look of the show has an ABC Network feel to it, if they allowed major league swearing and buckets of gore, that is. Don't get me wrong, I have no problem with cursing and violence when needed yet I do think that some of blood and guts showcased in the earlier episodes could've been dialed back a bit.
What does make SCD work is the chemistry of the cast. If Drew Barrymore and Timothy Olyphant could sell houses as well as they do these roles, they would be running a real estate empire by now. Abbie Hammond is already my favorite character, with her mix of sarcastic teen angst and growing empowerment and if there is a season two, I hope that sweet geeky Eric survives to lend his much needed support:
If SCD does intend to have more than one season, they might want to take a few notes from
iZombie
(which will return for a third season later this year to the CW).
Granted, that series does have the advantage of an hour long format and being based on previously developed source material, yet from episode one, iZombie has had a firm grasp on world building and character development, which SCD is a bit weak from what I've seen so far. While it is still early days there, Santa Clarita Diet does need to strengthen that core element in order to make that fearsome flight of fancy stay on the air.
Also, the limits on language and violence that iZombie has to work with gives both the writers and the cast steady boundaries that needed to be subverted creatively. SCD would do well with an ounce of similar restraint that allows for the characters to have a few quiet moments together that offer plenty of laughs as the high tension ones, perhaps even more so:
I should finish up SCD by this weekend and look forward to what's next and new on the Netflix horizon(waiting until Halloween for S2 of Stranger Things is going to be hard!).
Hopefully, these last bloody bites will be frightfully filling and funny bone solid until we meet the Hammonds again, although I'm not sure that I want these two to be knocking on my front door in their plastic poncho best there: