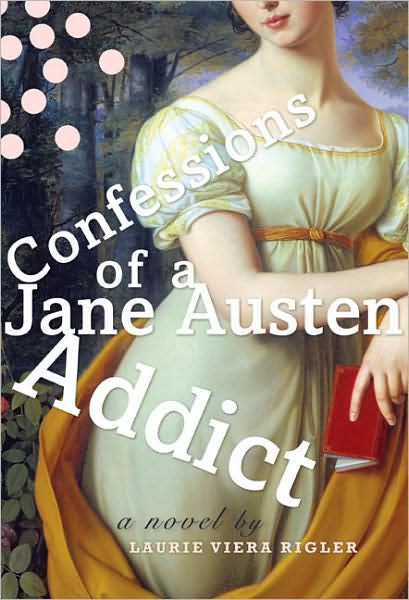 Meet Courtney Stone,modern woman of the world,who decides to get over her broken engagement with the cheating Frank(and the emotional betrayal by good friend Wes,who turns out to have covered up for Frank)in a most old fashioned way;taking to her bed with her favorite Jane Austen novel,Pride and Prejudice.
However,her mental getaway becomes all too real when she wakes in the year 1813,in the life and body of Miss Jane Mansfield,who is recovering from a fall off a horse.
At first,Courtney thinks she's in a dream but when the local doctor insists upon giving her a bleeding to restore her health and Jane's mother(who shares quite a few traits with Courtney's own mom)demands that she act sensibly or be sent to a madhouse,Courtney is forced to conclude that she and the real Jane have somehow switched places in time.

In addition to getting used to such things as having no choice but to let someone else dress you(Regency outfits are as tricky to put on as snowgear),not being able to take a bath without folks having to hail up buckets of water and chamber pots,Courtney is under serious pressure to marry Mr. Edgeworth,a well to do widower who may have a scandalous secet or two,according to his sister,Mary.
Courtney takes Mary into her confidence about the body switch and Mary in returns somewhat accepts her friend's memory problems in her own way. Turns out Mary has some romantic regrets herself and the two of them try to figure out how to handle that,while Courtney seeks a way to find her way back to her own time period and to Wes,who seems to have a few things in common with Edgeworth who becomes more appealing as time goes by.
This is Laurie Viera Rigler's first novel(she has co-authored non fiction books with film critic Richard Roeper and Sheree Bykofsky) and she certainly has developed a lively writing style that her favorite author would be proud of.
She also does
JASNA
proud as well(Rigler is the webmaster for their Southwest Region site)by skillfully blending the reality of both Courtney's and Jane's worlds and getting her leading lady to realize that while longing for a better place to be has it's limits as well as it's perks,some things such as love are timeless.
There's alot of humor tossed into the mix that keeps Rigler's tale from getting too melodramatic(including a chance meeting with Jane Austen herself). According to the
official Confessions website
,a sequel is in the works,featuring Jane Mansfield's adventures in 21st century LA,living in Courtney's shoes . After reading this book,I'm certainly looking forward to that and hopefully,more novels from Rigler.
Confessions of a Jane Austen Addict will be released by August 2 and I urge all of my fellow Austen fans to seek it out. You'll find alot to indentify with and a great story to enjoy.