Before I give you a tasty play list of tunes to set the perfect pop culture atmosphere for your Thanksgiving meal,there are two topics that we must mention first. Sadly,beloved science fiction author
Anne McCaffrey
has passed away
at the age of 85. She died at her home in Ireland,not long after suffering a stroke.
My condolences to her loved ones,which will no doubt be echoed by her many fans throughout the world,along with the writers that she inspired with her vast collection of work. McCaffrey was the first woman to win the Hugo and the Nebula award(given to sci-fi/fantasy writers)and was declared a grand master of the genre in 2005.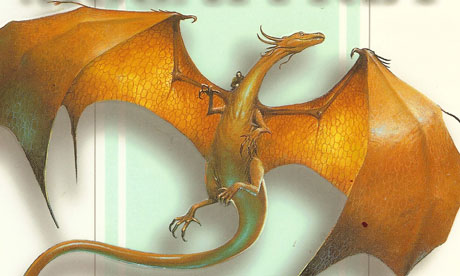 Her best known novels were the
Dragonriders of Pern
series that featured friendly dragons who bonded psychically with their human riders.
That premise held a good deal of sway within the imagination of both readers and writers and paved the way for such future fare as Naomi Novik's Temerairie series,the Eragon novels of Christopher Paolini and even the fiery trio of dragons that escort Daenerys Targaryen in George R.R. Martin's A Song of Ice and Fire saga. While she will be missed,Anne McCafferty's literary legacy will last far and beyond our time.
Our other announcement is more of a friendly reminder to our
Agatha Christie
contest winner,
Beth from Colorado
.
Beth,please e-mail me at
livingreadgirl@yahoo.com
and let me know where I can ship your prize,an Agatha Christie "Queen of Mystery" tote bag, to.
Please title your e-mail "Christie Prize winner",so that it won't get trapped in my spam folder. Don't mean to nag but I do want to send it out to you as soon as possible and I hope you and your family have a very happy Thanksgiving!
Speaking of Turkey Day,I'll be taking the next two days off from this blog so I thought that leaving all of you with a menu of music somewhat suitable for the occasion would be best.
Since many folks like to start off their holiday dinner by saying grace, This
"Thanksgiving Prayer"
by the late great Johnny Cash feels just right. After all,what's good enough for Dr. Quinn,Medicine Woman should be good enough for anyone:
For a slice of something silly,here's Adam Sandler with
"The Thanksgiving song"
his tribute to the main dish of the day.
While many people prefer to offer other proteins such as ham,chicken or the well known but not always loved tofurkey,the mainstay on most holiday tables is that gorgeous gobbler. Like the song says,50 million Elvis fans can't be wrong!:
Pop music tends to highlight Christmas more than Thanksgiving as a rule,yet a few songs do seem to count as proper sentiment for that day as well.
Natalie Merchant's video for
"Kind & Generous"
does have an air of Water for Elephants about it(far ahead of it's time)yet the overall theme of celebrating the goodness of those around deserves some fanciful treatment:
To lift your feet along with your spirits,Mary J. Blige gives us her take on
"Family Affair"
. Being with family is one of those anticipated/dreaded traditions of the holidays that everyone struggles to deal with as pleasantly or painlessly as possible.
What might do the trick is a rousing dance song and this toe tapping tune fills the bill to a T. Even the most cranky in-laws and annoying cousins can loosen up and push their regular drama to the side as they get their groove on in this dancery:
So,Happy Thanksgiving folks and I'll see you next Monday(if you're not cyber shopping,that is). I know that times are particularly tough right now but it's a good idea to assess the positive things in your life and cherish them all the more.
Also,I hope you enjoy a delicious dinner with your loved ones and get to share some laughs along with the stuffing: