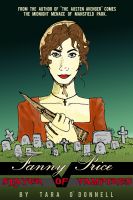 With October mainly being a countdown to Halloween, it's only fitting that I offer a little treat to horror fans and Jane Austen admirers alike with a special sale on my latest e-book,
Fanny Price: Slayer of Vampires.
This Mansfield Park mash-up is told through a series of letters(found by a modern day descendant) that our heroine Fanny wrote to her seafaring brother William but never sent, chronicling the strange behavior of new neighbors Mary and Henry Crawford.
With their sharp wit and sharp sets of fangs, this sinister brother and sister act cast a spell of amiability that leaves the Bertram family,particularly Fanny's beloved Edmund, most vulnerable to their deadly charms. Can Fanny use the odd items left in her care by her late Uncle Norris in order to save her Mansfield kin or will keeping Lady Bertram awake during tea time be too much of a distraction?
As you can guess, there is some humorous peanut butter mixed into the chocolatey goodness of vampire lore and Jane Austen, which is a flavor combination most suited for this season.
If you'd like to add this eerie Austen themed book to your e-reader goodie bag, just go to
Smashwords
and use the
coupon code UE59E
during your purchase to get a 50% discount off of the regular price. The sale ends on Oct.31, so don't be tricked into missing out on this fearsome Fanny treat!
This book is listed at Goodreads and Library Thing and if anyone would like to post a review of it by Halloween, I do have some Fanny Price pins to give away. I'm only able to ship in the US(sorry, limited resources!) and your write-up doesn't have to be a rave, some good honest feedback will be appreciated.
With 2014 being the 200th anniversary of MP, I hope that many fans of this underrated Austen novel will find some fun to be had here. Especially those of you who find Henry Crawford's devilish ways most delightful(he and Buffy's former beau Angelus would certainly be quite the pair of lady killers indeed):
If you would prefer a less gruesome yet still fanciful Austenesque story, my
earlier foray
into this field,
The Austen Avenger,
is available for free downloads not only at Smashwords but Barnes & Noble, ITunes and Scribd as well.
This novella follows around Andy, a guy more familiar with Wonder Woman than Elizabeth Bennet, who believes he has discovered a new superhero in our midst. Granted, she talks a bit like Emma Thompson and instead of leaping tall buildings in a single bound, uses her sense of sensibility to defuse retail rage and put rude persons in their place.
However, she is most helpful in giving Andy a much desired introduction to the girl of his dreams and that alone makes him determined to be her potential sidekick, if need be. The Austen Avenger may not have her own movie franchise just yet but it is nice to see a heroine who strives to be a champion of universal truth, polite justice and the Austen way:
Halloween may not be seen as an ideal time for Jane Austen but even that good lady enjoyed a little Gothic thrill now and then, as Northanger Abbey proves in abundance. Even a few of the novels referenced in that book such as The Mysteries of Udolpho and The Monk have plenty of spine chilling moments to keep you turning pages late into the night, as Catherine Morland was want to do.
So, whether your seasonal reading is in penny dreadful print or eerie electronic format, literary scares are readily at hand for your treat bag of books to devour on All Hallows Eve. Just don't skimp on the mood lighting, candle or otherwise: