I must confess that one of my choices actually is from 2013(didn't get a copy of it until this year) and felt it deserved to be included, as this particular tale was exceptionally well told.
So, without further ado, here are the Living Read Girl picks for Best Books of 2014 and if you're looking for a good read or holiday gifts, any of these would be absolutely perfect delights to behold:
DARING DEBUTS: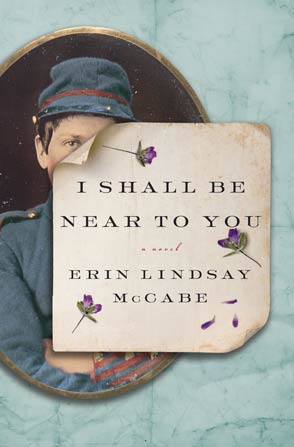 Erin Lindsay McCabe's
Civil War drama
,
I Shall Be Near To You
, takes historical fiction and romance onto a new level of art, as her story of Rosetta Wakefield, who follows her newly wed husband Jeremiah into the ranks of the Union army under the guise of "Ross Stone" is a sincerely touching look at the bravery of both men and women.
Ross/Rosetta's journey across the war torn landscapes that lead to the infamous battle of Antietam is an emotional voyage that changes more than one life and one person's fate. McCabe based her novel upon the numerous true life accounts of women on both sides of the war who joined the fight in male personae and her research goes hand in hand with the rough beauty of her prose.
This book was a Goodreads nominee for Best of 2014(I know I voted for it!) and I hope many others come to discover this heartfelt story before her next book comes out.
Granted,
California
by
Edan Lepucki
was fortunate enough to have the Colbert bump propel it forward into readers' hands but it was an honor well bestowed. This look at a young couple in a not too distant future considering their limited options,in the wake of an unexpected pregnancy, is a timely and thought provoking read worth delving into on it's own merits.
California takes stock of how different sections of society hold up when the main structure of their world collapses,from those eking out an existence on their own to "Communities" that provide refuge and relief but demand an unspoken price for such benefits.
As Cal and Frida struggle to figure where they belong and what directions their lives should take, it's the subtly sweet battle for their hearts and minds(as well as their relationship) that makes this book stand out from the rest of the dystopian pack:
WE ARE A PART OF A READING NATION:
Azar Nafisi
, best known as the author of Reading Lolita in Tehran, embraces the literature of her newly adopted country in
The Republic of Imagination
, which blends memoir with literary(and occasionally social) critique, by taking three novels as solid defining points for what it means to be American.
Whether you've already read The Adventures of Huckleberry Finn, Babbitt or The Heart is a Lonely Hunter(along with the works of James Baldwin), this examination of how each book defines different elements of the American character makes them more readable than ever before.
I, for one, am inspired to tackle The Heart is a Lonely Hunter(it's going on my spring reading list for next year),thanks to Professor Nafisi and hopefully she'll write a sequel that explores the many other wonderful books she wanted to include here but didn't have the room for:
OFF THE BEATEN PATH ADVENTURES:
Yes, I know that Donna Tartt's
The Goldfinch
came out last year but it wasn't until my birthday this past spring that I finally had a copy of my own to read(plus, her other two works).
Despite the
naysayers who took great joy
in ripping this Pulitzer Prize winner apart, I found this elaborate novel just as immensely awesome as the seemingly humble painting that inspired the lead character Theo to guard it against all costs.
You do have to have patience and a taste for Dickensian flair to appreciate this book yet the old adage about such trips being more about the journey than the destination is well defined within these engaging pages. It is a pity that some people just can't let others enjoy a fine work of art without the need to splatter mud upon it but that is their failing , not ours.
After the cinematic success of The Silver Linings Playbook, Matthew Quick's latest novel,
The Good Luck of Right Now
, had a lot to live up to.
Even if you haven't seen or read TSLPB, Quick is still
in fine form
here as his leading man Bartholomew Neal copes with the ups and downs of his life by writing letters to Richard Gere, based upon finding a Free Tibet letter in his deceased mother's belongings.
Believing that a spiritual connection exists between them, Bartholomew pours out his heart in these unsent letters as he and the small group of folks in his slowly expanding sphere of existence are working on finding a better way of life. Packed with humor and heartbreak, TGLORN is a sure sign that Quick is more than just the Hollywood flavor of the moment:
WOMEN OF WONDER:
A good amount of hype,along with a pre-sale of the film rights,
heralded
the arrival of
The Queen of the Tearling
by Erika Johansen, the intended first of a trilogy. I am happy to report that not only is the novel worthy of such advance praise, seeing where this series is going to go is a big part of the fun.
As ungainly heroine Kelsea Glynn fights to take hold of the throne that her beautiful but thoughtless mother Elyssa couldn't manage, her courage and vulnerability make for a fantasy character that relates well with modern readers.
While it does have some familiar territory to cover, Johansen's unique twist is to have a female lead use her innate wits and education to stake her claim as Queen in order to protect and serve her country. When the movie does hit the theaters, hopefully it will do justice to this entertainingly engaging concept.
Wonder Woman Unbound.
Living up to it's subtitle, "the curious history of the world's most famous heroine",
blogger Tim Hanley
traces the pop culture path of the Amazon princess from her eyebrow raising creator William Marston to her adoption as a feminist icon during the sixties and seventies to the impact of Lynda Carter's TV incarnation.
WWUB is a smartly written take on such a classic yet controversial figure in comic book history that should be in every comic collector's library as well as a pop culture follower's collection. For those wondering about the current state of women in comics, I highly recommend bookmarking
Straitened Circumstances
for Hanley's updates and thoughts on the subject. When it comes to Wonder Woman, Hanley is as much of a true ally as Steve Rogers ever was(perhaps a bit better) as this book showcases the power of strong female characters in media both then and now:
Well,that's it for this year but stay tuned for more great reads in 2015, folks. For us die hard readers, it's no trouble to keep it all about the books there: