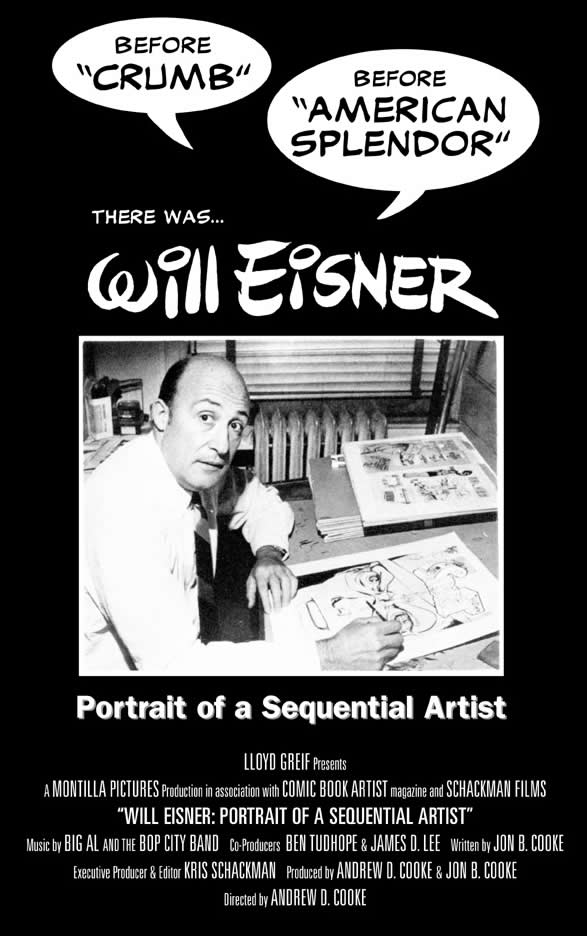 With all of the hype surrounding the Christmas Day opening of The Spirit(I love the
holiday themed ads
,btw,nice touch!), I just hope that some of that buzz highlights the innovative creator of that character as well.
Will Eisner
could be considered the great grandfather of the graphic novel,with his insistence upon comic books being just as legitimate an art form as any other. He kept right on working up to the end of his days,producing such ground breaking books as
A Contract With God
and
Fagin The Jew
.
He was also an instructor,willing to pass on his knowledge of visual story telling and encouraging up and comers in the field to do their best. He inspired so many writers and artists that it's hard to count-some of those folks include Michael Chabon,Sergio Agones and Frank Miller,who directed and adapted the Spirit movie.
There's also a
documentary
out on the film festival scene about his prolific life and times called Will Eisner: Portrait of a Sequential Artist. The film has interviews not only with those who admired and drew inspiration from Eisner but with the man himself before he passed away in 2005:
It is rather appropriate that The Spirit movie is being released around this time of year,since that's when Eisner was first asked to create a superhero character by his bosses,to compete with the likes of Superman and Batman.
In some ways,The Spirit is closely related to Batman,due to Eisner refusing to give the character any kind of super powers(the closest he would consent to a costume was a mask and gloves). The Spirit was much more vulnerable than Bruce Wayne,however,and dealt with way many more bad girls(James Bond is a piker in the love dept compared to him).
Frank Miller openly admits to basing Elektra from the Daredevil comics on Sand Saref,a notorious femme fatale from the Spirit comics,which Eisner found flattering indeed:
In fact,Eisner and Miller were friends for many years and it's truly a shame that Eisner isn't still with us to see this revival of this character come to life on the silver screen:
I was fortunate enough to hear Frank Miller(along with Eva Mendes)speak about the movie at the last Comic Con in NYC and his enthusiasm and dedication to the project was manifestly evident. Hopefully,the movie will do well enough at the box office to lead a new generation of comic book artists into finding out more about such a legend in the field: