Debuting on DVD this week is Julie & Julia,the scrumptious summer movie based upon blogger Julie Powell's memoir of her year of cooking every recipe in Julia Child's Mastering the Art of French Cooking which starred Amy Adams and Meryl Streep.
The film did well enough that not only did the J&J book reappear on bestseller lists,so did Julia Child's own memoir about her time in Paris(which was also adapted into the movie's screenplay)and the original Mastering the Art cookbook as well. As I await upon my Netflix rental to arrive in my mailbox,I was wondering what would be the next hit foodie memoir to make mental mouths water.
While Julie Powell does have a
new food related memoir
out,which is an interesting read,the flavor of that book is way spicier than the first one. Not that any other female food focused book has to be all sweetness and nicey nice,but for those seeking out a similar flavor profile in their reading,a milder tone might go down better. So,without any further ado,here are my three best guesses for the newest taste sensation amongst the book group set:

TRAIL OF CRUMBS/KIM SUNEE
I got to meet
Kim Sunee
briefly at a BEA convention when her book was due to come out in hardcover and she was very sweet in a truly natural way,not simply showing me a sugar coated version of herself. That down to earth charm shows in Trail of Crumbs,which is now in paperback,and is
making the book club rounds
as we speak.
Trail of Crumbs is her story about how food became an integral part of her life and her search for self,a theme that resonates well with everyone and provides plenty of food for thought. She's also getting more media time,with her successful debut as an
Iron Chef America judge
and her online "Kim Eats The World" series,so she has a real shot at being the next big player on the foodie circuit:

I LOVED,I LOST,I MADE SPAGHETTI/ GUILIA MELUCCI
This memoir showcases that old saying about a man's stomach being the best way to his heart in a dishy fashion,with Guilia going over her love life by flipping thru the recipes she used to win them over in the kitchen. Think of this as
a savory Sex and the City
,only with real sauciness to it.
The book is due out in paperback next year,but the real selling point is the sense of humor that Guilia serves up her story with. One of the best things about sharing a meal is sharing the laughs and the same goes for a good book as well: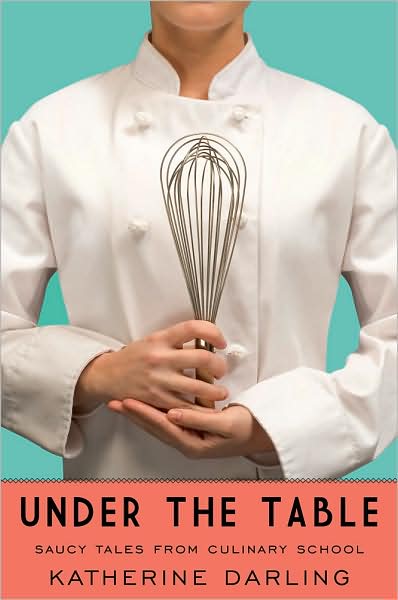 UNDER THE TABLE/KATHERINE DARLING
The subtitle of this book is "Saucy Tales from Culinary School",a subject that peaks the interest and appetites of the food curious quite a bit. Katherine Darling writes about her days as a student at the French Culinary Institute,with a mixed batch of fellow students and a number of challenging courses to conquer.
The paperback version should be out by April of 2010,but I think the intrigue around cooking school itself might draw folks into it's pages sooner than that. One of the key ingredients of the film version of J&J was Child's time at the Cordon Bleu and with shows such as Chef Academy getting small screen air time,Under The Table may wind up on top of many bookstore displays:
Mind you,these are just my slightly educated guesses;if I had any real luck in picking winners,I'd apply that to this week's Lotto drawing. As it is,this tasty trio of insights into ladies of the culinary world should and have done decently on their own merits without having to ride on anyone's coattails,but a little extra spotlight on the subject in pop culture land never hurts.
What ties all of these books together is the love of cooking and how it can be empowering to women,no longer a "chained to the stove" life sentence but a real liberating feast for the soul. That alone is worth exploring in any medium: